The Overview: Day 1
Rooting for the rookie, Sharma the sole seamer and Athers in the moped park. Welcome to Nagpur...
Last Updated: 14/12/12 10:49am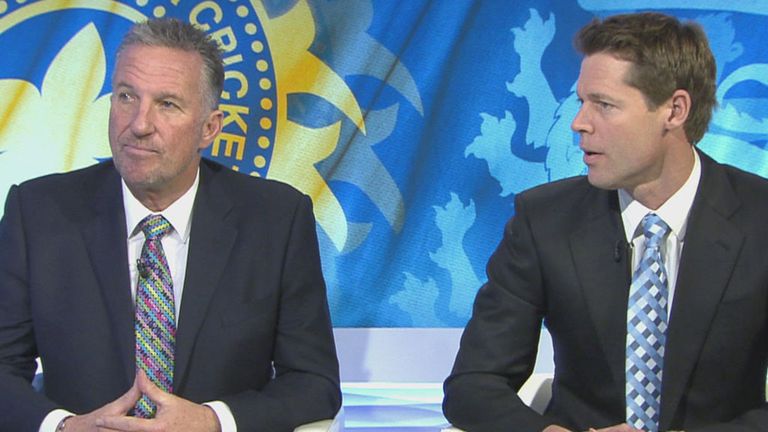 The tourists arrived in Nagpur for the fourth and final Test 2-1 up and on the brink of a famous series win in India for the first time in 28 years - scarcely believable after their first Test hammering in Ahmedabad - and they surprised most by dropping Samit Patel and selecting rookie Joe Root in his place.
Perhaps equally as surprising, skipper Alastair Cook finally won the toss and opted to bat first against a home attack featuring just one seamer.
All of which gave the Sky Sports pundits plenty to get their teeth into...
Nasser Hussain: England have been very, very ruthless with their selections. I think it's because Samit has only bowled five overs in the last two games and hence you have to play your best six batsmen. So I have no issue with Samit being left out on that score. But to go to Root ahead of Bairstow or Morgan is the real big call, particularly given the importance of this Test and the fact that he will bat at number six when he bats at the top of the order for Yorkshire. The selectors obviously feel Bairstow and Morgan don't play spin well enough. England haven't got many gut feelings wrong recently, though, so you've just got to feel that they've got this one right.
Mike Atherton: Root's selection is a little bit of a surprise given that Jonny Bairstow came in at Mumbai - if they were going to change a batsmen for a batsman, you'd think that would be the natural way to go. So the only thing I can think of is that they quite like Joe Root's off-spin as well and maybe they think Bairstow is a work in progress against spin.
England also recalled Tim Bresnan for the injured Steven Finn, while India made two changes, axing veteran seamer Zaheer Khan in favour of leg-spinner Piyush Chawla and introducing a debutant of their own - all-rounder Ravindra Jadeja in place of Yuvraj Singh...
Nass: It will be trial by spin for England because Jadeja bowls a bit of left-arm spin, then you've got Ashwin, Chawla and Ojha. I can see that being a Fletcher selection - he believes England don't play leg-spin very well. I think it will reverse swing because the pitch is quite cracked, so to go in with one seamer and then lose the toss is a bit of a blow.
Athers: I think Jadega is a good selection - he's a very good player who has got three triple hundreds in first-class cricket for India. He's a better option that Yuvraj Singh at this stage of his career. The pitch, to me, looks very similar to Calcutta - it's very, very dry but hard and looks quite abrasive so you'd think they'd be some reverse swing but India have only got one and Ishant Sharma is not a great reverse-swing expert.
Nick Knight: All eyes will be on the captain MS Dhoni, Sachin Tendulkar and some of the senior players. The selectors have been reasonably ruthless - they've got rid of three senior players. Whether this becomes a watershed moment for India cricket depends on how this Test pans out.
Spinner Ojha shared the new ball with Ishant Sharma but it was the seamer who struck first, tempting Nick Compton to nick off to Dhoni for three.
Bumble: It's surprised him because it's the only ball that's got anywhere near a bit of bounce and I think Compton's a bit late on it.
Nick: It looks a poor shot and it is a poor shot - and he'll be disappointed with it when he looks at it again - but when you've been on a slow surface and it sticks, that's when you have a little push or nudge at the ball.
Jonathan Trott survived a strong lbw shout from Sharma early on - umpire Kumar Dharmasena somehow giving him the benefit of the doubt. Captain Cook didn't receive quite the same treatment as he went lbw for one from 28 balls...
Nick: It was a poor decision. Did it pitch in line? Yes and it comes back a fraction but at no point was it ever crashing into the off-stump. The umpires should know that Sharma generally pushes the ball across the left-handers - very rarely does he ever bring a ball back in.
Bumble: When I first saw it, with my umpire's hat on, I never gave the appeal a second glance; I thought 'no, he's playing a shot, he's outside the line and it's not hitting the stumps' so I was amazed when the umpire put his finger up!
Kevin Pietersen and Trott saw England through to lunch at 61-2 - high time to drop in on Athers, reporting from a field-cum-car-park outside of the ground from amid a crop of mopeds...
Athers: It's surprising how little bounce there is in this pitch. I don't think anybody expected a flyer in Nagpur and judging by what we've seen so far India have made a mess of their selection by playing just one seamer because it's Sharma who has looked the most dangerous. Steven Finn's absence is a real blow for England because a tall, fast bowler bowling straight would be difficult to handle on this pitch and we've already seen quite a bit of reverse swing.
Bumble: India's selection smacks of this - that Dhoni wants one part of a team and somebody else is giving him another team and that's why he bowled Jadeja, who is on debut, first change. He's not played any Test match cricket before!
Bumble: Paul Collingwood, who is working for the host broadcaster, has just put out an extraordinary Tweet saying this Test will be over in three days! Crikey! I'm not seeing that! He says the pitch will be like a dried up river bed. Well, he's out there...
Trott (44), as David Gower would say, has had a bit of a poor trot recently against left-arm spin - and it continued as he left a Jadega delivery that cannoned into off-stump - 102-3.
Sir Ian Botham: Once the seeds of doubt get planted they start to do funny things to the mind and today's shot was out of the blue. Everything was going along nicely - he had put on 86 runs with Pietersen - and then he leaves a straight one. And it was a straight one!
Nass: In the first Test he was standing on middle stump, in the third Test he took guard on leg stump. He's trying to show his stumps a little bit more because in Ahmedabad he got too much off-side of the ball and got caught at short leg. Here he's showing all of his stumps and because he's not moving across, he's just lost his off-stump a little bit.
Seventeen runs later Ian Bell drove Chawla tamely to short extra-cover to end - like Cook - an 28-ball innings of one...
Nass: Bell averages 14 this year in Asia - his brain is scrambled. It's just a very, very soft dismissal; you can't call it anything else but that. Bell is a bit of an anomaly because in England when he's batting all the time he'll smack it around but when he has been abysmal in the sub-continent. For such an experienced player to do that is pretty average.
Beefy: I'd rather be caught at long-off or long-on - or stumped by three yards! The problem is he hasn't committed to anything and just chipped it to the fielder. It's catching practice.
Pietersen, though, stood largely firm and by tea had 68 of England's 133-4...
Athers: It's very slow progress - it's not easy for anyone to score on a pitch like this; even Kevin Pietersen, the most fluent of players played a bit with the inside-edge of his bat from time to time. It's just not easy. Dhoni is playing a waiting game, employing fairly defensive fields. He attacked a little bit when Joe Root came in on debut, as you would, but the rest of the time he has just sat back and waited for mistakes. In the end he got two - an out-of-the-blue aberration from Jonathan Trott and then a very tame dismissal from Ian Bell.
Nass: All credit to Pietersen. Often we say he only bats one way - and he himself says 'this is how I play' but he has adapted to the pitch. He took his time to get in but any scoring opportunity that he's had, he's taken. The moment the spinners have tossed it up - Chawla in particular - he's hit it well, especially down the ground and through midwicket. He's looked technically very solid; this is not his normal sort of innings or pitch - he likes the ball coming on with a bit of pace and bounce - so all credit to him for adapting.
But six runs later, Pietersen (73) advanced down the track and plopped the ball into short mid-wicket's hands...
Nass: It's a massive wicket and a loose shot from Pietersen. Ojha says he caught it and they're taking his word. It's a nothing shot that just about carries to short midwicket; this is the most important wicket that Jadeja has ever taken - Kevin Pietersen in a Test match. England are wobbling.
Nick: Bear in mind this is a tricky situation for the debutant Root. It's not 340-4 - England are in some trouble and still are. This will tell us a little bit about his character.
Thoughts turned to meteorological matters as Root and Prior battened down the hatches...
Beefy: I was a bit worried if we were going to see you this week, Nass, with 'the beast from the East' coming in to obliterate your part of the world! It seems you survived.
Nass: That's another thing you've got wrong - last week you said 'I will not see you next week, Nass'.
Beefy: It's called wishful thinking!
Nass: You said East Anglia was going to disappear. Now you're on about 'the pest from the West' coming in.
Beefy: According to your newspaper! We've gone from snow and ice to high winds and heavy rain so it should be a lot of fun.
Prior (34no) and Root (31no) wouldn't be blown off track, though, and their unbroken seventh-wicket stand of 60 took England through to 199-5 at stumps.
Nass: We're nearly past Joe Root's bed-time. He looks a very young lad but he's done very well today. He looks like a Yorkie opening bat with an 'over my dead body' attitude. It's good for Root to have the experience of Prior after him so he's not batting with the tail.
It's been a difficult day, a turgid day, a day for the purists but also a day that Joe Root will remember for the rest of his life. He might have only hit one boundary but the England dressing room will be mighty pleased with the partnership between the young man and the veteran.
Beefy: This partnership is very, very valuable in the context of the game.
Nass: Both dressings room will be reasonably happy - you'd say India more so, having lost the toss. The bowlers worked hard on a pitch that had no pace, no bounce and no turn.
Watch day two of the fourth Test between India and England from 3.55am on Friday on Sky Sports 1 HD.