The Overview: Day 4
England take control heading into the final day as tempers flare in Nagpur
Last Updated: 16/12/12 7:21pm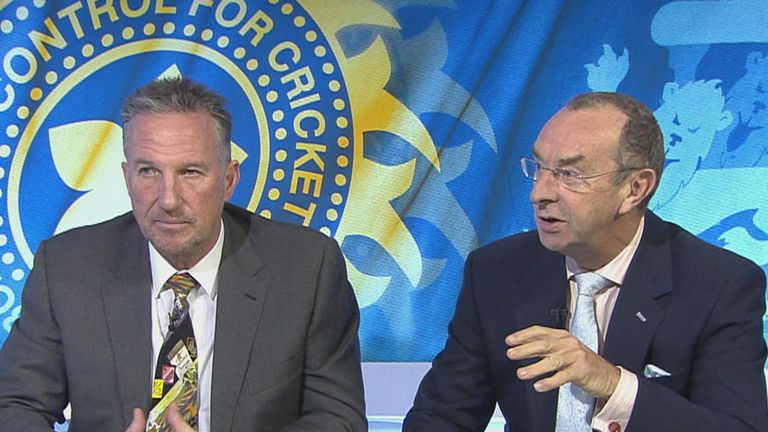 Bumble: It is a nervy time when you are 2-1 up in a series that you are supposed to lose 4-0. England have been exceptional again in that last session yesterday but you come to day four and the third innings - the third innings is always the tricky one. What do England do - do they shut-up shop and say we are just going to play for a draw? They need to get these two India winnings first and then someone in the changing room needs to say let's go out, enjoy it have a bat and see where we get too. Ashwin is a sticker though; we saw that in the last Test match, and India have two wickets left to cause a bit of damage but whilst there is time being taken out of the game here, I think that is to England's advantage.
The morning session did not exactly race forward with India turning down singles with just the odd run coming per over. Despite a message being sent out at the drinks break with, the run rate did not increase and India declared on 326-9 just four runs ahead of England.
Nick Knight: It was very strange - an hour was lost in the game which only suits England. I think Duncan Fletcher, the master tactician, and Dhoni, who had a brilliant day yesterday, have had a poor start today. They may have a master plan that we can't come to terms with or can't understand but it would seem that what has happened in that first hour is all to England's advantage.
Michael Atherton: I went into the commentary box just to chat with the likes of Rahul Dravid and Ravi Shastri and they were going ballistic off air - I don't know if they were tempering their comments on air but they were very, very disgruntled and felt that India should have either declared straight away or had a bit of a go and then declared. But to take an hour out of the game given the circumstances was ridiculous.
Cook and Compton came out for England's second inning facing a tempo conundrum - whilst it was still a good wicket to bat on, it was not an easy wicket to score on. Benedict did come up with some pleasing stats for England fans as he said only two sides have ever declared in their first innings behind and gone on to win: In 1935 England v West indies and in 2012 Australia v West Indies. However the session ended with just 46 runs - a lead of 21 runs with 10 wickets in hand.
Nasser Hussain: The England captain is certainly not giving his wicket away - one run from 46 deliveries!
The lunch discussion went back to India's slow start which had all our pundits scratching their heads.
Nick Knight: Fletcher and Dhoni presumably sat down with the players at the start of play and said this is the plan. We have two wickets left, this is the aim however whatever the plan was after 15 minutes that changed which made it even more bizarre.
Bumble: the other thing that comes into this mix is that if it is going to be slowly, slowly then India needed more time to bowl England out!
Cook and Compton refused to be rushed as play continued however both fell in controversial circumstances in the afternoon session. Cook was left perplexed when umpire Kumar Dharmasena gave him out after Dhoni claimed a thin edge behind the stumps; however replays suggested there was no edge.
Sir Ian Botham: Oh dear, Oh dear, Oh dear. Has that hit? I don't think so. I think that has missed by some distance!
With Trott at the crease and upping the tempo, he goes into hockey mode and takes full advantage of Jadeja getting his release totally wrong. He leaps out of his crease, goes past short-leg and smashes the slowing ball to the square-leg boundary!
Nasser Hussain:Good lad! That is not a dead-ball - he bowled it so he is entitled to hit it. You can fluff it though, I have seen it - you run out of your crease and miss the ball and then get run out because you are halfway down the pitch! He's probably practised that - 'what am I going to do if he bowls me one of them Goochy?'
On the stroke of tea lbw strikes again - It's certainly straight enough but there might just have been the hint of an inside edge, but Ojha gets his wicket!
Nick Knight: There is an inside edge there, Compton knows it and that is why he is frustrated.
At tea England lead by 85 runs having lost their openers in that session. England are in the driving seat but India are still not out of this game with four sessions remaining.
Sir Ian Botham: England do not want to lose too many wickets and put themselves under the cosh, it is a pretty lifeless pitch and it has been pretty dull cricket throughout this game.
Talk at tea turns to DRS and why India are so against using it and why the ICC do not just impose it on India.
Nasser Hussain: A cricket committee sat at Lord's and all the hawkeye boffins came in and explained the technology and how accurate it was - not 100% but pretty damn close. The cricket committee said that was fine and took it to the executive committee. The executive committee of the ICC loved it and said we are all going to agree on that. They took it to the executive board - the real top people - and they were the only ones to oppose it. Some of the reasons given were: If you want to use technology it must be absolutely perfect. The second quote that is important is: "cricket is a game of glorious uncertainties so why not keep it the way it is."
With Kevin Pietersen joining Trott we are expecting them to push on a bit - however we are not expecting Pietersen to make the same mistake as Trott did in the first innings!
Nasser Hussain: Would you believe it Pietersen has missed a straight one - he's left a straight one! If you move across your stumps you have got to know where your off -stump is! Jadeja does not turn them Kevin!
India sensed an opening after KP's dismissal but Ian Bell and Trott got a flurry of runs before things started to turn a bit tasty out there. Dhoni thought he had Trott caught behind and throws the ball up in the air, but Dharmasena said no!
Bumble: I wonder if this is a crowd catch from Dhoni - although he does look a bit aggrieved. He seems angry which is unusual.
David Gower: If there was a nick it would have been minimal, there is no real big noise, no real deflection - we have not got all the toys here either - no snicker and no hotspot. It has all been kicking off in the break between overs - Dhoni has been up to the umpire and I would say he has made his feelings known in no uncertain terms. It is not a good example and others are getting involved. Rob Tucker needs to be a cool character in circumstances like this. All I can say is that the Indian board has made its stance very clear: the umpire's decision is final, that is why they don't like things like DRS. If that is what the board are telling you then that is what the captain and the board have to abide by. No shows of petulance should be allowed.
Bumble: I am 100% with you. The umpire has made his decision.
Trott and Bell held out for the rest of the day and end on 161-3. It may have been a slow day but England will feel that they did a lot of the work needed to be on the verge of winning the series. Talk in the studio is all about the Trott incident though.
Michael Atherton: Nobody here seems to be convinced one way or the other - it was inconclusive evidence. From what I saw Dhoni went up instinctively and the bowler followed his appeal - I did not think he looked convinced. Dhoni did and he is not one to be overly demonstrative. One thing for sure is that Trott was not bothered. To be honest I was glad to see a bit of edge in the game - the first four hours had been terrible to watch, really dull cricket. I am not saying that you want to be rowing all the time but I was happy to see that.
Sir Ian Botham: If I was Jonathan Trott I may take a little walk into the dressing room at the end of the day and see if there is anything to whinge about - that is the way to sort it out! Tomorrow England have to take each hour as it comes; the first half hour is when India are going to come at England hard. If England see that first half hour off then that will knock the wind out of India's sails a little bit and then England can build on that. If England get three hours into the day then I think they will be safe.
Bumble: The two at the crease have got to accept the responsibility; don't let India come into the game, don't give them a sniff. It's a great word for a batsman - responsibility. We have got to the stage where England have to get through one session and we have said all through this game that you cannot afford one bad session; there is only one session they can lose now and that is tomorrow.
Watch the final day of the fourth Test between India and England from 3.55am on Monday on Sky Sports 1 HD.