Botham, Hussain, Lloyd and Knight give verdicts on England's historic win in India
Our Sky Sports experts give their verdicts on the big talking points after England's win in India.
Last Updated: 18/12/12 1:16pm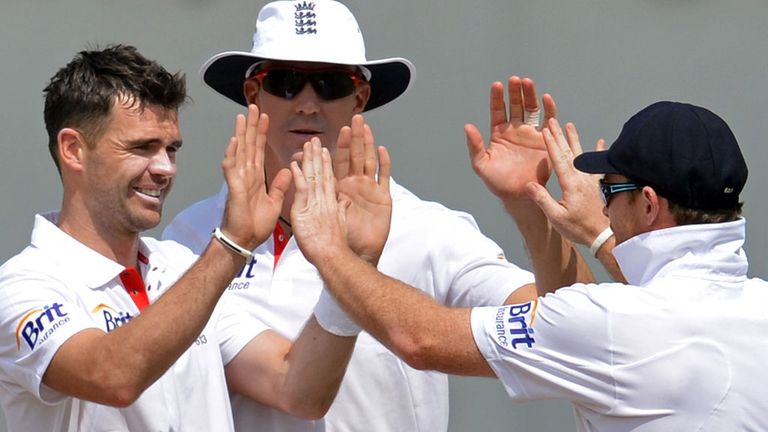 Andy Flower's side, captained for the first time by Alastair Cook, produced a remarkable turnaround after suffering a heavy nine-wicket defeat in the series opener in Ahmedabad.
Following that defeat there was talk of a 4-0 series whitewash and revenge for India, who fell by the same scoreline when they were in England in the summer of 2011. However, England added Monty Panesar to their bowling line up and grit, determination and patience to their batting and bounced back with ten-wicket and seven-wicket victories in Mumbai and Kolkata.
On a flat wicket in Nagpur India never looked like forcing the result they needed to square the series and the tourists held firm to see out their first series win in India since 1984/85.
Here, our Sky Sports experts, Sir Ian Botham, Nasser Hussain, David Lloyd and Nick Knight dissect the key moments, performers and talking points from the series and give their verdict on what went right for England and where an ageing, failing India Test team go from here...
England's performance in India
Nasser: What an incredible turnaround. This is right up there with what Andrew Strauss did winning the Ashes away from home and nearly close to what Michael Vaughan did winning the Ashes at home in 2005.
You have to put this in context: England went to India and lost a one-day series 5-0, they then went to the Emirates and lost a Test series to Pakistan 3-0, they played a T20 game against India and got walloped, they lost in Ahmedabad and everybody thought ' we have no idea against spin, we're clueless,'.
To turn that around says a lot about the character of the team, especially out in India where everyone is against you. That was brilliant from Cook and the boys.
Bumble: A wonderful performance. Andy Flower will be thrilled with their performances individually and as a team. This was the revenge series after England's 4-0 win last summer. 'Let's see what you're' like on spinning pitches, we're going to beat you 4-0,' said the India players. I'm very proud.
What went wrong for India?
Botham: There was a little bit of complacency in India after the first Test; they expected to win the series and didn't think England could play spin. We've got to remember this is a great India side but it's in decline. Age catches up with all of us; your time comes, your times goes and you move on and the new brigade comes in. That's where India have got to start thinking now; they need a new breed to put some energy back into their side.
Nasser: India are pretty much where we thought they were. Their spinners were out-bowled by England's spinners and for Swann and Panesar to out-bowl Ashwin and Ojha says a lot. It's not really about pitches, old players or young players, now. It's just England are a better side. India need to have a look at themselves and say are they focussing in on Test match cricket? And do they have the hunger for Test match cricket?
What changes must India make?
Botham: They've got to bring in some youth, especially the seam department and fielding needs some livening up. I'm not saying the whole team goes - five or six of these players will be the centre of the side but they need to build around them, otherwise, in two years' time they will have to replace seven or eight - and then you have got problems.
Knight: India have been reasonably ruthless already - Zaheer Khan, Harbajhan Singh and Yuvraj Singh were all left out of this Test match. There are questions about the captain, Sachin Tendulkar, Virender Sehwag, Gautam Gambhir, but if they are to get back to number one in the world they can't cull their side. Dismantling the team in its entirety is not the way for the team in the short term to get back to number one in the world.
Nasser: I don't think you get anywhere by changing everyone. You have to change for the better and there's not many better out there than Sehwag, Tendulkar and Gambhir. Their bowlers are OK but they don't have a Jimmy Anderson. If they had anyone better they'd be playing - let's not presume there are lads out there in the Ranji Trophy taking hundreds of wickets.
They'll have batsmen, they've always had batsmen, and it's time to start introducing them like they've done with Pujara. But I think there has to be one big call as a statement after this series - and for me that would be Sehwag, if Tendulkar stays on. He's been a brilliant player but he has to go if they're trying to take this team in a new direction.
Bumble: I'd say Ajinkya Rahane, Umesh Yadav, when fit, and Murali Vijay need to come in. I agree with Nasser; Sehwag doesn't look right. He's 34 years of age and looks older than that; he's totally out of condition. Rahane is an excellent player, Murali is well talked about as a younger, sparky player and Yadav would help the pace attack.
But I think India are deluded. They're not as good as they think they are [at Test cricket]. They will be fabulous in T20 cricket and one-day cricket, the grounds will be packed and that's what makes them tick. But it's not long ago they were number one in the world with some fantastic players in Test cricket. The choice to be made is do they want to re-establish themselves in Test match cricket?
Man of the Series Alastair Cook's impact with bat and as captain
Nasser: He's a machine as a batsman, he ticks every single box: he gets runs, he doesn't give his wicket away, he likes big runs, he's fit, he doesn't get out just after a break and all the time he's looking to improve. England's batsmen have learnt from Cook [in this series]. His second innings in Ahmedabad showed them you don't have to have a massive game plan off the field - a slog sweep, a paddle sweep - he plays each ball on merit.
Botham: He adapts to the conditions, the surface. He's going to score so many runs by the time he retires because he's only 27 now. He's got so many years ahead of him, so many records to break - goodness knows he may be chasing Sachin Tendulkar soon. Long live the king.
As a captain I think it's a bit like his batting and he'll learn quickly. He's strong enough to be his own boss and I think he'll look at things, study positions on the field - and I hope he does, because that will make him more complete. He's learnt to do it with his batting and I see no reason why he won't do that as captain.
Knight: The celebrations from England at the end were quite sensible - the character of the captaincy resonates round the dressing room. If that character he has - the ability to learn, his calm, authoritative manner - translates to the team then that says a lot for him and the team moving forward. He's a natural progression from Andrew Strauss and he's got the respect of the team with all those runs he's scored.
Fourth Test Man of the Match James Anderson
Nasser: Anderson stands out. On this pitch that bounced mostly ankle high, for him to reverse the ball the way he did and lead the attack the way he did was phenomenal. He's come home twice the bowler he was when he left.
Botham: He's the leader of the pack and he's been magnificent again. I enjoy watching him bowl and the skills he's got; he gets better as he matures and he's hard to pick. He's been well supported from the second Test onwards and between him and the two spinners they have been the difference. All three of them out-bowled their opponents.
From 1-0 down to 2-1 up, what changed?
Knight: There has been a dramatic turnaround from the first Test match. The turning point was the way Cook played in the second innings of the Ahmedabad Test; he settled the whole team down. The team, watching that, thought: 'yes, this is the sub-continet, this may be tricky, they may have two spinners but we can do this'. Kevin Pietersen was frenetic during that first match but he went to Mumbai and played in a calm way which put England in the ascendency.
Botham: The most obvious thing was the fitness of the England team. When you're playing in those conditions its hard work, it really is. It's hot, unfriendly to bowlers and hard work for batsmen concentrating. All in all England outshone India in every side of fitness: the way Jimmy Anderson came back for that last spell the other evening, suddenly the game was going their way; they swung it round in one session, the last session.
The decision to recall Kevin Pietersen for this series
Botham: If Andrew Strauss was still captain it would have been a lot more difficult [to bring KP back]. There would have been a lot more baggage about what had happened. Alastair walked in and said 'I want him in my team'. It seems logical - you don't leave out your best player. It worked for all parties - the team, the captain and the supporters.
Nasser: If you have four or five real troublemakers in your side then you can't afford to have another - but if everybody else is a goodie two shoes then you're allowed to have Kevin Pietersen in. He is different but your greatest players always are and you give them a bit of leeway. Pietersen hasn't changed and there will be another issue with him - but he's Pietersen and when England needed him to get back into the series in Mumbai he delivered.
Knight: I agree you have to give your outstanding players some leniency from time to time and that's what England have done with him for some time. But that leniency has gone a bit too far - that's when the management felt they had to haul him back in. The process by which they did that was right and Kevin learnt he is the employee and the employer is running the show. England will gain from that in the long term and so will Pietersen. But you can't bring him back at all costs.
Bumble: He's the best player I've ever seen play for England. He's box office, he really is. You just have to give him a slap and get him back in the team and that's what they did.
On the future of Sachin Tendulkar
Nasser: He's had some absolute beauties and that happens when you're in bad form. Only he knows if it's a terminal demise or whether he can dig deep. The problem is he's such a great player, even an average Tendulkar is good enough for India - but is it good enough for Sachin? I don't think it is. We might never see the great man again. Is it becoming a bit of a distraction? All the talk is about Tendulkar - do they need to focus on moving the side on?
Bumble: He's not the great batsmen we knew and it's sad. He looks to be fretting. In the past they'd have no clue how to bowl at him, but the pack are hunting for him now, they want to bowl at him. We'd love to see one last hurrah from him and for him to go out on his terms with a century to his name. He's been one of the greatest ever - but he's not now.
Botham: He hasn't scored the runs everyone expected but that's because the bowlers have bowled magnificently at him. We should stop looking at what's wrong with Sachin and say those bowlers were spot on. I think there's more to come from him and he certainly deserves the right to decide when it's time - and he'll know when it's time to walk.