New Zealand showed more fight in second innings, says Mark Butcher
Mark Butcher praised New Zealand's resolve after they took the second Test into a fourth day.
Last Updated: 13/01/13 5:10pm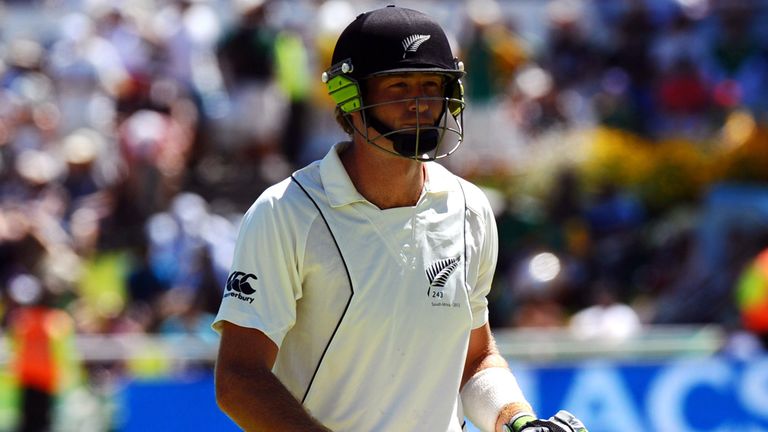 Teetering on 47-6 at the start of play, 478 runs short of South Africa's first innings total, many doubted whether the tourists could survive the day against the world's number one Test side.
However, New Zealand scrambled to 121 and, after being asked to follow-on by South Africa skipper Graeme Smith, the Black Caps dug in to reach 157-4 at the close with Dean Brownlie (44 not out), Martin Guptill (48) and BJ Watling (41) leading the resistance.
"That was very, very good from New Zealand," former England batsman Butcher told Sky Sports.
"Watling and Brownlie showed what can be done with the requisite application and there was a decent effort from Guptill at the top of the order, as well.
"I felt when Guptill and Daniel Flynn went in two consecutive deliveries there might be an avalanche of wickets, but New Zealand have done what we suspected might be their target at the start of the day, which was get the game into a fourth day."
However, Butcher pointed out that conditions were far more in New Zealand's favour on Sunday and South Africa's task of bowling a side out quickly twice in succession is not as easy to achieve as it may seem.
"Conditions were much easier to bat in than Saturday," Butcher told Sky Sports.
"That 22 over session in the evening on day two, on the back of being in the field for 150 or so overs, everything was geared up for South Africa to come steaming in at New Zealand and knock them over, their confidence being as fragile as it is.
"So it's not surprising what happened to them in the first innings, but it was a bit more of a surprise to see them show more resistance second time round because you thought South Africa were going to make mincemeat of them.
"But it is sometimes hard to win a match when the opposition are following on; you're on a real high from knocking the opposition over cheaply first time round so you're not as patient and the opposition come out more resolute and don't make things easy for you. It isn't straightforward.
"However, New Zealand are still going to fall well, well short of making South Africa bat again."
Fight
Jeremy Coney, meanwhile, commended his countrymen's spirit - although, like Butcher, said he expected the match to be over on day four, with the new ball due in 13 overs.
"New Zealand have fought hard," said the former Black Caps captain.
"I don't think any of us felt they would beat South Africa in this series - there's too much differential between bat and ball - but we do like to see some fight being put up and that was more like it on day three.
"Having said that 157 isn't a big total and they're on the brink. To get another 247 [to make South Africa bat again] is unlikely."