Women's World Cup will be toughest yet, say England's Holly Colvin, Lydia Greenway and Arran Brindle
England's Holly Colvin, Lydia Greenway and Arran Brindle are ready for the Women's World Cup.
By Oli Burley - @SkySportsOli
Last Updated: 30/01/13 1:16pm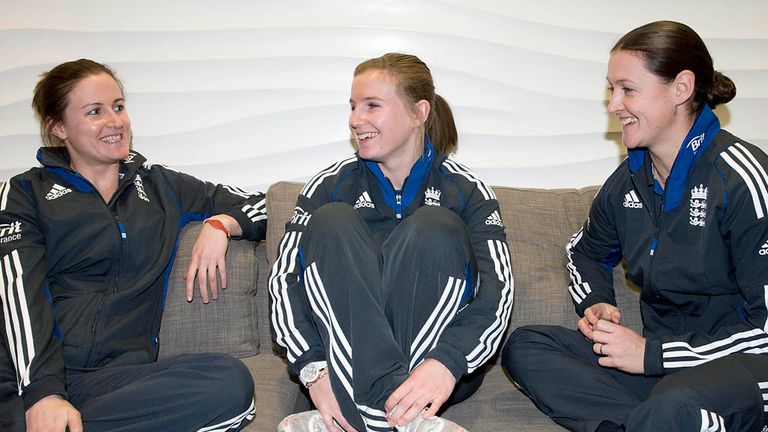 England - in Group A alongside Sri Lanka, West Indies and hosts India - are aiming to defend the title they won in Sydney in 2009.
All-rounder Lydia Greenway and spinner Holly Colvin were part of that World Cup-winning squad and together with Arran Brindle, who played in the 2000 and 2005 tournaments, they have key roles to play if England are to win back-to-back titles.
But as they prepares for their opening match, against Sri Lanka on Friday at 3.25am, they know it will be no easy task...
Will this World Cup be the most competitive yet?
Holly Colvin: I think so - and the following one will be even more competitive. The only way women's cricket is going is forwards.
Arran Brindle: To be honest, I don't think there is a 'minnows' category anymore.
Lydia Greenway: Traditionally there have always been the top four teams but teams like West Indies, Sri Lanka, Pakistan and South Africa are increasingly coming into it. All of the teams now have world-class players in their teams and one player can be the difference on the day.
AB: Any team that has qualified to be in the group stages has got to be a force to be reckoned with on their day. I would hope that there are going to be some fantastic games to be shown on Sky and hopefully it really endorses women's cricket even further.
Are England in good shape for this challenge - and the summer's series against Australia?
HC: We've got a brilliant balance between youth and experience - and actually, some of our most experienced players are still quite young!
LG: Everyone involved in the squad has played in the sub-continent before, so we know what to expect which is also a good position to be in.
HC: We're probably one of the few sides in the world that have actually been pretty consistent with selection over the last few years; we know each other's games very well and are accustomed to our roles, which has been key to our success previously.
AB: We've been working hard as a group and as individuals back home. We have the things that we've been working on since the Twenty20 World Cup - any little tweaks to our game - but it's just a case of making sure that we're in as good as form as possible and ticking all of the boxes.
It sounds like you know each other pretty well - so how would you describe each other?
LG on HC: Posh, determined and definitely not a morning person!
AB on LG: Very quiet and unassuming - but Lydia's also incredibly determined in the way she goes about her business. Away from cricket, she's a big fan of Dexter - and she's not the only one in the squad!
HC on AB: I would say Arran's a planner - she likes to know what you're doing when! She's also old-school - she uses all of the retro nicknames and puts retro songs like Roxette's 'Fading like a Flower' on our team CDs.
What aspects of your game have you been working on ahead of the World Cup?
HC: I'm very confident in my game at the moment. I had a pretty good Twenty20 World Cup so off the back of that I've just been making sure that I keep consistent in my action and don't stray too wide on the crease because even small spin becomes significant when you bowl wicket-to-wicket. I've been trying to work on a Chinaman but it's not quite match-ready yet! It still needs quite a bit of work, so it's all the more important that my alternative deliveries are well-disguised.
LG: We have been doing a lot of technical work on our batting and our balance at the crease - using new drills to help us get into good positions.
Can you give us an example?
LG: Well, we've been doing a lot of work over mini-hurdles, working on going forward and coming back and making sure our balance is good because footwork against spin is very important. Initially we do it without a ball - so you hop over the hurdle, hold your weight there and then play a shot and then hop back to get the weight transfer right and making sure you're well balanced.
AB: It's about having the confidence to know your game inside-out, what your strengths are. I've got some shots all around the wicket now which I'm really confident with, and I'm hoping that the new fielding regulations will make manipulating the field easier.
Do you find it tougher batting in India than anywhere else?
AB: We could find a slow turner but, as we've seen from the men's tour, we could play on one that has decent bounce and a fast outfield. I think we've just got to adapt to the conditions as soon as possible and if we do that we'll just play accordingly.
Would you relish the chance to open the bowling, Holly?
HC: I've never done that for England before, so if Lottie (captain Charlotte Edwards) threw me the ball then I'd be up for the challenge. But we've got some world-class opening bowlers in Kathryn Brunt, Anya Shrubsole and Georgia Elwiss as well, who have done fantastically recently against India, so it would be a tough call to bowl ahead of them even though spin has been quite prevalent in the women's game all round the world, no matter what the conditions.
Do you prefer 50-over cricket to 20-over cricket?
HC: Fifty-over cricket is naturally more about crafting a spell and making sure that you are bowling in the areas that you want to and being more attacking.
AB: I think that's where the women's game has developed a lot alongside the men's. As much as anything, it's about how you approach an innings - if you are positive and go out there you've still got plenty of time even in 20-over cricket and sometimes it's a case of pulling yourself back and thinking 'I have got the time' and I'm going to make sure that I execute the things that I've practiced.
The worst thing to do is get caught up in trying to be something you're not - for example, trying to play like Sarah Taylor, who bats in an exceptional way compared to most people. You've got to remember your place in the team and what your role is and if you do that it doesn't matter if it's 20-over or 50-over cricket; if you can be part of a winning team it is something pretty special.
Sounds like good advice! What's the best piece you've received during your career so far?
AB: Never say 'never'.
HC: One person used to say to me 'play the ball, not the player'. That stuck with me so no matter who is bowling at me - an Under-11 girl or the fastest bowler in the world - you've still got to play the ball.
LG: I've probably received quite a lot of advice! One thing I've always been mindful of is never think you're as good as you can be. Always try to keep improving. In cricket even the best players can get better.
Holly, Lydia and Arran will be back on skysports.com on Wednesday in part two of our interview when they'll be discussing the changing profile of the women's game, how young girls can get involved and their personal career highlights to date...
Coverage of the ICC Women's World Cup 2013 - part of the year round schedule of live women's sport on Sky Sports - begins this Thursday when hosts India take on the West Indies, live on Sky Sports 1 HD at 8.55am. For full coverage details click here.