Women's World Cup will further game's growth, say England's Holly Colvin, Lydia Greenway and Arran Brindle
England's Arran Brindle, Lydia Greenway and Holly Colvin discuss the growth of Women's cricket.
By Oli Burley - @SkySportsOli
Last Updated: 30/01/13 1:16pm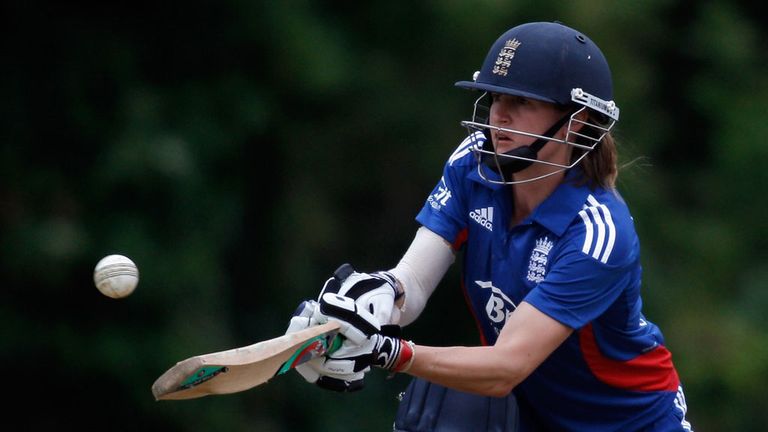 In part two of our interview the players discuss the barriers they've overcome to make it to the cricket's pinnacle and how, as a result, the profile of the game is evolving.
Just days before England begin the defence of the trophy they won in 2009, the trio explained how this tournament - which gets underway on Thursday - will help to showcase just how far women's cricket has come...
So, how did you get into cricket?
Holly Colvin: I wanted to be like my older brother, so when I was about seven or eight I went to my local club and joined in. I was too young and naïve to realise that I was the only girl, so I just had a good old time and played in the boys' team until I was 14.
Lydia Greenway: I played boys' cricket at my local club Hayes until the under-16s, when I was told we couldn't play anymore. At that point my sister, one of my best friends and I set up our own women's team. Our Mum's were involved - I think my Mum was wicketkeeper and opening bat at one point! We started playing friendlies and now we are in the Premier League.
Arran Brindle: My story is similar - my Dad played cricket and I used to go and watch; he had a friend who was running and Under 11s set up and asked if I wanted to go and net, at which point, I was a little bit shy and wore a hoodie so I didn't necessarily get picked out as a girl straight away. The club, Thornton in Craven, were great; I played for them throughout the age groups up until U18, then in the second team, and then the men's team before I went off to University.
How would you encourage girls to get into cricket today?
AB: Nowadays there is a much better pathway from schools cricket to the women's club set up so it's an easier and more comfortable process.
LG: If you can't get any coaching at school, then get down to your local club. It depends on the individual but most of us played boys cricket and I think that has benefitted all of our games in the long run. But there are a lot more girls sections out there to join if you prefer.
HC: Women's cricket has absolutely boomed in the last few years and the opportunities are definitely there, so get amongst it! If there isn't a girls' team then play for the boys' team because the barriers that were there have definitely broken down.
You've now got 229 ODI caps between you. Did you ever imagine you'd have such long England careers?
LG: To be honest, no. When I made my debut in 2003 it was quite a surprise because I was with the U19 team at the time and then I suddenly got called up to the senior team. I generally don't try to look too far ahead of things but if I do earn my 100th cap in the World Cup it will be a big honour.
HC: Jenny [Gunn] has got her 100th cap and she's only 26; that's fantastic for us and it's a reflection of how much cricket we're playing now. I hope that this batch of players continues for as long as possible.
AB: Players are able to play the game for a lot longer now because of the help we get from the ECB - we've now got seven girls on the 'Chance to Shine' programme and get monthly support and tour fees. Back in 2006 I decided to take a break because it just wasn't sustainable for me to combine part-time work with all of the training and travelling I had to do.
Did you think you'd play for England again?
AB: It was never a case of 'I've retired'; it was a break. I'd moved to Louth and travelling three times a week to Loughborough to train while also working was hard enough, and then I had my son Harry in 2008. It just wouldn't have happened without me taking a break. Now I am able to train where I live, so I can put the work in much more easily.
I don't think anyone is ever as good as they'll ever be - there's always room for improvement. That's the driver for me in terms of coming back; playing club cricket to as high a standard as possible, even men's ECB level. Coming back into the England set up, you know that everybody else is putting the time in - it gives you an extra buzz and drives you on.
What's been the highlight of your career to date?
LG: The century I scored against South Africa in 2011 was a big milestone for me because I hadn't been scoring the runs I should have. As a team I think the biggest highlight for me would be winning the one-day World Cup in Australia. For a lot of us it was a long time coming; we'd been involved in World Cups before and never got the results we wanted so it was great for all our hard work to pay off.
AB: Scoring any century is fantastic but the one against Australia to draw a Test at Hove in 2005 when we went on to win the Ashes was my first hundred so that was probably as special as the one I scored soon after returning to the England set-up in 2011. But they mean nothing if you don't go on to win the game. That's the biggest thing for me: if I can be part of this World Cup and we go onto win it, then whatever role I play then great. If I can go out and score lots of runs then that's a bonus.
How encouraged are you by the current state of women's cricket?
HC: I think it's in a fantastic position. Our squad is the most competitive it's been and we've now got more support than ever - we're one of the best supported sides in the world and with the English Institute of Sport behind us we're becoming a lot more professional in our approach. In terms of coverage, we are getting the most we've ever had - including these 10 live games on Sky.
AB: The women's game has never been more healthy than it is now. That obviously comes on the back of a lot of success, which increases the profile of the sport in the media; but there is also more opportunity to see the group up close and find out what it's all about. There is a natural energy about the England girls and more and more people can tap into that; it is infectious. All the girls are very approachable and aspire to be role-models for the game because it's something that we love and get a lot from as well.
As a woman playing for Louth in the men's Premier League, do you feel fully accepted?
AB: It's always been a case of you've got to go out and prove yourself but I think that's the challenge that I liked about men's cricket from the beginning. The pressure of having to go out and perform week in, week out is very similar to being on the international stage where you will get dropped if you don't play well. It gives you that constant edge that you need.
The Lincs ECB League is a high standard - there are some seriously good cricketers in there, who have played Minor Counties cricket and above - so you've just to make sure that you know your game and don't pretend to be something that you are not because you'll soon get found out.
Is enough being done to encourage young girls to be the next Charlotte Edwards?
LG: I'm one of seven players going into schools around the country for 'Chance to Shine', trying to create role models for young girls and help grow the game at grass-roots level. There's a lot of work to do but we are getting more and more support for the scheme and the England team too.
HC: I played a lot of cricket at school but there are many people out there who won't get the same opportunities, who won't get the support they need. The work that the 'Chance to Shine' girls do has been fantastic and there are a lot more girls clubs starting up now as a result.
LG: Recently I was over in Essex, helping out on a female Level One only coaching course. Schemes like that can really help because the more coaching role-models there are, then the better it is for the game.
Does being a teacher, Arran, help or hinder getting the message across?
AB: It definitely helps. There's a real buzz and excitement in the classroom at Greenwich House just before I go on a tour or return from one and hopefully some of the boys and girls are thinking 'I want to aspire to that'.
If we can manage the time difference, and it fits in with training and matches, I'll get the chance to speak to some of the pupils from India on Facetime or Skype. I want to convey the message that there's no limit to what you can achieve if you believe in yourself and are willing to put in the hard work. If I can do that then we've achieved something pretty special together.
Coverage of the ICC Women's World Cup 2013 - part of the year round schedule of live women's sport on Sky Sports - begins this Thursday when hosts India take on the West Indies, live on Sky Sports 1 HD at 8.55am. For full coverage details click here.