Clare Connor and Isa Guha assess the main players in the ICC Women's World Cup
Former England duo Clare Connor and Isa Guha assess the main players in the Women's World Cup.
By Oli Burley - @SkySportsOli
Last Updated: 31/01/13 9:29am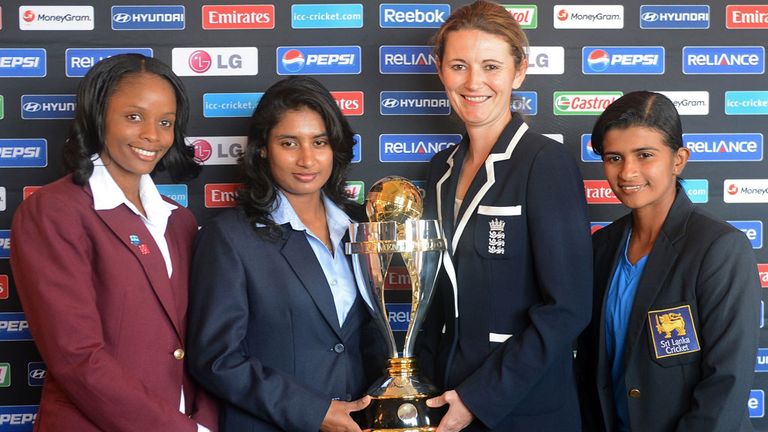 Guha, part of England's victorious 2009 side, will join Connor, who played in three World Cups for England reaching the semi-finals in 1997 and 2005, to provide expert insights and analysis as the tournament unfolds.
Ahead of the first match, between hosts India and the West Indies at 8.55am on Sky Sports 1 HD this Thursday, the pair teamed up to assess how each team might fare and pick out the key players to watch out for...
Group A
ENGLAND
Clare's Player to watch - Arran Brindle: This is a tough call after so many exceptional performances from England players in recent times. The obvious answers would be captain Charlotte Edwards and wicket-keeper batter Sarah Taylor. So I'll go with neither and I'll say all-rounder Arran Brindle. Batting at five and bowling a handful of overs in the middle of the innings, Arran will have plenty of opportunity to make an impact. An experienced player in the men's game as well as for England women, Arran is also a real live wire in the field who seems to make things happen.
Clare's Verdict: England have remained number one in the world in the 50-over format since the ICC Women's World Cup in 2009. They therefore know how to win and they should have huge confidence within the squad, which has genuine strength in depth. England's spinners (three off-spinners and one left-arm spinner) should really control the middle overs and with strong batters coming in right down to the tail, England are capable of defending and chasing big totals. They are really well led by experienced World Cup campaigner Edwards who is playing in her fifth World Cup. My money is with England... but I would say that wouldn't I?
INDIA
Isa's Player to watch - Mithali Raj: She is one of the greatest batters in the world. I've often been in awe of her when I've played against her. I remember the first time well because it was in my first Test, in 2002. She scored 214 - so I had a fair amount of time to admire her batting! She's a tremendous, classic player; when I watch her bat she seems to have so much time. Nothing fazes her.
Isa's Verdict: Much like the men's side, they often step up to the plate in their own backyard. They've got a lot of talented spinners in their team as well as some really strong batters. Historically, Mithali Raj has always been the backbone of the Indian batting line-up but now they've got a crop of youngsters in the side like Punaum Raut and Harmanpreet Kaur, who are very aggressive players who play with no fear, so watch out for them.
SRI LANKA
Clare's Player to watch - SS Weerakkody: I don't profess to know the Sri Lankan players very well as we have not seen much of them in the past few years. One name that seems to recur is Sripali Weerakkody who has been in the side for six years now. She has made a good start in the World Cup warm-up matches, most significantly in Sri Lanka's win over South Africa. She is a composed batter in the middle order who also opens the bowling with good control.
Clare's Verdict: Sri Lanka will be fighting hard in Group A to make the Super Sixes. It's a tough ask with England, India and West Indies in the group. West Indies recently drew an ODI Series 2-2 with South Africa - a series I think they will have been disappointed not to win. With the conditions suiting the Sri Lankans, they might just cause a few surprises and we might see them in the Super Sixes ahead of the West Indies.
WEST INDIES
Isa's Player to Watch - Stafanie Taylor: She's currently the ODI cricketer of the year and is just behind Mithali Raj in the rankings. She plays extremely well straight and has three centuries to her name and is an all-round tough competitor, as South Africa found recently in their own backyard when she hit 76 at the top of the order to help West Indies draw 2-2.
Isa's Verdict: The West Indies are a passionate side on the rise in World cricket. They tend to suit the Twenty20 format more because they are very dynamic cricketers - they've got a bit about them and are generally quite attacking. They won't just be aiming to make the Super Sixes, they'll be hoping to make it into the top four if possible. Their captain Merissa Aguilleira plays with her heart on her sleeve and really leads from the front. She never lets the side down - all the players look up to her and want to play well for her.
Group B
AUSTRALIA
Isa's Player to Watch - Meg Lanning: She is a serious, serious cricketer despite being only 20 years old. She scored a hundred against England in her second ODI, in Perth, and then went to India and hit 128 in Mumbai. She loves to score heavily as she proved in the recent series against New Zealand, making 87, 72 and 103 (off just 60 balls) in her first three innings. I'd put her in the same category as England's Sarah Taylor - she's that good - plus she's an athletic fielder, who is great in the outfield.
Isa's Verdict: Australia are always there or thereabouts and the World Twenty20 champions will be again. After a period of transition, they seem to have found the right formula and their side has a nice balance of experience and youngsters coming through the system. There are a lot of talented players coming through the system at the moment and they have to be one of England's main rivals for the title.
NEW ZEALAND
Clare's Player to watch - Suzie Bates: The Kiwi captain really leads from the front. She goes in to the tournament in good form after recent matches against Australia. She scores at a high strike-rate, is entertaining with a range of attacking shots and, most importantly for this format, she knows how to make hundreds. At the last ICC Women's World Cup she made a record 168 from 105 balls against Pakistan.
Clare's Verdict: New Zealand made two ICC World Cup finals in 2009 and won neither of them. They have players who still remember that pain and who will, I'm sure, want to settle some scores on the biggest stage. For me, they have struggled with consistency in recent years. As a result, they could win the tournament but they could also finish in fourth place.
PAKISTAN
Isa's Player to Watch - Sana Mir: The skipper will really want her side to put on a good show. I've heard her speak on a few occasions and she seems very composed and knows exactly what she's talking about when it comes to cricket. A right-handed batter who bowls leg-breaks, she'll definitely have an impact on this tournament and will be hoping her team can close the gap on the best teams.
Isa's Verdict: England have encountered Pakistan a few times since the last World Cup and what sets the more experienced teams apart is a real strength in depth. They've got two or three players who can really take a game away from you, but if you get into their middle order quickly you know there's a good chance you might bowl them out quite cheaply. They will be hampered by a few political issues at this World Cup: they are not allowed to play in Mumbai and will have to sleep at the ground in Cuttack, as that's where the BCCI thinks they will be the most safe. They will have a lot of things on their mind but hopefully they can put those to one side and play to their full potential. I know they'll want to show exactly what they are capable of.
SOUTH AFRICA
Clare's Player to watch - Trisha Chetty: She certainly won't be the most consistent performer in the tournament but I've picked her as I think we'll see some fireworks. She fulfils the role of pinch-hitter and, on good tracks, hits the balls hard and cleanly. She's brave, knows her role and if she comes off, she is exciting to watch.
Clare's Verdict: Like Sri Lanka, South Africa will be fighting hard for a spot in the Super Sixes after their Group B matches. With Australia and New Zealand almost guaranteed their spots, it will be South Africa or Pakistan for the final Super Six place. The South African team should be feeling confident after a recently tied ODI series against the West Indies but I think they will find it less easy to score as freely on Indian wickets.
Coverage of the ICC Women's World Cup 2013 - part of the year round schedule of live women's sport on Sky Sports - begins this Thursday when hosts India take on the West Indies, live on Sky Sports 1 HD at 8.55am. For full coverage details click here.