Pakistan just have edge over South Africa after day one, Rob Key and Alec Stewart agree
The first Test between South Africa and Pakistan is tantalisingly poised, Alec Stewart told Sky Sports HD.
Last Updated: 01/02/13 5:17pm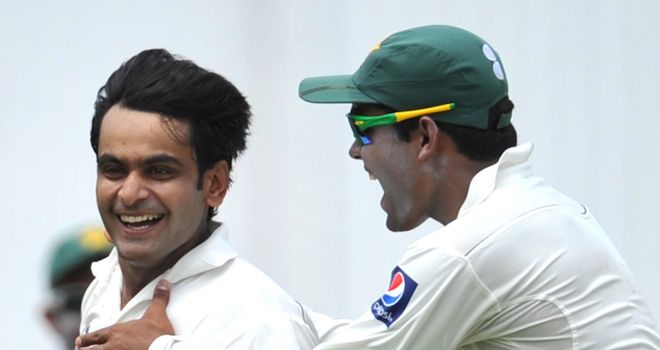 The Proteas won the toss and elected to bat but found conditions tough going at the Wanderers and were dismissed for 253 shortly before the close of play, with Pakistan's openers steering them to 6-0 at stumps.
Jacques Kallis was the only South African batsman to make a half century on a day where Pakistan's Mohammad Hafeez sprung a surprise, the opening bat taking 4-16 with his slow deliveries.
And with the prospect of the hosts' world-leading attack needing to deliver on Saturday, former England captain Stewart reckons the match is set up perfectly.
"That was a great day of Test cricket; a great advert for the format," he said.
"When Graeme Smith won the toss and elected to bat you think South Africa are going to get through the hard yards - which they did - and then go on to get 400 and certainly be batting at the close of play on day one.
"However, Pakistan had other thoughts and Hafeez was quite outstanding in picking up those four wickets, which I think was a shock to everyone, including himself.
"It means Pakistan have finished day one ahead - but South Africa are still very much in the game."
Rob Key was equally enthralled by the action and is intrigued to see how the tourists' inexperienced line-up copes on day two.
"It's all eyes on the wicket to see what happens and whether the South Africa bowlers can get a little more out of it," he said.
"This was Pakistan's day, there's no doubt about that, but there's enough there for Vernon Philander, Dale Steyn and Morne Morkel, who are up against a side with a little inexperience in their batting line-up.
"This is a gripping Test match; the ball is slightly in favour of the bat which you don't often see and it has made it a good one to watch."
Incredible
Stewart had plenty of praise for Hafeez, who claimed the wickets of AB de Villiers, Dean Elgar, Robin Peterson and Morkel, and surmised the slow right-armer had confused the home side.
"He's not looked upon as the frontline spinner because they've got Saeed Ajmal, the little magician who just picked up the one wicket. But Hafeez, who just bowls straight breaks, was incredible," said Stewart.
"It goes on with his arm to the right hander and, although he has the ability to spin the odd one, the batsmen played for the spin each time and that's why he's found the outside edge and got through."
Key, though, reckoned Ajmal deserved some plaudits for setting up the batsmen for Hafeez.
"The batsmen were concentrating hard on trying to pick Ajmal's mystery balls," he said.
"Ajmal did a great job today, he clawed back the run rate and the batsmen couldn't get him away. That meant, when Hafeez came on they relaxed a little and he was rewarded for Ajmal's hard work."
Ton up
South Africa skipper Graeme Smith was honoured before his 100th Test match - his 99th for South Africa, the other being for a world XI - and Stewart applauded the 32-year-old's achievements.
"It was a tough day at the office for Smith and one he'd have wanted to go better from a performance perspective, but he's a top player and he should thoroughly enjoy what's gone on for him," said Stewart.
"He's had a nice presentation from the South Africa cricket board and the crowd have turned up to support him. Anyone who has captained their country deserves respect, but to do it 100 times is unbelievable."
However, former Kent captain Key, suspects the Proteas leader will be plotting how to oust Pakistan, rather than celebrating, tonight.
"He's got to start working out how to get back in this game," he said.
"He'll think they have a chance and will be telling his bowlers tomorrow morning 'this isn't an easy pitch but we've got to make the most of it. If we get our line and length consistent we should get our rewards'.
"They'll want to put the inexperience of the Pakistan line-up to the test because there won't be too many of them who have played Tests in these conditions.
"There's a really good Test match on offer tomorrow morning."