Dale Steyn praised by Rob Key after South Africa hammer Pakistan
Rob Key applauded Dale Steyn after his career-best display destroyed Pakistan in the first Test.
Last Updated: 04/02/13 4:32pm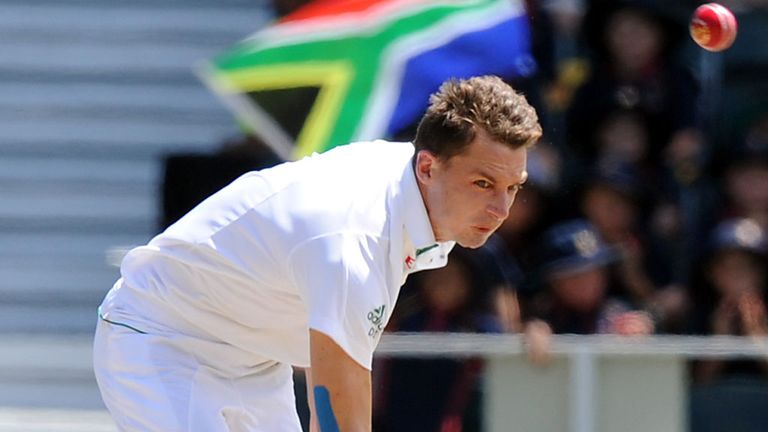 The number one bowler in the world had taken six for eight as Pakistan slumped to 49 all out in the first innings and he wrapped up a further five wickets second time around to finish the match with 11-60, as the tourists fell 211 runs short of their target.
"Steyn's nearly unplayable at times," former Kent captain Key told Sky Sports.
"He puts it in for his captain Graeme Smith every single time and when there's a little bit of swing, as there was in the first innings and with the second new ball in the second innings, he's just devastating.
"There were times when it wasn't doing a lot so he changed up to bouncers and really going at them but generally he hits a great length which brings the batsman forward and gets the nick with his late swing.
"You look at some of the Pakistan dismissals and say 'do they play too much towards mid-off, extra cover?' But really some of his deliveries were brilliant, brilliant pieces of bowling."
Former England skipper Alec Stewart was equally impressed and pointed to Steyn's consistency as key to his success.
"He has natural pace, which is great to have in your armoury, but he has great control as well," said Stewart.
"He has a super wrist position which allows him to swing the ball out to the right hander at good pace and he keeps doing it ball after ball after ball - and that's why he's number on in the world.
"There are a lot of people who can bowl good spells but who can't maintain it over a Test or a series. But he's done this for a length of time."
Outclassed
Pakistan produced a more determined effort second time round, battling their way to 268 all out, but Stewart believes they still have a long way to go - and will have to significantly improve against the new ball - if they are to cause the world's best Test team problems when they meet again on Valentine's Day.
"South Africa were too good," he said. "They showed their class; they're the number one side in the world and they underlined exactly why they have that title.
"Pakistan batted for 100 overs in the second innings - in the first they managed just 29.1 - so that was much, much better and Misbah-ul-Haq (64) and Asad Shafiq (56) showed how they can battle.
"But once the second new ball was taken and Steyn had the cherry in his hand it was near on impossible for the Pakistan lower order.
"That was an improved performance from Pakistan but they couldn't have done much worse - and there's still so much room for improvement.
"Their techniques on the slower, lower pitches is first class, but, against first class bowling on pitches which offer a bit of seam movement and swing through the air, they do seem exposed.
"In fairness it would have been tough for anyone to face this attack - Australia, England - and we should not take away from how well South Africa bowled through this match. But it was a hammering and Pakistan will need to try and regain some confidence in their warm up game before the next Test."
Former England wicket-keeper-batsman Stewart also credited AB de Villiers for equalling Jack Russell's 1995 record of taking 11 catches in a Test match.
The South African proved he is a safe pair of hands behind the wicket and capable replacement for the recently-retired Mark Boucher.
"He's new to the keeping game in Test match cricket and there's always that talk about 'can you combine both skills'," said Stewart.
"He's a high class, almost world class, Test match batsman and now, for him to match that record so soon in his keeping career is something he'll be proud of.
"However, it was probably more about how the bowlers bowled as he only took two high class catches - the others were straight forward.
"But well done to him, he held onto everything and he also scored a brilliant hundred in the second innings with the bat. As captain of the opposition it is tough to counter someone who's in that form. He did a tremendous job with bat and gloves and had a great match."