England Twenty20 captain Stuart Broad has defended the role of all-rounders in the modern game
England Twenty20 captain Stuart Broad has defended the role of an all-rounder in the modern game.
Last Updated: 14/02/13 12:54pm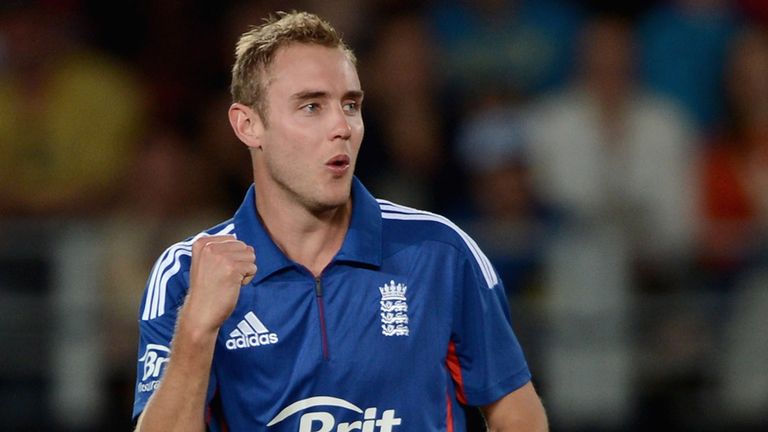 All-rounder Broad, who will captain England in the final ODI against New Zealand on Friday, said he believed that the skill level hasn't changed since the days of his role model Sir Ian Botham.
"I don't think the role has particularly changed - averages have obviously changed just with the way the game has evolved. I don't think the skill of an all-rounder has changed," Broad told Elysium Magazine.
"I don't think the all-rounder is a dying breed. Players work hard to have different strings to their bow. I enjoy going into a game knowing that if I don't manage to get the runs I can grab the ball and go and take wickets or vice versa.
"There is the added pressure now that you're expected to perform with bat and ball - but I see that as a positive."
2013 is a huge year for English cricket, with the first of the back-to-back Ashes series starting in July, but Broad insists he isn't looking that far ahead.
"There's a lot that can be achieved in the next 12 months but it's important that we don't look too far ahead," he said.
"I'm a big believer in only looking at the next hour of a Test match - if you do that you get your basics right for that game. Doing that hopefully helps you win."
Successful
While England have enjoyed success in all forms of the game in recent years, Broad is keen for that to continue and believes the way the ECB is set-up ensures a thriving production line of talent.
"We're very fortunate to have a really good youth set-up. There's academies set-up throughout clubs encouraging children to play," he said.
"The under-19 set-up is where I learnt a lot - you get to travel to different places and you learn from all these experiences. The ECB has done a great job of getting young players through.
"We've had young guys that come into the England set-up and don't just play, they perform. A lot of that has to do with the academy set-ups that get you ready for international sport."
In particular he was keen to highlight the talents of Joe Root and Alex Hales, tipping them as potential England Test stars, as well as Nottinghamshire team-mate James Taylor.
"There does seem to be a lot of strength in depth about at the moment. Coming into a side who has been winning and successful in the past couple of years also makes it a bit easier," Broad said.
When asked if he had words of wisdom for aspiring cricketers, Broad emphasised the need to keep things simple.
"My advice would be to keep things as simple as you possibly can and to enjoy yourself," he said. "I never tried to put too much pressure on myself; I just went out to enjoy my cricket.
"Once you get to international-level cricket - that's when the pressure starts. So as a youngster, just enjoy your cricket and relax."