Vikram Solanki applauds Pakistan's fightback on day one of the second Test against South Africa
Despite their fightback, Pakistan are in a vulnerable position against South Africa, says Vikram Solanki.
Last Updated: 14/02/13 5:34pm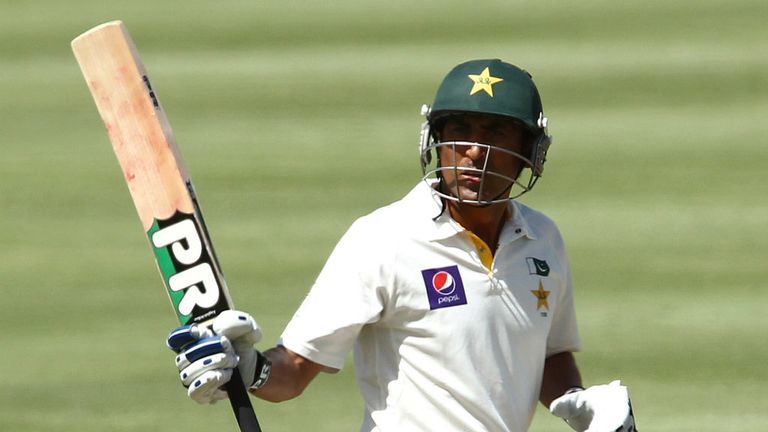 Pakistan - who slumped to a 211-run defeat in the first Test after a woeful first innings effort of 49 - looked on course for another poor score when they stumbled to 33-4 on the first morning in Cape Town.
However, veteran Khan (111) and Shafiq (111 not out) steadied the ship before going on to make impressive centuries against the Proteas' talented attack to help Pakistan to 253-5 at the close.
Vernon Philander had Khan caught behind just before stumps to end Pakistan's biggest-ever partnership in South Africa and Solanki reckons that wicket tilts the match in the home side's favour - especially with the second new ball still fresh in their bowlers' hands.
"At 33-4 Pakistan needed one of their senior batsmen to stand up and lead the way and that's exactly what happened," the former England international told Sky Sports.
"Khan stood up and, along with Shafiq, made a brilliant fightback.
"There wasn't a great deal of assistance for spinner Robin Peterson and Younis was aggressive against him; when they got the opportunity to score they did so. They're accomplished players of spin, the Pakistan batsmen.
"However, we've seen the top order struggle against the new ball and, although these two got through and played well against the older ball, they found it difficult when the second new ball was taken.
"It was moving around a lot and, with the second new ball just 10 overs old, the lower order are going to struggle against the South Africa attack tomorrow morning."
Recovery
However, ex-England bowler Dominic Cork reckons the tourists must be satisfied with their recovery after their disastrous start.
"It is honours even at the end of the day and Pakistan will be happy with the position they're in, despite the disappointment of losing Younis Khan late on.
"Everyone expected Pakistan to collapse and they didn't.
"Shafiq produced a fantastic knock; he's a young guy learning against one of the best sides in the world and batting with a senior player in Khan he went on and on.
"But we'll see what happens tomorrow because Pakistan have a crucial half-an-hour period at the start of day two to get through."