Saeed Ajmal bowled Pakistan into commanding position against South Africa, says Dominic Cork
Dominic Cork backed the umpires after Saeed Ajmal's dismissal of Jacques Kallis sparked debate.
Last Updated: 15/02/13 6:02pm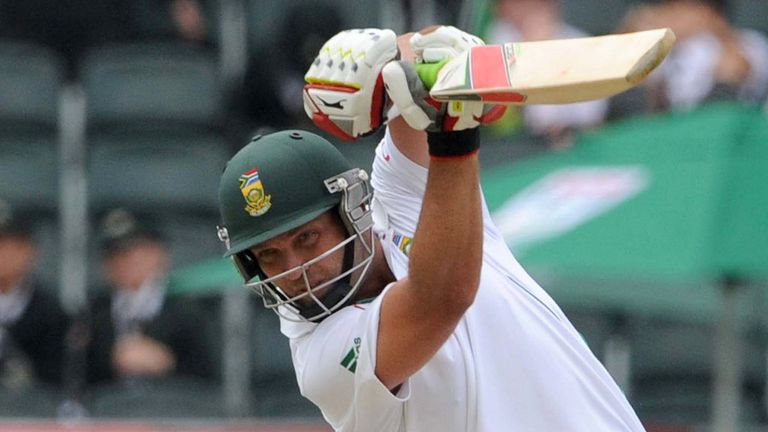 Saeed Ajmal (5-41) ripped through the Proteas' top order as the hosts finished the day on 139-5, 199 behind Pakistan's first innings total.
However, Ajmal's dismissal of all-rounder Kallis dominated the post-match discussions in the Sky Sports studio. The spinner appeared to have the South Africa legend caught bat-pad, however Kallis reviewed umpire Steve Davis' decision to give him out. When hotspot showed Kallis had not in fact touched the ball with his bat, he was instead given out LBW and, despite his protests, had to leave the field.
The decision sparked confusion and boos rang out around the stadium - but former England bowler Cork explained the umpires were correct to give Kallis out.
"Law 27.4 states an appeal covers all ways of being out," said Cork.
"Whether he's been given caught or lbw, it doesn't matter. The third umpire checked whether he got an inside edge, and he didn't, but Steve Davis doesn't have to change his decision, he just says 'I was right, you are out'.
"Kallis goes up to the umpire - which I don't think he should be doing - saying 'surely you gave me out caught but I didn't hit it, why've you given me out?' and it got complicated, but law 27.4 is relevant and finishes the conversation."
However, Cork reckons the conversation between the on-field umpire and third umpire should be audible to the fans and TV coverage, to clear up confusion in future.
"As a former cricketer and fan of the game, I want to hear what is being said between the umpire on the field and the third umpire, like we see in rugby," he said.
"Why can't we hear Steve Davis checking what the reasons are? Then everyone watching on Sky will understand. We're ex-cricketers and even we were baffled by it. It shouldn't be so complicated."
Tourists on top
The controversy though, shouldn't detract from an excellent days play by Pakistan and former England international Vikram Solanki praised man-of-the-day Ajmal.
"There wasn't a great deal of assistance from the pitch but he gets a lot of revolutions on the ball," he said.
"He also bowled with pace, which means playing off the back foot is a dangerous policy.
"But his dismissal of Faf du Plessis was just brilliant: bowling around the wicket he produced a fantastic doosra. To be fair Du Plessis couldn't do a great deal about that. Even if he had picked it, to react in a way to keep that ball out is a very difficult proposition."
Cork was equally impressed with the spinner and says Ajmal has put Pakistan in control.
"Can one man win a cricket game? If he bowls like that he can," he said.
"Pakistan are in a great position and have had a fantastic day. They've fought back in this series and they've really taken it to South Africa."