Pakistan have the upper hand against South Africa, says Dominic Cork
Pakistan have moved into a strong position but must bat time on day four, Dominic Cork told Sky Sports.
Last Updated: 16/02/13 4:37pm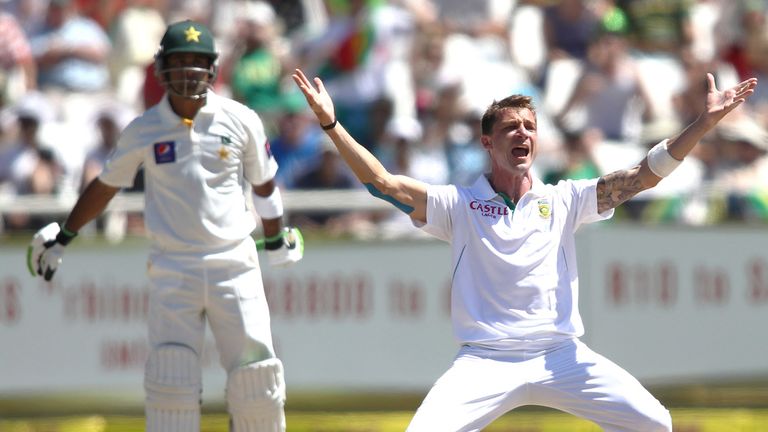 Day three first saw Robin Peterson impress with the bat as he accumulated 84 as South Africa's lower order rallied to reach 326 all out, just 12 behind Pakistan's first innings effort.
And the hosts looked like they would capitalise on that effort when they sent both Pakistan openers back to the pavilion without scoring and had the tourists wobbling on 45-3.
But Azhar Ali (45 not out) and skipper Misbah-ul-Haq (36 not out) steadied the ship and at 100-3, with a lead of 112, Pakistan have re-taken the upper hand in the contest, says Cork.
"It was a slow partnership between Misbah and Ali, but it doesn't matter. With two days left Pakistan are trying to get themselves back into the game but also back into the series," he told Sky Sports.
"They lead by 112 and they'll be quietly content with that. We saw in the first innings when they lost wickets early on they were able to put a big partnership together and these two have done well here.
"They've set themselves up to push South Africa out of the game. But there's still a bit more work to do."
Former England international Vikram Solanki was also impressed with the way Pakistan recovered from the early blow of losing both openers to the new ball but said they will have to be cautious at the start of day four.
"Pakistan can take heart from weathering the storm against the new ball," he said.
"They've got a partnership together but they've got to start again tomorrow. The bowlers will be fresh so they'll have to get through the opening period and build another partnership.
"But they know the longer they bat the harder it will be for South Africa."
Man down
However, the Proteas attack are a man down with Morne Morkel injured and Cork says that means Dale Steyn and Vernon Philander - South Africa's star performers - will have to deliver the goods on Sunday if the hosts are to win the match.
"Steyn and Philander constantly make batsmen play, their lengths, line and aggression are excellent," he said.
"They're different types of bowlers and in some way as good as each other. They'll definitely make it difficult for Pakistan.
"But South Africa are one bowler down so there's a lot more pressure on Steyn and Philander tomorrow to take early wickets."