Moises Henriques a 'shining light' for Australia, says Ian Harvey
Moises Henriques was one of few positives for Australia in their Test defeat to India, says Ian Harvey.
Last Updated: 26/02/13 11:35am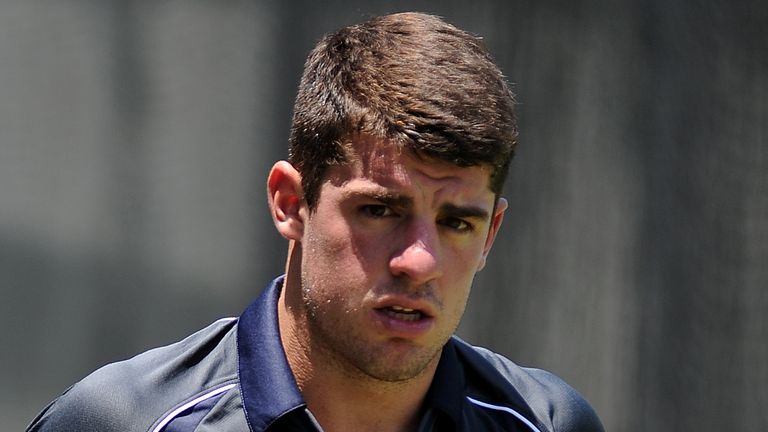 The Baggy Greens were outplayed with bat and ball by their hosts and, with only a maximum of 15 days of Test cricket in their schedule ahead of the Ashes in July, will need to find solutions to their problems in both departments.
However, Portuguese-born New South Wales all-rounder Henriques will give Australia followers hope after he compiled 68 and 81 not out in his first five-day appearance for his country.
"Henriques was outstanding in both the first and second innings," former Australia all-rounder Harvey told Sky Sports after seeing his country fall behind in the four-Test series.
"He kept it simple, rotated the strike and put the bad ball away. If you look at positives for Australia in this Test match - and there weren't many of them - he was a massive shining light."
Former England batsman Mark Butcher was equally impressed with the 26-year-old and says, with Henriques in the side, the burden on skipper Michael Clarke to score the decisive runs is somewhat eased.
"Australia are lacking the batsmen of class, such as Michael Hussey and Ricky Ponting, so there's going to be so much pressure on Clarke to score big.
"And he'll be very relieved he's found someone in Henriques who he'll be able to trust to put a few runs on the board as well," he said.
"Clarke, Shane Watson and Henriques - the three right handers - look like they had some sort of idea in terms of their footwork and how to organise themselves on the spinning deck in this Test.
"But three of the left handers, Ed Cowan, David Warner and Matthew Wade, looked like they'd get out at any time."
Support
Nathan Lyon was chief culprit in Australia's bowling attack, the spinner's figures of 3-215 the second most expensive ever in a Test match in India.
Butcher described his display on a turning track as 'not good enough', but Harvey picked out quick James Pattinson for credit.
The 22-year-old, who took 5-96 in the first innings, has established himself as a key component of Clarke's attack, though Harvey expressed concern that the young seamer is not getting enough support from his fellow bowlers.
"Pattinson has grown in stature," he said. "We've seen over the last 18 months with the rotation system that Clarke relies on him heavily.
"He looked good, he bowled with decent pace, he hit good areas and was very aggressive and he's someone Clarke can rely on, whereas Mitchell Starc and Peter Siddle looked a bit innocuous, almost bowling throw-downs at a few stages.
"Pattinson needs to have some back up from the other end and he didn't get that in this Test match."
Brutal
Despite Australia's shortcomings in the match, Butcher praised the performance of the home side and applauded India captain MS Dhoni, whose thrilling 224 off 265 deliveries - the third highest score by a wicketkeeper in a Test match - propelled India into a dominant position with a day and a half to go.
Dhoni was handed the Man of the Match award, ahead of his team-mate Ravi Ashwin, who took 12 wickets in the match, and Butcher agreed with the decision.
"Any spinner worth his or her salt should be looking to take bags of wickets on a pitch like that so Ashwin, as brilliantly as he bowled, is nowhere near the sort of performance of the India captain," he said.
"That was an absolutely outstanding innings; it was a brutal innings. India were going along nicely and Virat Kohli and Sachin Tendulkar had played really well but they weren't moving the game forward particularly quickly - but then Dhoni came in and that changed rapidly.
"If you think about the amount of time he put back into the match by getting them a lead of 190 and still leaving them five sessions to bowl Australia out, it was very special - and massively entertaining!"
See whether Australia can level the series by tuning into the second Test from Hyderabad from 3.55am, Saturday on Sky Sports 1 HD.