Bumble hails centuries of Nick Compton and Alastair Cook in Dunedin
Bumble enjoyed a special day for Nick Compton and another ton for the machine-like Alastair Cook.
Last Updated: 09/03/13 9:14am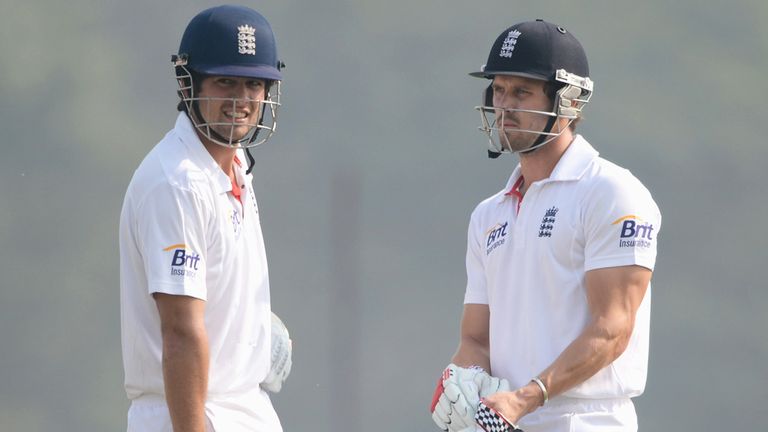 The England openers batted through most of day four in Dunedin following New Zealand's early declaration on 460-9 and their partnership of 231 steered England into a position where they look likely to salvage a draw from the match.
Cook scored a sublime 116 before Trent Boult eventually claimed his wicket, caught behind by BJ Watling, while Compton (102no) claimed his maiden Test century despite a few understandable nerves.
The Somerset man's previous best was the 57 he achieved against India in the third Test at Eden Gardens and Bumble praised his intelligent approach.
He said: "He's come into this team at 29 years of age and I don't know him, but he seems to be quite a brainy lad and he's got a great method to get in, to negotiate the new ball and then to find a method of scoring runs.
"Andy Flower has said all through India that they thought he was doing great and he needed and craved a score, so it's been special.
"It was comical through the 90's, but he got there."
In contrast, Cook now has 24 Test hundreds to his name, including six in in the seven Test matches he has played for England as captain.
And Bumble says his success can be attributed to the improvements he has made to his technique over the years.
He added: "He averages 92.45 as captain! He's an absolute machine and he doesn't break sweat and when they were both in the 90's, one of them cruised through it.
"Alastair Cook just eased through it, while the other lad dived in three times trying to get to that magical three figures.
"Cook is a wonderful player and technically he has developed. When he first came in as a young lad with plenty of potential he was really stiff on his front leg and didn't bend his front knee.
"Now he's doing everything right. I think he has a wonderful rhythm to his batting."
Flat
The performances of Cook and Compton ensured the dominant position that New Zealand had established is unlikely to yield a victory, barring an early England collapse on day five.
But Bumble says it was the flat Dunedin pitch that allowed the tourists back into the game, rather than any major failings from the hosts.
He said: "I think Brendon McCullum is quite an inventive captain. He's a gambler; he tried different field positions and he tried bowlers from different ends.
"I thought they stuck to it and they are a worthy outfit of good young lads, but they don't have Shane Bond and they don't have Richard Hadlee.
"They stuck together and I think they also realise that this pitch is unbelievable flat.
"They could play on this for another month!"