England must attack New Zealand on day three, says David Lloyd
Despite England's 'terrific' bowling effort New Zealand are still slight favourites, says Bumble.
Last Updated: 25/03/13 11:41pm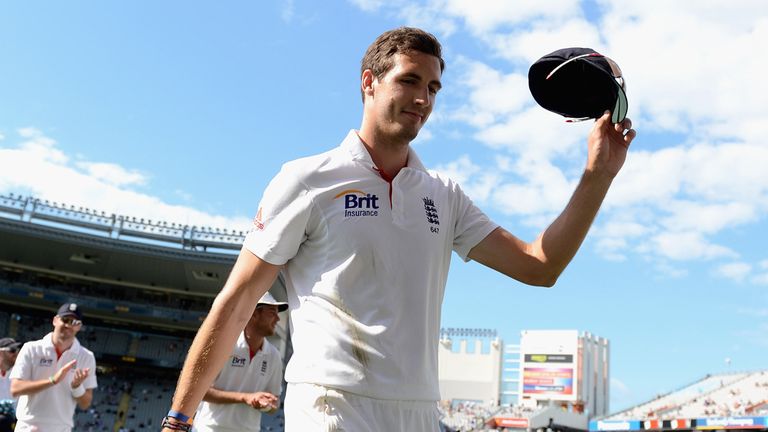 Middlesex seamer Finn claimed 6-125 as England took nine wickets at Auckland and ousted New Zealand for 443, after the Black Caps had started the day on 250-1.
However, the home side struck twice with the ball late on and, at 50-2 in reply, England still have plenty of work to do if they are to capitalise on their efforts in the field on Friday.
"England were terrific in taking the nine wickets, but they've got a lot to do to win the game," Lloyd told Sky Sports.
"New Zealand are still in control of this match; I think they've been excellent. They showed good discipline when they came out to bowl, while England were only going along at two an over and had two big wickets fall in Alastair Cook and Jonathan Trott.
"When you consider Joe Root and Jonny Bairstow are the next two in, I'd say New Zealand are feeling pretty happy about their performance."
If England are to win the third and final Test - and clinch a 1-0 series win - they must adopt a more aggressive approach on Saturday, said Lloyd, who was bemused by the tourists' tactics against left-arm spinner Bruce Martin.
"I'm puzzled at the way England play Martin," he said.
"Monty Panesar is a wonderful bowler, we all know that, but New Zealand weren't fearful of him and looked to hit him into the stands and score boundaries. England, though, are becalmed every time Martin comes on.
"He's only played three Test matches at 32 years of age but England don't seem to want to play any shots against him.
"I know there are three days to go and England have got to manoeuvre a position but they should be thinking 'how can we win this game?'. The only way I can see it is to increase the scoring, build partnerships and get a pair of players in there who can dominate the game.
"As it is right now, New Zealand will be slight favourites."
Authority
However, fellow Sky Sports pundit Nick Knight questioned whether the hosts - who will still have their crushing series defeat to South Africa fresh in their minds - have the mentality to push on from their strong position and secure the win.
"New Zealand are slightly ahead of the game, but England have shown a lot of fight," he said.
"England now have a chance to win the game - but they have to play exceptionally well on Saturday. If England can get somewhere near the New Zealand total that third innings could be crucial. How do New Zealand play if they're about parity? They may just fall away.
"The great challenge from this New Zealand side is do they believe they can beat this England side. What we saw from them on day two with the bat didn't have any authority, was slightly negative and was like 'let's put ourselves in a position where we can't lose the game, before we try to go on and win it'.
"If they have that attitude in the third innings of this game - assuming England bat well on Saturday - there's a chance for England."
Luck
Meanwhile, Angus Fraser was pleased to see Finn enjoy some success on day two after his efforts on Thursday and commended the 23-year-old's diligence.
"There are going to be occasions when you don't bowl as well as you want, you don't get the ball moving around and you have to persevere and hang in there," said the former England quick.
"Steven will have bowled better than that but he's walking away with 6-125 so it all looks good.
"I know him well and he mopes around, like all fast bowlers, thinking he's the unluckiest bowler in the world but little bits of good fortune did go his way here.
"I'm chuffed for him and without him England may still have been in the field at the close of play."