'World of pain'
In the aftermath of Australia's worst Test series defeat for over 30 years in India, Joe Drabble caught up with Sydney-based sports TV and radio personality Gus Worland to find out the reaction Down Under.
Last Updated: 29/03/13 10:28am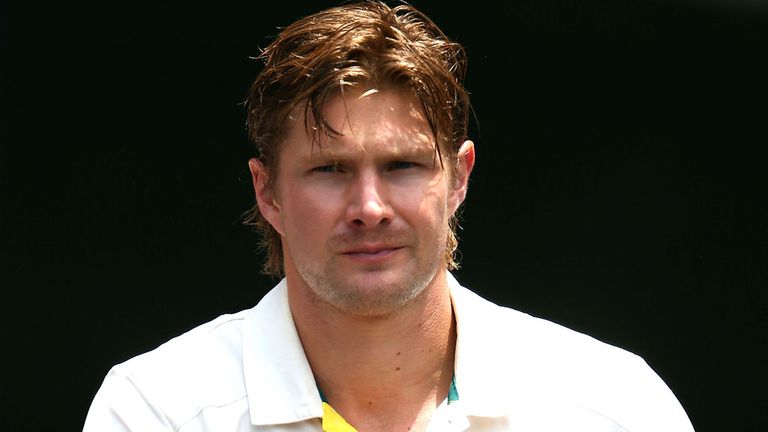 "We're in a world of pain and it's the worst possible time to feel like this with the Ashes home and away coming up."
These were the words of many an England cricket supporter not too long ago, now they are being muttered by an Australian!
If England thought they had problems after their Test stalemate in New Zealand, they can take plenty of comfort from Australia's 4-0 mauling in India.
The whitewash Michael Clarke's men received at the hands of India was Australia's worst Test defeat in more than 30 years and leaves their preparations for back-to-back Ashes series in tatters.
As well as embarrassing performances on the field, the Australia team were a laughing stock off it, with four players suspended by coach Mickey Arthur for (failing to hand their homework in) breaching team orders.
So, how is morale Down Under? Well, I caught up with Australian TV and Radio presenter Gus Worland to find out.
skysports.com: G'day Gus. It takes a great side to go over and win in India, as we in England know. How much of Australia's sub-continent battering did you get to see/could you bear to stomach?
GW: "It was very well viewed here, certainly initially. Especially after the dominance you guys had over there over the Christmas period, we really thought that India were there for the taking. We don't have two premier spinners like you guys do and obviously (Graeme) Swann and (Monty) Panesar are different gravy and well experienced and have been doing it for a long time. We're not even quite sure if Nathan Lyon is our best spinner, I think he is, and I think we now know after the series that he is because in the fourth innings he got seven wickets in one innings. They made a mistake not picking him (in the second Test) and Xavier Doherty is not the man that is going to be bowling sides out in England to win us the Ashes, Lyon is. We learnt a lot from India, we learnt that a few guys aren't quite good enough, we learnt that some players are good enough and hopefully we'll select them. There are question marks over David Warner, who wouldn't have had a question mark over him going into the series, we've got a question mark over Shane Watson and he certainly wouldn't have had one next to him ahead of the series. We have question marks on (Glenn) Maxwell if he's the middle-order guy, we've got question marks on if Michael Clarke should be batting three, four or five. We've got question marks on the 'keeper Matthew Wade and whether Brad Haddin should come in for him. There are a lot more questions to be answered over the Australian team now, then there were before we started against India."
We all know that the Australian media don't pull their punches. What has the fall-out been like after the 4-0 drubbing?
GW: "There hasn't been a lot of love for a whole heap of reasons. At the end of the day if you are a cricket lover and sports lover, whatever 11 players we put out to put on the Baggy Green they've got to be able to do a job, and do it well. We weren't good enough and weren't consistent enough, we always pick up on the Mitchell Starc 99 and some of his bowling was great. Peter Siddle was the first batsman ever to top score at number nine in the first and second innings of a Test and some of his bowling was heroic. Lyon's seven-for was a quality performance, too, and Clarke before he got injured had a couple of really good knocks but apart from that there wasn't a lot be happy about. We got into them and Aussie cricketers understand that. It wasn't quite as brutal as the English soccer team and how much they get bagged if a performance doesn't go down as expected because we do realise that we aren't as good as we used to be when we had that stellar team for 15 years."
skysports.com: The conditions in India couldn't be much different to what the Australian team will face in England. Was it the worst tour you could have had before an away Ashes series?
GW: "It's not the tour we wanted before going to England but some of the great Australian sides didn't win in India. Adam Gilchrist led a team when Ricky Ponting was injured a few years back and that was the first time we won there in absolutely years and that was one of the gun sides which had the McGraths, Warnes, Langers and Haydens and so forth so we knew it was going to be tough but it's just losing 4-0 and the way that we lost it which is disappointing. A bit more grit could have been shown by some of the players. There could have been a little bit more sympathy to some of the players - not sending them home and treating them like men instead of schoolboys. There was a whole heap of things that happened off the field which makes it worse for what happened on the field."
skysports.com: Whose side have people been on in Australia. Team Watson or Team Arthur/Clarke?
GW: "Probably about 50-50 I reckon. I was always in the Mickey Arthur/Michael Clarke camp. I thought it was a pretty simple thing to be asked to write down three things on how they could improve the performance of the team. That happened straight after a Test match, there was at least another week before the next Test. If you are in India, you cannot go out and about. It's not like when you're in England and you can go sightseeing in London, go into the pubs and clubs and have a lovely time. They would have literally been training, round the pool at the team hotel, eating, and in their hotel rooms. Some of them just texted it in - which was fine, they didn't care how it happened they just wanted it in. The fact that certain players didn't do it then I was of the opinion: How much do you want to play for Australia? Whether you like it or not, and there is a debate on whether you should have to write that stuff down, the coach asked them for something so give it to him, shut up and get it done. Let's not sit around going 'I'm not going to do it', spend the 5-10 minutes, do it and move on whether you like it or not. It's not that difficult and I was annoyed that the players who didn't do it, didn't do it."
skysports.com: Ok Gus, breathe... So Watson was punished, sent home, only to return to captain the team for the last Test in Delhi when Clarke was injured. Talk to me about that U-turn...
GW: "That was outrageous! On our show, the Triple M Team here in Sydney, we had that discussion. I sit here with a couple of blokes who played for Australia in rugby league and in the State of Origin, real tough blokes who are used to the team environment and they just said: 'what sort of message is that sending to anyone?'. But mate, have a look at the Australian team at the moment and if Shane Watson wasn't going to be captain, who was?! There wasn't actually anyone else that you could hand the captaincy to who you thought could do a decent job. So in the end it was a bit embarrassing but there was literally no-one else."
skysports.com: England's Ashes preparations have also been a little shaky across the Tasman Sea. How much attention have the Aussies paid to the New Zealand-England series?
GW: "I've absolutely loved watching New Zealand rip England apart! There are a couple of guys in the England team who I really like and admire but the rest I really couldn't give a monkeys about. I was very, very pleased for New Zealand but it was a thrilling finish with Monty and Prior hanging on. Prior is someone I've got an ultimate amount of respect for. What a player and the way that he plays his own way, he's a tremendous player and I was glad, in a way, that he was able to hang on there. I was really wanting New Zealand to do well, and they did and the fact they drew the series and perhaps shaded it gives us a little hope for the Ashes. I think you guys were thinking you're gonna role in there, win 3-0, move on to the Champions Trophy, win that, and then the Ashes you're looking at a 7/8-0 in that. Now you've got a few injuries, a few niggles, a few guys who aren't 100 per cent. You noticed the difference not having KP in the middle order. Your No 6 is a bit dodgy, you don't quite know who to pick there. Is Compton going to do the job? Is he the guy that's going to start and finish all of the Test matches with Cook at the top of the order? There's just a few question marks on your side now which before New Zealand you didn't have."
Joe and Gus also talked about rumours that Michael Clarke has fallen out with a number of senior players, as well as discussing Shane Warne's left-field Australia XI for the first Ashes Test. For the full audio interview click here.
Gus' Ashes XI for the first Ashes Test:
Shane Watson/Peter Siddle
David Warner
Shaun Marsh
Michael Clarke (capt)
Steve Smith
Moises Henriques/Glenn Maxwell/Aaron Finch/Dave Hussey
Matthew Wade (wkt)
Mitchell Starc
James Pattinson
Nathan Lyon
Peter Siddle/Shane Watson