County cricket: Northamptonshire captains out to impress after 2012 season to forget
Northamptonshire's one-day captain Alex Wakely labelled the team's 2012 campaign "an embarrassment".
By Joe Drabble
Last Updated: 04/04/13 6:36pm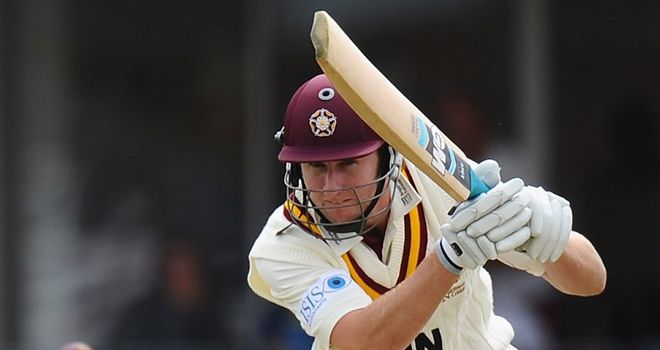 The Steelbacks won just four of 38 matches in all competitions last term - a return which culminated in the sacking of coach David Capel and a split-captaincy role being deployed between Wakely and Stephen Peters, who will take charge in first-class cricket.
Such is the intent from all at Wantage Road to reverse the club's fortunes, players dug deep to contribute to the funding of a recent pre-season trip to Barbados.
And 24-year-old all-rounder Wakely is convinced of an improved campaign after some frank discussions over the winter months.
"We sat down at the end of last year and had a very open meeting between players and coaches and we got a lot of honest truths out," Wakely told Sky Sports.
"We were at rock-bottom. Everyone was fed up, we were embarrassed and it's time we turned it around. For the first time I really believed people meant what they were saying. We've gone away, worked hard, we've been very analytical of all of our performances and hopefully when the first one-dayer for comes around we'll be in good shape."
Experienced South African all-rounder Andrew Hall led Northamptonshire in all forms of the game last summer but has since stepped down in order to concentrate on his own game.
Club stalwarts Wakely and Peters will therefore split the captaincy in red and white-ball cricket and the former, while appreciating that challenging for trophies any time soon is unlikely, is relishing the challenge ahead.
Agonising
He added: "Captaincy is something I've always wanted to do. I've come in with us at rock-bottom and this is a time for us to have a fresh slate. We've got some exciting young talent coming through and some senior players who, for me, are as good as anyone in the country so it's an exciting time for the club. There's been a real buzz over the winter and I really believe we'll do alright.
"I'm under no illusions about the challenges ahead. We were embarrassing last year, nothing went well. We didn't perform well at all so I know that we are not going to turn around and win everything. It's going to be a two or three year investment. If we're competing and beating the best teams this year I'll be happy."
After finishing an agonising one point off promotion in Division Two of the LV= County Championship in both 2009 and 2011, Northants ended last season second from bottom with only two wins to their name.
Four-day captain and opening batsman Peters said: "We've done a lot of planning and at the end of the day it's all about improving our results. We played poorly last year, we've had a lot of change over the club in the last 12 months so the continuity hasn't been there.
"I just want us to be harder to beat. Our attitude in the four-day stuff needs to be great - it's a long season and we need to be on it every day."