Champion spirit
Steve Elworthy talks to Sky Sports about organising the ICC Champions Trophy and life on the other side of the boundary
By Rob Lancaster
Last Updated: 10/04/13 5:15pm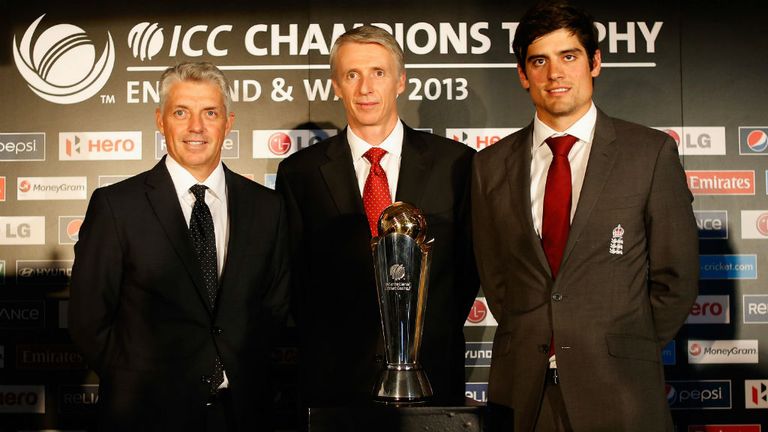 As director of marketing and communications at the England and Wales Cricket Board, Steve Elworthy has had little chance to think about much else. The South African is in charge of organising the eight-nation tournament which is spread over three venues - Cardiff, Edgbaston and the Oval.
For Elworthy it is nothing new. He was the man who put together the first two editions of the ICC World Twenty20 with great success. Now the former fast bowler is hoping for similar results with the 50-over event - and the signs so far are extremely promising.
Ticket sales have been strong; Monday's second window saw the clash between great rivals India and Pakistan sell out in less than 30 minutes while England's fixtures are understandably popular, most notably against Australia in a game that offers an early taster of what is to come later in the year.
"Although this is an Ashes summer you've still got the likes of India-Pakistan, which is a huge fixture, and we've got England against Sri Lanka and New Zealand in their pool," Elworthy told Sky Sports.
"Then you've got the opening game between India and South Africa in Cardiff. That has been off sale having proved very, very popular. India are the World Cup holders and South Africa, with the way they are playing now and being No 1 in Test cricket, well it promises to be an incredible game.
"It is eight teams with the top players playing. You've only got three group games then you're into a semi-final. Every single game is pretty much do-or-die stuff which I think is a huge attraction of this tournament.
"Having all the games in such a period does throw up some challenges and with it being eight different nations competing, but with the multicultural support base within the UK we have seen incredible support for all the teams.
"That shows how popular one-day cricket still is. It is seen as a fantastic day out with 100 overs in a day and we have really priced the tickets well."
But sales have not just been going well because of the fixtures. The pricing structure put in place is also a major factor, meaning there will hopefully be no repeat of the 2007 World Cup in the Caribbean when stadiums, some of them purposely built for the competition, went largely unfilled.
Good value
"A family of four with two under-16s can come from 50 quid to any of the group games. We really think that's good value," Elworthy - who played four Tests and 39 one-dayers for South Africa - explained.
"We are also trialling something in this tournament with an under-21 ticket. We feel that the jump from a £5 ticket for an under-16 to a full adult ticket is quite a lot.
"We've realised that with the timing in the year - the student exams will be coming to an end and there are big student populations in and around the three venues - we think the under-21 ticket is something that will bridge the gap at only £10.
"And that under-16 price is healthy for the game. Those youngsters and kids are coming in supporting the game. They are going to be our future players, future supporters. We want them involved in the sport."
The 2013 edition of the Champions Trophy could also be the last (it is no longer included on the Current and Future Tours programme) and it seems only fitting that Elworthy, a man who actually helped the Proteas lift the trophy at the inaugural event, should be put in charge for its last hurrah.
"I played in this competition in its inaugural year in 1998, with South Africa beating West Indies in the final in Bangladesh," he said.
"From a fate point of view it's just about where the next opportunity comes. The chance came with Cricket South Africa after I'd finished my marketing diploma from a sponsorship point of view, then from there it went to commercial and then on to running the Twenty20.
"The next thing you know it was the Twenty20 here in the UK and the rest is history. Now we are looking forward to 2019 already.
"It's just where the opportunities take you. I've been incredibly privileged to be a player and now to still be involved in the game on the other side of the fence."
So what is more challenging - playing the game at the highest level, or making sure it all runs smoothly from a logistical point of view?
"The pressures are slightly different, but there's a lot that is not in your control when you're on the other side of the fence and in charge of running a tournament," Elworthy answered.
"When you've got the ball in your hand there is only one person who you can blame, and that is yourself.
"They're different pressures but probably a lot more off the field - there are just so many more facets that need to be looked after, right down to volunteer programs and team logistics. There are just so many more moving parts.
"But it is fantastic to be on this side - I'm lucky and privileged to be doing it."
See the best eight teams in one-day international cricket take part in the ICC Champions Trophy from 6-23 June at The Oval, Cardiff and Edgbaston - tickets are available now at icc-cricket.com or call 0844 249 2013