'England have fear of failure against disciplined attack' - Nasser Hussain
Nasser Hussain says there was a rare nervousness in England's batting line-up at Lord's on Thursday.
Last Updated: 17/05/13 8:58am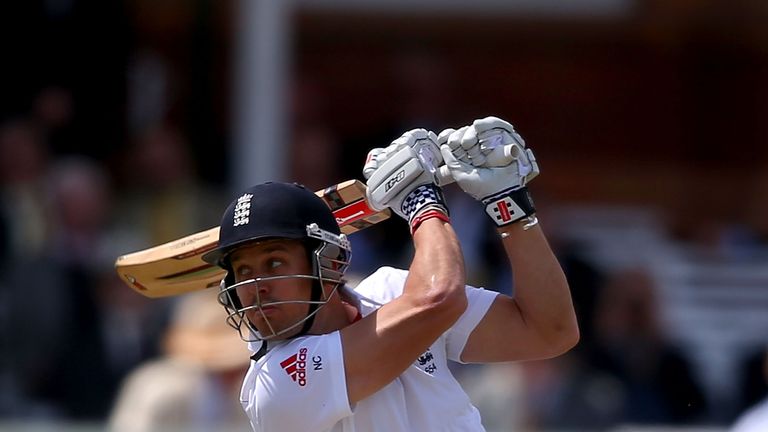 After winning the toss and electing to bat Alastair Cook and his men made slow progress, accumulating just 160-4 when rain stopped play after 80 overs.
Jonathan Trott was the hosts' top scorer after a patient 39 but, with the inexperienced duo of Jonny Bairstow and Joe Root at the crease at stumps, Hussain says there's no doubt the Black Caps - who tamed England's batsmen in New Zealand in March - will be the more satisfied side after the opening day's play.
"It's New Zealand's day, undoubtedly," the former England skipper told Sky Sports.
"England will hope to get up to 280 tomorrow but it's worked out perfectly for New Zealand. They've got fresh bowlers in the morning on a pitch that will be under the covers overnight, they've got a new ball, a couple of young lads at the crease in Bairstow - who needs a score - and Root and they'll be the happier dressing room by a mile.
"England will be scratching their head saying 'we're good players and we're making this New Zealand side look like world beaters'. But all credit to New Zealand, they've kept the pressure on.
"This has been a continuation of the previous series. We were looking to see if it would be completely different now we're in England, but it hasn't. This is part of a five match series."
Once again left-arm spinner Bruce Martin pinned down the England batsmen, taking 1-37 from his 24 overs.
His dismissal of Nick Compton in the morning session was only his tenth in Test match cricket after making his five-day debut against England earlier this year but Hussain believes he has affected the home side's batsmen who are unsure how to tackle his orthodox spin.
"I think he's bowled pretty well but because he's had success in the past and got Compton out so early today, and because Bell has a few mental issues over shots he's played in New Zealand and India, they're all staying at home," said Hussain.
"There's a bit of fear of failure we're seeing with this England batting line-up we've not seen for a while."
Discipline
Michael Atherton was equally perplexed by England's inability to expose the inexperienced Martin, but applauded the discipline of the Black Caps attack.
"England have batted tentatively and it is a mystery to me why they have been so slow in getting on top of the left-arm spin of Bruce Martin," said Atherton.
"He is a decent bowler but not someone you'd lose massive amounts of sleep over. We don't often see Compton come down and try to hit it over the top in the first session of a Test match.
"I wonder how much of it was pre-meditated, how the fact Martin had bowled 170 odd overs in the winter for less than 2.5 an over and England have said to themselves 'we're not going to let that happen this time'.
"Well Compton got out, third ball Trott was dropped and then maybe England retreated into their shells. But Tim Southee and Trent Boult have been really disciplined and excellent, while Neil Wagner gives them something else with some bustling aggression."
Nerves
While England have a reputation for starting series slowly away from home, their performance on the opening day of the first Test against New Zealand on home soil hardly instilled confidence ahead of back-to-back Ashes clashes which will follow later in the year.
But Atherton believes nerves are to blame for England's disappointing display, given the importance of the next 12 months for this side.
"This is a combination of an early season sluggish pitch, some excellent disciplined bowling from New Zealand, some sharp ground fielding, a couple of excellent close catches and a tentative start from England, as you sometimes get in the first Test match of the summer," he said.
"You might have got runs for your county and plenty of cricket under your belt, but there's still that element of nervous tension at the start of the summer - and it's an important summer for England and they want to do well."