ICC Champions Trophy: India's batting strength key, says Athers
Bob Willis and Mike Atherton weigh up the big-hitters in Group B of the ICC Champions Trophy.
Last Updated: 06/06/13 6:34am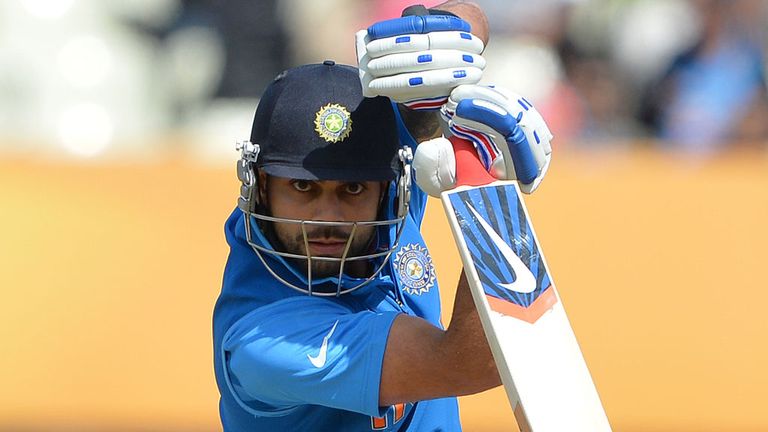 MS Dhoni's side will take on the Proteas in the first mouth-watering match in Group B, which also features Pakistan and Sri Lanka.
Sky Cricket and skysports.com will have every angle covered and Nasser Hussain and Nick Knight have already delivered their verdict on Group A.
So now it's over to former England captains Mike Atherton and Bob Willis for their thoughts on how Group B will pan out...
Group B
Athers on India
If the pitches are good and the sun shines then the perceived disadvantage for the sub-continental teams will not be as marked as some are predicting.
India's strength is unquestionably in their batting; how Virat Kohli, Rohit Sharma, Suresh Raina, Mahendra Singh Dhoni and Shikhar Dhawan cope with non-Asian conditions will be the key to their progress.
There remain question marks about their seam bowling strength which cannot be made up for with their usual strength in the spin bowling department because the change in regulations make it much harder for spinners in the middle overs.
For that reason - taking into account their demolition of Australia in Tuesday's warm-up match - I rate them as semi-finalists at best.
I think Kohli is an outstanding player. He already averages nearly 50 in 98 one-day internationals and is poised to make his mark on this tournament. He missed out against Australia but looked in decent nick as he scored 144 off 120 balls in the victory over Sri Lanka.
Bob on Pakistan
Their unpredictability is part of their charm - but I think they'll want to be on their best behaviour over here after the debacle that was their 2010 tour.
After their narrow squeak in Dublin where they tied with Ireland, it's hard to see them making considerable progress in this competition but you can never quite be sure what you are going to get from them. Don't forget that they stumbled through the 1992 World Cup and then peaked at the right time!
I'm not sure that they've got a strong enough batting line-up to put enough runs in the board in English conditions to win the competition, but I think they will be competitive. I feel that Misbah-ul-Haq, the captain, and Kamran Akmal are the key players.
I'm not sure how the younger brethren will cope with English conditions - particularly against two white balls. If the ball zips around, either in the air or off the seam, they could be exposed.
They were right to leave Shahid Afridi out because I think his race is run; his bowling had become more effective than his batting, where he probably fired one time in 20.
In terms of their bowling, Saeed Ajmal will clearly be a handful for everybody. He'll always be a threat and I like Junaid Khan as well. I don't know if he'll get in the final XI but Shoaib Malik very rarely lets Pakistan down; he's never really been given a starring role but he's a very handy all-round cricketer.
My prediction would be that they won't get out of the group stages because I think that all three of the other sides in their group are stronger than them.
Athers on South Africa
South Africa's squad looks distinctly like one in transition in the absence of Graeme Smith, Jacques Kallis and Vernon Philander.
The team's strength lies in seam bowling but even the threat posed by Dale Steyn and Morne Morkel may not be enough to make up for perceived weaknesses elsewhere in batting (highlighted by their defeat in the warm-up match v Pakistan) and the spin department.
Overall I'd say that their batting does not look as strong or as dangerous as that of other teams in the group.
That said, David Miller is a serious talent as we have seen in domestic cricket; he's yet to top 67 in 20 ODI matches but if he can transfer his IPL form to the 50-over format then he could be the player to watch out for.
Weighing everything up - including the quality of the opposition - I think that South Africa may not get through their group.
Bob on West Indies
The reigning T20 champions won this tournament in England back in 2004.
It was a bit of a surprise when they decided to give the captaincy to Dwayne Bravo but I don't think that is going to cause any particular ripples in the camp, even though Darren Sammy is still in the squad.
It was important for them to get Ramnaresh Sarwan back and that adds weight to my theory that they are much stronger in the batting department than they are in the bowling.
Few bowlers will relish bowling at the likes of Chris Gayle, Kieron Pollard and Dwayne Bravo if they get in and when they do this is a side that is capable of beating anybody. They have plenty of batsmen who can play in an unorthodox manner and a good spattering of all-rounders, too.
I'm more concerned about their bowling options. Sunil Narine may well be less tricky to play in English conditions but he'll have to be played with respect for certain. But how effective will their 'strike' bowlers be?
Ravi Rampaul is pretty steady and has his day occasionally. Bravo and Gayle will turn their arm over, while Marlon Samuels will do a job and Sammy is another handy lower-order all-rounder if picked. But overall I don't think they have enough bowling quality to take advantage of English conditions.
Given that there will be two new balls, it will be fascinating to see whether sides are going to play in an orthodox manner and forget about the first powerplay or whether they'll go 'hell for leather'. With Gayle to the fore, we may well see the West Indies deploying some T20 tactics in the first few overs to try and get off to a lightning start.
If that happens, I think they will get through that group and progress through to the semi-finals. Then they've got as good a chance as anybody.
Watch India take on South Africa in the first match of the 2013 ICC Champions Trophy live on Sky Sports 1 HD from 10am on Thursday.