Best series ever?
England was gripped by five thrilling matches as Michael Vaughan's side won back the Ashes in a closely-fought contest that went to the wire. Dave Tickner remembers the series fondly - a series which has been considered by many as the greatest Test series in history.
Last Updated: 06/07/15 9:49pm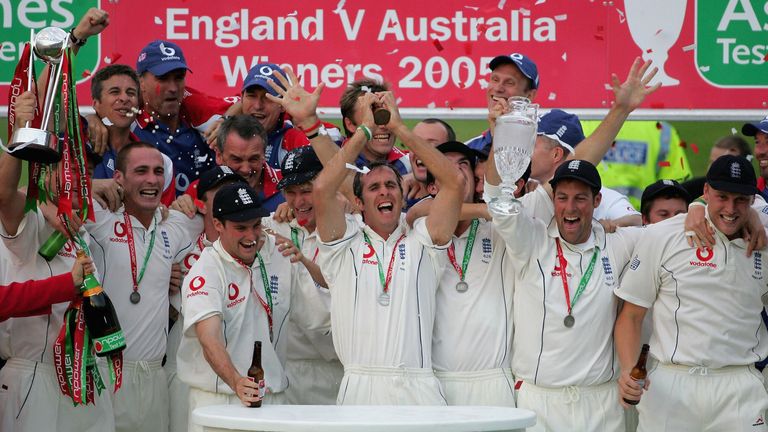 We start our look back at Ashes series gone by with a review of the five thrilling Tests of 2005.
The summer after another humbling Ashes defeat in 2002/3, Nasser Hussain quit as England captain. He handed the reins to the side's best player, and a man who had impressed in control of a young one-day side - Michael Paul Vaughan.
Under Vaughan's cerebral, cool captaincy, England accelerated the improvement they had shown under the more combustible Hussain.
They battled to a commendable draw against South Africa in a series they appeared sure to lose before dismissing West Indies 3-0 in the Caribbean. In the 2004 summer, Vaughan's England won all seven of their Test matches.
They then travelled to South Africa and won a hard-fought series 2-1.
This was without doubt the best England side for a generation. The batting line-up was reasonably settled, the bowling attack varied and incisive and, in Andrew Flintoff, England had their talisman and best all-rounder since Botham.
All was set for the 2005 Ashes series.
There would be one more tweak to the team: the outrageously gifted maverick South Africa-born strokemaker Kevin Pietersen would come into the side at the expense of Graham Thorpe.
England were ready. A crushing Twenty20 victory and some titanic one-dayers left the Aussies in little doubt that this was a new England. They would stand up to the Australians, fight them all the way.
Steve Harmison continued the charge on the first morning of the first Test. Justin Langer was struck on the arm, and Ricky Ponting hit on the grille - cutting his cheek. Ponting's scarred face would act as a visual reminder throughout the series of England's new-found aggression.
Australia were shot out for just 190. England, though, could not capitalise. Their top order wilted, only the debutant Pietersen showing any resistance to McGrath and Warne. McGrath took 5/2 in 31 balls, including his 500th wicket in Test cricket.
Australia batted far better second time round, Michael Clarke compiling an entertaining 93. After a promising start from openers Marcus Trescothick and Andrew Strauss, the familiar collapse gave Australia a crushing victory.
Vaughan had failed twice with the bat, as had Flintoff. Harmison's explosive bowling and Pietersen's batting had given England hope, but an Ashes series victory seemed as far away as ever.
Two things happened before the second Test that would change that. Flintoff vowed to return to the carefree attacking cricket that had served him so well and then, training on the first morning at Edgbaston, McGrath tripped over a ball during a game of touch rugby and was ruled out of the game. He would return at Old Trafford, but was not the same bowler who terrorised England at Lord's.
Ponting won the toss and chose to bowl. Maybe he thought England were there for the taking; perhaps he wanted to show that Australia would not be cowed by the loss of their premier fast bowler.
Whatever the reasons, it was a decision of absolute folly.
On a flat pitch, England blasted joyously and fearlessly to 407 all out in 80 overs.
Trescothick smashed 90. It was to be the closest he would come to an Ashes century but as a statement of intent and a shifter of momentum it was an innings to rank with any. It was perhaps the single most significant innings of that wonderful summer.
After Trescothick fell, Flintoff took up the assault with a gleeful half-century and Pietersen again took the attack to the Aussies in his third consecutive 50 in Test cricket.
England scored an astonishing 10 sixes as they posted 400 on the first day of a Test for only the second time since the Second World War. They'd shown the intention to attack at Lord's; now they followed through on that promise.
In reply, Australia made 308. England led by 99.
Another magical Warne delivery spun past Strauss' attempt to pad up and bowled him. England lost regular wickets and led by only 231 runs when last man Simon Jones joined Flintoff at the crease.
In a Bothamesque display of clinical hitting, Flintoff set about extending that lead. England were eventually bowled out for 182. Australia would need 282 for victory.
Having saved England with the bat, Flintoff set about his work with the ball.
In one of the all-time great overs he dismissed Langer with the first ball and then gave Ponting a fearful working over before dismissing him with the last.
When a devious slower ball from Harmison brought day three to a close by clattering into Clarke's stumps, Australia were 175/8 and facing certain defeat.
But with Australia, the Ashes and Warne, nothing is certain. Warne and the indefatigable Brett Lee chipped away at the target but, when Warne trod on his stumps with 62 still needed, England's victory again seemed assured.
It was nothing of the sort.
Last man Michael Kasprowicz joined Lee and continued the good work started by Warne.
England became rattled. The much maligned wicketkeeper Geraint Jones let through four byes; with Australia 15 short Jones dropped a catch at third-man. Australia inched ever closer to their target.
With four runs needed for victory, Lee smashed a cover drive off Harmison. It raced towards the boundary.
But Vaughan had left his cover sweeper out, and Lee got only a single.
Then Kasprowicz gloved a short ball (although his hand may have been off his bat at the precise moment of impact. Not that anyone cares) and Jones redeemed himself with a smart low catch.
Edgbaston erupted. England had won by two runs. At the non-striker's end, Lee slumped in despair. Flintoff went to console him. It produced one of the iconic sporting pictures, although Flintoff now claims what he actually said to Lee was "it's 1-1, you Aussie b*stard."
It was hailed as the greatest Test match ever played, and interest in the summer game reached levels not seen in England since the Summer of Botham 24 years earlier.
Flintoff, after 141 runs and seven wickets, was a national hero as the Ashes bandwagon headed to Manchester.
This time Vaughan won the toss, and chose to bat first. England again took the attack to the Australian bowlers, as Vaughan evoked memories of his 2002/3 form with 166. England made 444.
Simon Jones produced one of the great spells of reverse-swing to dismiss Australia for 302 despite a counter-punching 90 from Warne - a man who increasingly appeared to be carrying his country's hopes on his shoulders.
England extended their lead to 422, Strauss making his first Ashes century, before declaring and leaving themselves slightly more than a day to bowl the Aussies out.
Heading into the final day, the Aussies were 24/0.
Thousands and thousands queued to get into Old Trafford for the final day's play. At least half were disappointed. This was unprecedented.
England took regular wickets throughout the day, but Ponting stood firm. His 156 and four overs of blocking from last pair Lee and McGrath would be enough to secure a draw for Australia despite another Herculean effort from Flintoff.
As the last ball was defended to safety, the Australian balcony erupted in celebration. Vaughan gathered his troops and told them to watch the Australians celebrating a draw. The tide was turning.
Vaughan won the toss again at Trent Bridge, and again chose to bat. After a century opening stand between Strauss and Trescothick, England lost their way between the showers.
At 241/5, the innings - and indeed the series - was in the balance.
But Flintoff, making his first Ashes century, and Jones shared a sixth-wicket stand of 177 (the highest of the series) and England posted a formidable 477.
Another scintillating spell of bowling from Jones (5/44) saw Australia rolled over for just 218 in their first innings. For the first time since 1988, they were forced to follow-on in a Test match.
At 155/2, Australia were repairing the damage. But then England's 12th man Gary Pratt's direct hit ran out Ponting for 48.
Ponting, who had grown increasingly frustrated with England's use of specialist substitute fielders, lost the plot. He ranted and raved at the England balcony, where Duncan Fletcher sat unmoved, save for allowing the tiniest flicker of a smile to play on his lips.
Australia were dismissed for 387, and England needed just 129 to go one up with one to play.
They got off to a flying start, but the introduction of Warne led to panic. He took four wickets, Lee a further three, and it was left to Ashley GIles and Matthew Hoggard to scrape together the final 13 runs. England won by three wickets and needed only a draw in the final Test to reclaim the urn after 18 usually painful years.
Excitement around the country reached fever pitch.
Strauss made another century, but England's first-innings total of 373 was not enough for them to feel completely secure. Especially when openers Hayden and Langer - who had struggled all series - both scored centuries at the top of the Aussie order.
Australia looked sure to secure a big first-innings lead and put England under the severest pressure on the last day.
Cue Flintoff to make his last huge contribution to the series.
With Simon Jones out injured, England had opted for the security of an extra batsman in Paul Collingwood. An understandable gamble, but it left the bowling attack light.
Flintoff, though, bowled an epic spell on the fourth afternoon. He ended with 5/78 and England, miraculously, had a slender first-innings lead.
But still the game was not safe. England lost Strauss before the close, and knew they needed to bat the majority of the final day to be sure of glory.
When Vaughan and Ian Bell fell to consecutive deliveries the following morning, all bets were off.
Kevin Pietersen strode to the crease and fended his first ball to gully. The Australians all went up for the catch. Umpire Billy Bowden, somehow, correctly deduced ball had come off arm rather than glove or bat.
When Pietersen had made 15, he offered a routine catch to Warne at slip. It was dropped.
After scoring 250 runs and taking 40 wickets in the series, this was to prove Warne's most significant contribution.
The great leg-spinner continued to toil away, but the wickets would not come quickly enough. The buoyant Oval crowd serenaded the great man - in what was to prove his final Test in England - with chants of "We only wish you were English".
But the day belonged to Pietersen and England. In a fearless and ferocious innings, he guided his side to safety and beyond with his first Test hundred. He fell eventually to McGrath for 158, interrupting Richie Benaud's farewell to English viewers, but by then time was up and the Australians knew it.
When England's second innings was finally concluded, there was barely time for Australia to begin their run-chase.
England had won the Ashes.