Green and golden age
We look back at a period of Ashes history painted green and gold - apart from that one glorious summer in 2005. Dave Tickner reflects...
Last Updated: 06/07/15 9:52pm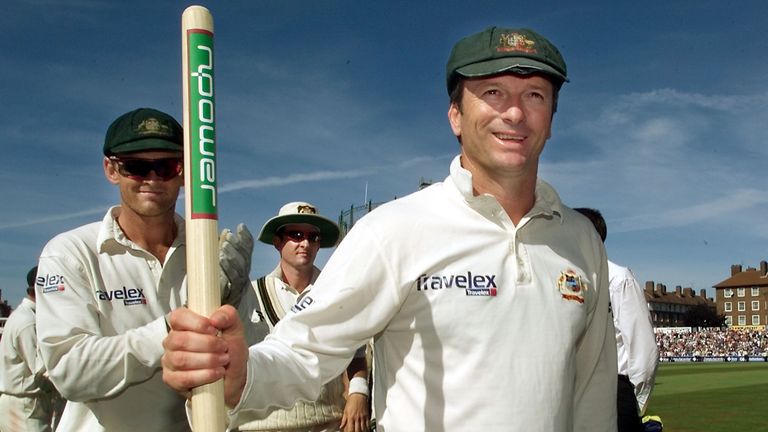 We look back at a period of Ashes history painted green and gold - apart from one glorious summer in 2005.
There was a period not so long ago when it appeared England would never get their hands on the Ashes again, such was Australia's dominance against their old enemy.
England, having won the series as outsiders in 86/7, entered the 1989 tussle as warm favourites but were humbled and would not recover from a crushing reverse for more than 15 years. Not since either side of the Second World War had Australia had such a hold on the Ashes as the one they were about to establish.
In 89 they lost 4-0. But for bad weather, it could have been 6-0.
The series provided the blueprint for the 15 years of Ashes combat. A ruthless Australia side, ably led, crushing a sporadically resilient but generally rudderless England.
The home side, in their panic, fielded 29 players in the series. Australia fielded the same XI in five of the six Tests. The statistics make painful reading for England fans.
At Trent Bridge, Mark Taylor and Geoff Marsh batted all day in compiling an opening stand of 329, breaking Hobbs and Rhodes' record for the biggest in Ashes history.
Taylor scored 839 runs in the series, a record bettered only by Don Bradman and Wally Hammond.
Terry Alderman became the first bowler to take more than 40 wickets in two Ashes series.
In 1990/1, England at least competed slightly better. An experienced batting line-up prevented complete disaster, but the bowling was far too reliant on the injury prone Angus Fraser.
Gower hit two sparkling centuries - passing 8,000 Test runs in the process - while Michael Atherton showed some of the grit that would make him a crucial figure at the top of some of the worst England teams on record.
But this served only to keep the final score down to 3-0 as Alderman once again proved England's destroyer with able assistance from Craig McDermott.
In the Sydney Test, Taylor passed 1000 Ashes runs in only his 17th innings while Mark Waugh hit a century on debut at Adelaide.
England may have been able to secure two draws, but the victory margins in the three remaining Tests - 10 wickets, eight wickets and nine wickets - tell their own story.
In 1993, things managed to get even worse for England with the arrival of bleach-blond larrikin who could apparently bowl leg-spin Quite Well.
It took English fans - and Mike Gatting - just one delivery to find out how well. Probably no Australian cricketer since Bradman has engendered such fear, panic and ultimately respect in England.
Warne's 'ball of the century' to dismiss Gatting has been replayed so often you can close your eyes and picture it instantly. The lazy, looping drift towards leg stump, Gatting's immaculate forward defensive shot, the sharp fizz of the leg break and the removal of the off bail. It was a perfect delivery, and Gatting took several moments to realise he'd been dismissed. He looked around, apparently unable to accept the physics of the whole thing.
England were dismantled. Warne took 34 wickets in the series. Merv Hughes added 25 more in just four Tests. David Boon scored 555 runs and three centuries, while Mark and Steve Waugh scored almost 1000 runs between them.
The only consolation for England - other than a debut century for Graham Thorpe - was the re-emergence of Australia's propensity to lose matches once the series is over. England's victory in the final Test at The Oval was their first over Australia since 1986/7 - 17 Ashes Tests earlier.
The pattern continued in the 1994/5 series. Australia won it 3-1, although this was about as competitive as an England side has been Down Under in recent times.
Australia raced into a 2-0 lead - with Warne taking the first Ashes hat-trick in over 90 years - but had to hang on for an Ashes-retaining draw in the third Test at Sydney after being set an unlikely 449-run victory target.
They had a real go at it, after being given a superb start by Michael Slater and Taylor, but eighth-wicket pair Warne and Tim May abandoned the chase and played out a draw.
England won the fourth Test at Adelaide, but were crushed by over 300 runs in the final Test at Perth as Greg Blewett helped himself to centuries in his first two Test matches.
As you can see, being England's most competitive recent tourists to Australia is not high praise.
England briefly threatened to halt a decade of Aussie domination in 1997 after finally winning a live Ashes Test to go 1-0 up at Edgbaston.
It was a superb performance. England reduced Australia to 54/8 on the first day, but a Warne counter-attack took Australia to 118 all out.
But Nasser Hussain (207) and Graham Thorpe (138) shared a partnership of 288 to give England a gigantic first-innings lead. Australia batted far better second time around, the under-pressure Taylor answering his critics with a century, but England cruised to a nine-wicket win.
England were leading an Ashes series. For a new generation of cricket fans, this was a new experience.
A rain-ruined draw at Lord's preserved England's advantage, but served notice that it might not last. Glenn McGrath took 8/38 as England were blown away for 77 before the weather came to their rescue.
But Australia would not be denied. Led by the irrepressible Warne and McGrath, with admirable assistance from Jason Gillespie, Australia won the next three Tests with almost indecent ease.
Warne looked like taking a wicket with every ball, and you wondered if Steve Waugh would ever get out.
Victories by 268 runs, and innings and 61 runs and 264 runs secured the urn once more for Australia.
Phil Tufnell spun England to victory at The Oval as Australia's only two weaknesses (small run-chases and dead rubbers) were exposed once more to put some gloss on the scoreline. In the 1990s, a 3-2 defeat was something to treasure for long-suffering England fans.
The pattern of one famous and thrilling England victory amid a swarm of heavy defeats would continue in the next three series.
In 1998/9, England were saved by a thunderstorm at Brisbane before being destroyed at Perth inside three days. When Glenn McGrath trapped Peter Such lbw at Adelaide, Australia were two up with two to play and had retained the Ashes before Christmas.
The only success for England came from the fast bowlers, as Dean Headley bowled them to an astonishing 12-run victory at Melbourne and Darren Gough became the first England bowler in a century to take an Ashes hat-trick.
But these were small consolation for a side as far away as ever from regaining the Ashes. Especially as their tormentor-in-chief Warne missed the first four Tests of the series, and was then outbowled by Stuart MacGill (12/107) when he did return at Sydney.
Australia retained the Ashes with almost indecent haste in 2001, crushing England in the first three Tests by an innings and 118 runs, eight wickets and seven wickets.
Wicketkeeper Adam Gilchrist - enjoying a simply unstoppable series with the bat - stood in as captain for the fourth Test at Headingley.
With rain taking time out of the game, Gilchrist declared to set England 311 from 90 overs on the final day. The declaration was sporting/challenging/arrogant depending on your point of view.
Whatever, it made for one of the best day's cricket in recent Ashes history. And Mark Butcher's finest hour.
After openers Atherton (who would retire at the end of the series) and Marcus Trescothick fell cheaply, Surrey left-hander Butcher produced the finest innings of his life and one of the great counter-attacks.
His unbeaten 173 (matching Bradman's score here on the Invincibles tour) fired England to a pride-restoring six-wicket victory.
The euphoria did not last long. McGrath and Warne bowled Australia to an innings victory in the final Test of the series at The Oval.
England, under Nasser Hussain and Duncan Fletcher, were dragging themselves away from the foot of the Test ladder despite their continuing regular humiliations against Australia.
The seeds were being sewn for 2005, yet in 2002/3 they still seemed an awful long way away.
Hussain didn't help matters with one of the great captaincy blunders at the first Test in Brisbane. He put the Aussies in to bat, Simon Jones suffered a horrific knee injury that would end his series on the first morning. By stumps, Australia were 364 for two. Matthew Hayden and Ricky Ponting ran riot against England's reduced bowling attack and helped Australia on their way to a 1-0 lead.
Australia would soon be 4-0 up, but one Englishman was keeping the flag flying. Michael Vaughan scored 633 runs, three centuries (the rest of the team mustered one between them) and rose to the top of the ICC batting rankings.
Rarely in cricket history can a player have appeared so dominant while his team was being so summarily crushed.
England, facing a whitewash fore the first time since 1920/21, somehow produced a coherent performance to win the Sydney Test by a massive 225 runs on the back of yet another Vaughan century.
Vaughan's brilliance in that series gave England something to cheer, but his greatest Ashes moments were still to come. Not with bat in hand - although there would be another memorable hundred against the Old Enemy at Old Trafford - but with the urn.
The summer after their lates Ashes defeat, Hussain relinquished the captaincy to Vaughan.
Hussain had done much to improve England's fortunes. But he was not the man to once again take them to that all-important victory over Australia.
Under Vaughan, England accelerated the improvement they had shown under Hussain.
They battled to a commendable home series draw against South Africa before dismissing West Indies 3-0 in the Caribbean. In the 2004 summer, Vaughan's England won all seven of their Test matches.
They then travelled to South Africa and won a hard-fought series 2-1.
This was without doubt the best England side for a generation. The batting line-up was reasonably settled, the bowling attack varied and incisive and, in Andrew Flintoff, England had their best all-rounder since Botham.
All was set for the 2005 Ashes series.