Andrew Strauss: David Warner fiasco will have Ashes impact
Andrew Strauss believes David Warner has obliterated his chances of starting the first Ashes Test.
Last Updated: 14/06/13 12:33pm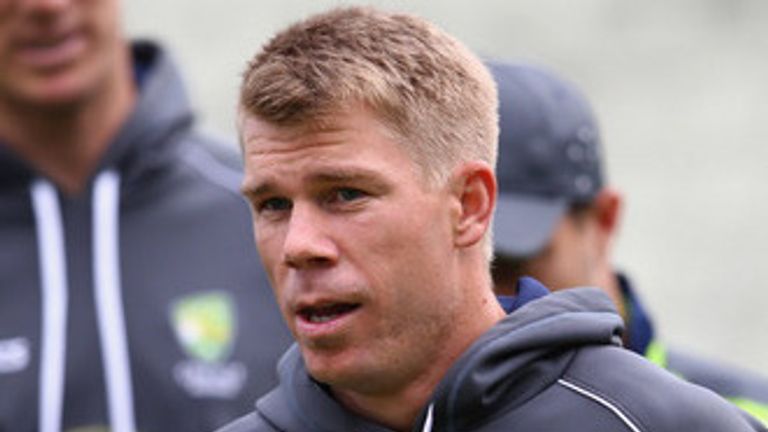 Warner, 26, has been fined £7,000 and suspended from international duty until the first Ashes clash on July 10 following a confrontation with England batsman Joe Root in a Birmingham bar.
According to Strauss, who captained England to Ashes glory on home soil in 2009, Warner's actions will have repercussions for the entire Australia squad as they battle for progression in the ICC Champions Trophy and try to prepare for the Ashes simultaneously.
Strauss told Sky Sports News: "They've found themselves in a difficult situation. It's not something you want to be dealing with before a Test match and you've obviously got to deal with all the media intrigue that surrounds it.
"The Australians, on the surface, have been quite harsh on him and it certainly probably rules him out of the first Test or two of the Ashes, so he'll be distraught to be missing out on that opportunity. He's put himself in that situation and I suppose he's got to pay the price for it.
"The only way you can get into form is by playing and he's been out of nick recently so he'd need even more time in the middle than usual. It'd be a massive risk for them to play him in that first Test and I can't see (captain) Michael Clarke making that decision, to be honest."
Internal
The incident darkens the gloom surrounding Mickey Arthur's side yet again - less than three months after star all-rounder and vice-captain Shane Watson was one of several players banned for a game for failing to produce a presentation when requested.
Strauss added: "You don't know what's going on behind the scenes. It's the sort of thing you want to avoid at all costs because it takes attention away from what's important, which is getting your preparation right. Australia will be keen to go forward in the ICC Champions Trophy and do well but all the attention is off the pitch.
"If it was an isolated incident then it wouldn't be so much of a problem but there have been quite a few things going on with the Australian team recently and I'm sure that Clarke and Mickey Arthur are quietly despairing on a few things that are going on around them at the moment.
"I don't think you can look past the individuals themselves, though. They've got to recognise and understand the responsibilities they have to their team. The individuals are at fault but the management have the job of keeping everyone on the straight and narrow. You have to have an environment where people know what's expected with them and what's that.
"Australia are trying to establish lines in the sand and some barriers that players can't step out of but unfortunately the players are testing those barriers at the moment."
Moving on
Strauss also revealed the tactics he used to instil discipline in his England players, who by and large managed to avoid such public lapses in standards of behaviour.
The former opening batsman said: "When I was captain we very much included the players in setting the rules. We wanted them to have a say so they'd be more likely to follow it. There's nothing worse than a schoolmaster telling kids what to do - that's not the best way of getting players to buy into something.
"There's not a problem going out and having a couple of drinks but it is a problem if you're starting to hit people. That's not ideal at all and players themselves should be avoiding that.
"Everything you do these days is recorded and seen by camera phones and social media sites. You can't get away with anything these days and they should be aware of that."