England Women's Anya Shrubsole talks World Cup and Pakistan series
Anya Shrubsole talks World Cup wicket-taking, and England's one-day series with Pakistan.
Last Updated: 30/06/13 1:00pm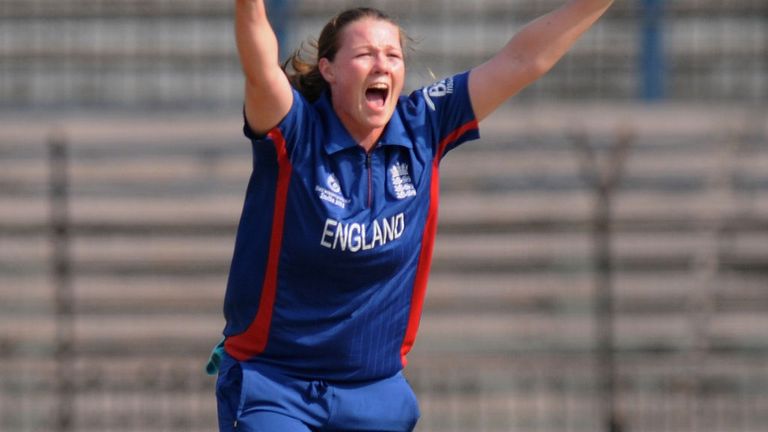 Charlotte Edwards' side entered the event, which took place in India in January and February, as the defending champions, but had to settle for a third-placed finish and seeing Australia pinch the tittle they won Down Under in 2009.
England quick Anya Shrubsole, however, had an excellent competition personally, poaching 13 wickets at an average of 7.23, collecting a career-best 5/17 in a victory over South Africa in Cuttack, and being named in the Team of the Tournament.
The Somerset seamer, 21, spoke to skysports.com ahead of her country's series with Pakistan - England meet the subcontinent outfit in two ODIs and two Twenty20 tussles next week - and revealed how determined she was to continue her rich vein of form.
Shrubsole, who made her international debut in 2008, also gave us the lowdown on the newly called-up trio of Natasha Farrant, Natalie Sciver and Lauren Winfield - and what she gets up to on her days off...
skysports.com: How much are you looking forward to pulling on an England shirt again?
ANYA SHRUBSOLE: We were really disappointed with the way things turned out in India so we are raring to go and determined to put things right against Pakistan. However, international cricket is improving all the time and we won't be taking anything for granted. We are putting in hard yards in our preparation and hopefully we will be ready to face them on Monday.
skysports.com: Everything seemed to click for you bowling-wise in the World Cup, so how would you assess your current form?
ANYA: The World Cup was great for me personally and it was the best run of performances I've put in in international cricket; I felt in good rhythm and got the rewards for that. It was great to have a sustained run of games before and during the World Cup rather than a couple of games then an injury and I will be looking to build on that this summer. We are back in England now, though, so the conditions will be a little bit different and I will have to adjust to them.
skysports.com: Do you still think you have things to learn as an international cricketer? Also, does the psychology degree you are doing help you get in the minds of batters?
ANYA: Regardless of how long you have been in international cricket, there are still things to pick up every day and in every game and I find that quite an exciting prospect. As for my psychology studies, I think they do help but we spend a lot of time looking at footage and working out tactics for each batter so that obviously helps as well.
skysports.com: You would have headed to the World Cup with great hopes of winning the competition, so how frustrating was it that you only came third?
ANYA: I'd be lying if I said it wasn't a massive disappointment; our goal was to win it and keep the title we won in 2009 and we fell short of that. That is gone now, though, and all we can do now is look forward to lots more series and, ultimately, build for the next World Cup in four years' time.
skysports.com: Do you enjoy playing for a team that is expected to win every game?
ANYA: It brings about pressure but pressure often brings the best out of people and pushes you to keep improving and work hard, something I always do. It speaks volumes for our line-up that I haven't really had to come out and bat yet but if I keep improving then hopefully I can work my way up the order. It sounds like a silly comment but I forget how young I am sometimes, having been around the set-up for so long, and I am really excited about my future with England.
skysports.com: How much of a blow is it to lose Laura Marsh, Holly Colvin and Katherine Brunt through injury for the Pakistan series, and what can we expect from new squad members Natasha Farrant, Natalie Sciver and Lauren Winfield?
ANYA: You are always disappointed to lose players of the calibre of Laura, Holly and Katherine as they have been world-class players for a number of years, but that has brought three new people into the team and it is always exciting to have fresh faces around the squad and challenging for places. Natasha, being a left-arm seamer, brings another avenue to our bowling attack, but all three players are different characters, full of energy and will bring healthy competition.
skysports.com: The England men's team see playing Australia as the Holy Grail. Is that the same for you and your side, and how do you see Alastair Cook and the boys getting on in the Ashes?
ANYA: Any Ashes series is huge for us and because Australia have probably got one over us in recent times we will be looking to put that right later this summer. As for the men's team, hopefully they won't underestimate Australia - and I'm sure they won't - and if the play to their potential they will be massive favourites.
skysports.com: And finally, how do you like to relax when you're not on the cricket field?
ANYA: I like to spend time with family and friends and watch a bit of TV - but as a huge cricket fan I am never too far away from the sport and will watch whichever teams are on telly.
Click here for ticket details for England Women's series with Pakistan.