Ashes 2013: Stuart Broad wants to inspire new generation of England cricketers
Stuart Broad talks form, Australia's woes and a childhood watching England lose Ashes series.
Last Updated: 03/07/13 1:19pm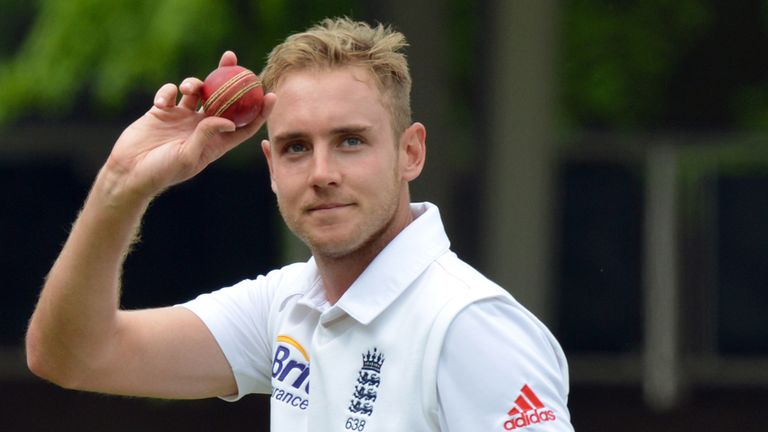 The seamer concedes he spent many a childhood hour watching England being put to the sword by their great rivals from Down Under.
But the Nottinghamshire ace has played a key part in England's past two Ashes successes - and is hoping a third win over Australia this summer will help inspire the next generation of English cricketers.
Here Broad outlines what the Ashes mean to him, how he rates the Aussie line-up and how he is shaping up for the highly-anticipated clash, which gets underway, live on Sky Sports Ashes HD, on Wednesday, July 10...
BROAD ON THE ASHES
"There is something about achieving in Ashes cricket because in the history of English cricket the Ashes is massive. Having a father [Chris Broad] who went and won Man of the Series over in Australia was obviously a very proud thing to have as a kid and I used to watch a lot of videos of Ashes cricket. Unfortunately, I just grew up watching us getting beaten, non-stop. My whole Ashes-watching was Australians kicking us and kicking us and kicking us, which was actually quite hard work and made me grow up really respecting the Australians.
"My hero was Glenn McGrath because he was so successful and as a kid you get influenced by winning teams. This England team wants to have an influence on the English generation; we want kids to watch a successful England team, we want kids to experience England winning Ashes series. We've done it twice in the last four years and we've got opportunities to do that again. It means so much to this group of England cricketers to perform well in Ashes series and we're very focused to do that."
BROAD ON ENGLAND BEING FAVOURITES
"As a good team, which the England cricket team is, you often go into series as favourites. We're obviously being talked about as clear favourites for the Ashes, but I don't see that as being correct at all - it's going to be a tight, hard-fought series. Ashes series can be won in key moments, key battles, not just which players score the most runs, which players take the most wickets. It's different going in as favourites, but it's something this England team, in the past three years, has got a little bit used to."
BROAD ON AUSTRALIA'S STRUGGLES
"You always have to be careful of a team that have had a few issues because you know they'll come back fighting and a new coach always instils fire and competitiveness. We know they're going to be dangerous but whatever happens pre-Ashes, outside of our changing room, we don't care about. We know we have to hit the ground running at Trent Bridge. We've got a good record here, we've played some good cricket, our batsmen seem to enjoy playing here and the outfield is lightning fast so you get good value for runs, if you can combat the swing. Jimmy Anderson's record here is pretty frightening, as well."
BROAD ON SLOW STARTS
"The first Test is always very important. Looking back to Cardiff in 2009 we started a bit slowly but we got out of the Test with a draw and went on to win that series. In Brisbane in 2010 we started a bit slowly but got out of the Test with a draw and went on to win that series. So we want to be starting this series better than we have done. As a team we've chatted about it and once we become aware of something we put it right. I remember having a chat back in 2010 that we weren't scoring daddy hundreds, then we go to Australia and Cooky goes out and gets 200. That's something this team does."
BROAD ON AUSTRALIA'S BATSMEN
"You look through their batting line-up and they've got a strong line-up, there's no doubting that. Michael Clarke is arguably the best Test batsman in the world at the moment; his record last year was outstanding. We also know the power Shane Watson's got and I've played with Ed Cowan at Trent Bridge and he's a fine opening batsman. They bat long, too - Mitchell Starc got 90-odd in a Test match in the Australian summer. So there are dangers there but the England team are aware of that."
BROAD ON THE BOWLERS
"We've got a strong attack; we've got the best spinner in the world in Graeme Swann, especially with the amount of left-handers the Aussies have, and our seam bowlers, if you look at the New Zealand series, all took a good amount of wickets, at a low average, which is what we want. We've got good depth as well. You can't just look at the three [seamers] in possession at the moment because in 10 Ashes Test matches it's very likely you're going to have some changes.
"There's Tim Bresnan, Graham Onions, Chris Tremlett - guys with proven Test records - who can come in and do a job, which is important. But Australia have got a couple of left-armers and we haven't so there are different balances to the attacks and it's going to be a huge battle. It will be exciting to see two attacks with pace coming against each other; that will create nicks and boundaries - and that's the sort of cricket people want to watch."
BROAD ON HIS FORM
"2013 has been a big up curve for me. I've really enjoyed this year. I bowled nicely in the one-day stuff, my Test record is as good as it's been and I've found a fuller length which is challenging the batsman's stumps. The highlight of that would be the win at Lord's when we bowled New Zealand out for 70 or 80 to win the Test match. Picking up a seven-for at Lord's to help England win a Test match was a lovely feeling and I can hold those good memories going into the first Test. I feel I have a lot more to come, as well. People say your peak as a bowler is from 28-32 and that would be nice."
Sky Sports Ashes HD will show exclusively live ball-by-ball coverage of the Investec Ashes this summer. Find out more about our coverage and how you can tune in here.
Cricket coverage on Sky Sports is available on TV, PC and on the move via mobile and tablet devices, thanks to Sky Go.