First Test: What the newspapers said after day five at Trent Bridge
A look at what some of the leading writers in England and Australia said after day five in Nottingham.
Last Updated: 15/07/13 10:34am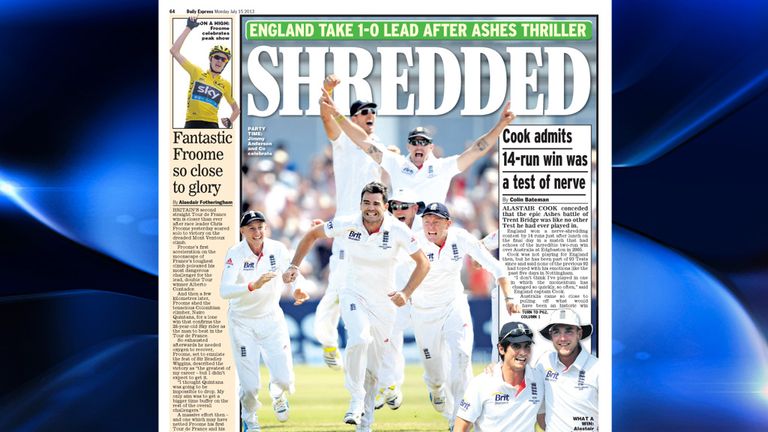 Paul Hayward - Daily Telegraph
On the face of it a great human drama was decided by machines, by decision review. But look deeper and you can still see the work of living beings in the final phase of England's 14‑run victory in an unforgettable first Ashes Test at Trent Bridge. You see James Anderson's brilliant bowling, and Brad Haddin's minuscule error in punching at a ball he might have let pass as Australia closed in on one of cricket's greatest wins. Given a second chance, Haddin, who had hours and overs to burn in a fine innings of 71, might have waited for Anderson to run himself into the dirt before seeking the winning runs off England's other bowlers.
Mike Selvey - Guardian
A dramatic Test that had swayed this way and that from the first wayward ball to the decisive delivery was settled three overs into the afternoon session of the final day - and it took a special bowler to win it. Australia had started the day on 174 for six requiring 137 runs to win. A new-ball burst from Jimmy Anderson, during a marathon 13-over spell in the morning that sent him from the field with cramp, led to three of them going with 80 runs still required. And then for the second time in the match, the tail did not just wag but put to shame the upper order. Marshalled superbly by the grizzled wicket-keeper Brad Haddin, a man with two Ashes centuries to his name, and with a different No11 for company in James Pattinson, Australia got themselves within 15 runs of victory, before Anderson (it had to be) returned to the fray after lunch and took Haddin's wicket for 71 to dismiss the tourists for 296 and spark the celebrations.
Mike Atherton - The Times
It was 2005 all over again. Take your pick: either the Edgbaston Test of that series, or Trent Bridge, Old Trafford and the Oval too. All the tension of that unforgettable summer brought back to life over almost three hours on a final day of a dramatic Test that was decided by the finest of margins. The conclusion was fitting too, given the drama and controversy that had raged over the rights and wrongs of technology and umpiring decisions throughout the game.
Andrew Webster - Sydney Morning Herald
The definition of hell: waking up in the early hours of Monday morning, curled in the foetal position on the lounge and shivering from the cold, to giddy English cricketers prancing about and hugging each other like they've just won Powerball. If this is how the next five weeks of Ashes cricket will be, with Australia bravely coming so close to victory in spite of itself, tough times are ahead. Of course it was going to come down to a DRS decision. Of course it was going to come off a half-hearted appeal from both English bowler and keeper. Of course it was going to be an inside edge about as thick as a Tally Ho paper. Of course there was going to be infinite doubt about whether it was out. Of course the decision would go against Australia.
Chloe Saltau - The (Melbourne) Age
Michael Clarke admits England's superior use of the referral system played a role in Australia's agonising defeat in the first Test, but says his team has regained some respect with its gallant performance at Trent Bridge. The Australian captain asked his players to hold their heads high. Having been written off before the series, the team fought back from desperate positions to take the game down to the wire. Statistics on both teams' use of the Decision Review System show that the Australians were cavalier with their referrals while the home team used them sparingly and smartly.