Pick of the day
We look back on all the action and reaction after Australia made 303-3 on day one of the third Test
Last Updated: 01/08/13 9:07pm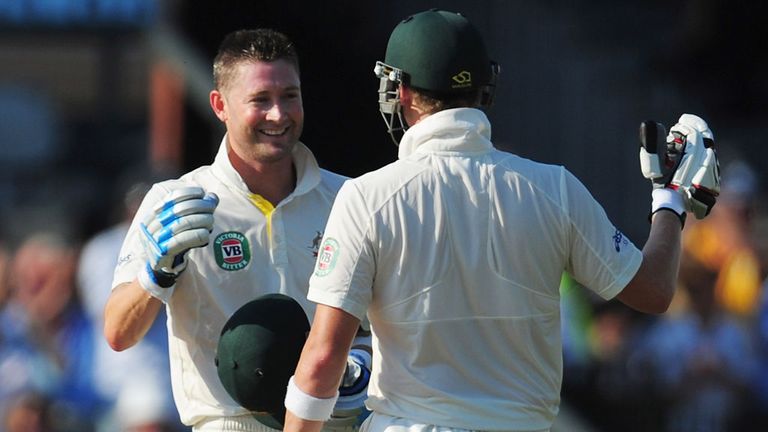 Having been outlasted in the battle of the bridge in Nottingham to start with, the tourists were larruped at Lord's inside four days, leading to many suggesting that a series whitewash was on the cards.
However a good toss to win and a placid Old Trafford track allowed the Australian batsmen to finally post some important first-innings runs. Chris Rogers made 84 at the top of the order and skipper Michael Clarke and Steve Smith then combined in an unbroken fourth-wicket stand worth 174.
England toiled manfully but their seamers found no favours from a pitch that has been turned around since the last Test at the Manchester venue. It will need another major turnaround on the second day for Australia to let slip their current position of supremacy.
On a rare good day for the Aussies this summer, we look back on the pick of the action and pick out the best reaction and opinion.
Clarke leads from the front
Michael Clarke produced a much-needed captain's innings as Australia dominated the opening day at Old Trafford. With the Aussies 2-0 down and talk of a 5-0 whitewash being rammed down his throat, the skipper led from the front with an unbeaten 125 to help the tourists close on 303-3. It was Clarke's 24th Test century, his fifth against England and the first by an Australian in this series. Needing to win all three remaining Tests to reclaim the Ashes, Clarke had begun the day calling correctly and opting to have first knock on what would prove a flat, batsmen-friendly Old Trafford pitch. And, for the first time this series, the Australian top order finally set about putting a good first innings total on the board with opener Chris Rogers hitting a brisk 84 and Steve Smith (70 not out) sharing an unbeaten fourth wicket stand of 174 with Clarke. "Australia have had an excellent day when they needed a good day and the captain, under significant personal pressure, played a gem of an innings," Mike Atherton told Sky Sports Ashes.
Player of the day
When Michael Clarke suggested Australia could still win the series at the presentation ceremony after losing at Lord's, there was some laughter from those who had stuck around to see the inevitable end of the second Test. Whether or not the tourists can yet produce a comeback of Lazarus standards during the rest of the summer remains to be seen, but the captain at least got the recovery mission off to a flying start on Thursday at Old Trafford with an excellent unbeaten century. His battle with Graeme Swann was particularly enthralling - Clarke's superb footwork saw him come down the wicket to England's off-spinner on plenty of occasions, while he was rock solid - whether forward or well back - in defence.
Hard slog for bowlers
England bowler Tim Bresnan admitted conditions and an upturn in Australia's batting made it tough going for England on day one. Bresnan was one of only two England bowlers to take a wicket, having Shane Watson caught at slip, as fine weather and difficulty finding reverse swing contributed to a long day in the field for Alastair Cook's side. "It's always tough when the wicket plays like that, and ultimately the Aussies played really well. As soon as the ball got a bit old it stopped swinging around, and then the sun came out. It's playing pretty well, that wicket. There's not much reverse out there, to be honest. We tried to keep the ball fresh and new, even though the outfield's quite lush. Reverse is difficult."
Wicket could break up
Australia's opener Chris Rogers believes there are signs that the Old Trafford wicket could deteriorate later in the match to help the tourists fight their way back into the Test series. Rogers made 84 on the opening day of the third Test in Manchester where the Aussies struck over 300 runs under a hot sun. "We've copped a lot of criticism so far but that has made us fight and today that helped us. But we need to keep going on Friday. This is as good as the wicket will get to bat on, so we must take advantage. We must keep batting and there are some cracks in it so we must put pressure on England for the first time in the series."
DRS problems again
Specialist technology umpires are likely to make decisions in future Tests, says David Lloyd, after Australia lost Usman Khawaja to a controversial dismissal. Number three Khawaja opted to review the decision of on-field Tony Hill when he was adjudged caught behind for one off spinner Graeme Swann. But third umpire official Kumar Dharmasena upheld the 'out' verdict even though replays and Hotspot suggested that the batsman hadn't edged the ball. Former umpire Lloyd said that Dharmasena made his decision based on the guidance issued to him, but admitted that it may be time to introduce technology experts into the game. "The regulations and the playing conditions state that 'if despite the available technology the third umpire is unable to answer with a high degree of confidence a particular question posed by the one-field umpire, then he should report that the replays are inconclusive..'"
Day one - as it happened
You can relive all the best action from day one by reading our interactive commentary from Old Trafford. You can also view a gallery of the day's best images here.