Pick of the Day
We look back on day two at Old Trafford as Australia piled on the runs in the second Test
Last Updated: 02/08/13 9:02pm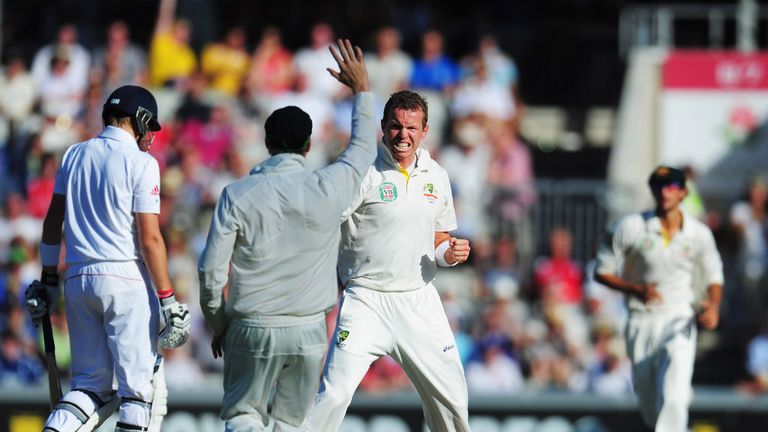 Clarke had made 125 on day one and moved on to 187 before he was bowled by Stuart Broad, the ball trickling back onto the stumps to give the seamer his 200th Test wicket.
But Clarke, who had lost overnight partner Steven Smith earlier in the day, could once again rely on his lower order for decent runs as both Brad Haddin (65 not out) and Mitchell Starc (66 not out) made half-centuries before they were called in by the skipper with the score on 527-7.
England's opening batsmen had 30 overs to survive but were unable to do so, Joe Root nicking Peter Siddle to Haddin, before nightwatchman Tim Bresnan followed suit even though replays showed the ball actually caught his trouser-leg and not the inside-edge.
Alastair Cook will resume on 36 not out on Saturday morning. Here we look back at the main action and reaction on day two.
Australia maintain their grip
It was another great day for Australia as they piled on the runs before nipping out two England batsmen in the final session. Michael Clarke continued where he left off the night before and then Brad Haddin and Mitchell Starc found the easy-paced wicket to their liking in a partnership that took the tourists past the 500-mark as they finally began to look like a team worthy of an Ashes series. Graeme Swann picked up five wickets and spin looks set to play a huge part in the remainder of the match, with the recalled Nathan Lyon already having bowled 10 of the 30 overs sent down so far in the England reply. "Lyon was mighty impressive... he will be a test as Old Trafford suits spinners on the last two days," Nasser Hussain told Sky Sports Ashes.
Player of the day
England spinner Graeme Swann took three of the four wickets to fall to claim 5-159 despite admitting the going was tough for the bowlers with the pitch playing so true. Five of Australia's batsmen passed 50 with the eighth wicket partnership worth 97 when Clarke enforced the declaration. Michael Clarke was the only Australian not to fall to Swann on day two, playing a short ball from Stuart Broad onto his stumps to depart for 187. That gave Broad his 200th Test wicket but even such a milestone moment did little to disguise England's reliance on Swann on the day.
Clarke remains cautious
Michael Clarke said his brilliant 187 will count for nothing if his team doesn't go on to win the match. The Australia skipper was the mainstay in his side's tally of 527-7 and admitted it was nice to spend some time in the middle after two torrid matches for he and his team-mates. "Obviously we didn't bat as well as we would have liked to in the first two Test matches so it was good to win the toss and come and spend some time on a pretty good wicket," he told Sky Sports Ashes. "If we win the Test, I'll be extremely proud but if we don't then it's useless. It's always nice to score a hundred - don't get me wrong - but we've got three big days ahead so we'll see how we go."
Nightwatchman issue to the fore
England, not for the first time in the series, sent in a tail-ender to protect the batting order but both Nasser Hussain and Shane Warne questioned the decision. Tim Bresnan was the sacrificial lamb on this occasion fully 30 minutes before stumps and the decision back-fired as the Yorkshire bowler was given out caught behind off Peter Siddle. Replays, most notably 'Snicko' - which is not available to the TV umpire - proved the ball had in fact brushed Bresnan's trouser-leg on the way through and not the inside edge. Warne thought it was a negative signal from the England dressing room to send Bresnan in, while Hussain said the player probably felt he had to walk off in case he wasted a review.
Day two - as it happened
You can relive all the best action from day one by reading our interactive commentary from Old Trafford. You can also view a gallery of the day's best images here.