Women's Ashes: Heather Knight aiming to return for Australia series
England's Heather Knight talks about her hopes for the Ashes and the future of the women's game.
By Oli Burley - @SkySportsOli
Last Updated: 08/10/13 12:11pm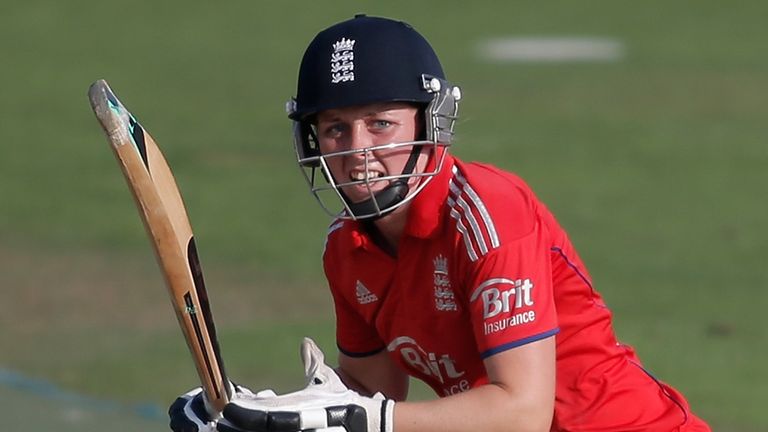 Player of the Series as England's Women outclassed Australia this summer, the 22-year-old is recovering well from the hamstring injury that has ruled her out of the imminent tour to the West Indies.
Now, nearly three years after making her Test debut in Sydney, Knight hopes to regain full fitness before England head Down Under for January's return Ashes series.
That, though, is only one of her goals after a summer to remember.
"The support the team received during the Ashes was phenomenal and I can only thank everyone who came to watch and support us," said Knight.
"We pride ourselves on trying to inspire the next generation of girls involved in cricket and it's great to see more and more taking up the game.
"A lot of us work for Chance to Shine and I've been a Sky Sports Living for Sport mentor for the last eight or so months; it's something I really enjoy as you get to meet some great kids and brilliant teachers too.
"It's so rewarding to go into schools and see kids share their inspirational stories with you. It does inspire you - it's a brilliant programme to be involved in. It has obviously been a busy summer but my injury means I will hopefully get the chance to go into many more schools in the next few months."
Phenomenal
Knight gave her own lesson in defiance and grit as she scored 157 to help England earn a crucial draw in August's one-off Ashes Test.
Yet in typically candid fashion she says the standout moment of the Ashes for her came a fortnight or so later at the Ageas Bowl when Lydia Greenway struck 80 from just 64 balls to counter an early batting collapse and guide England to a decisive five-wicket victory that secured the series.
"Lydia saw us home with a phenomenal innings that day," recalls Knight.
"It's fair to say we were a bit nervous at 9-3 chasing 128 but we still believed we could win the game because we have match-winners all the way down.
"Lydia and Charlotte [Edwards] made sure we stayed in the game and it was an incredible feeling when Lydia hit the winning runs to see us over the line."
Challenge
An opener by trade, Knight found herself batting in the middle order as recently as this summer but returned to the top of the order for the one-day series against Australia and says that's where she'd prefer to stay.
"I grew up opening the batting and it's where I'm most comfortable - I love the challenge of facing the new ball; the fielders are up, the ball is harder and it goes to the boundary quicker," she said.
"I started my career opening for England and then went down to the middle order. I think that spell in the middle order really helped my opening now in terms of increasing my strike-rate and knocking the ball about a bit more. It has helped me to adapt my game.
"There are always things to improve on. The challenge of coming down and hitting the spinners over the top is one area that I want to improve on when I get the chance.
"As some of the girls will tell you, I'm not the best watcher of cricket. I'm one of the most nervous waiting to bat but as soon as I'm out in the middle I'm quite cool, so opening suits me!"
Format
This summer's Ashes series was the first to embrace a new multi-format system, with six points on offer for a Test win and two for each of the three ODIs and T20s - making a total of 18 points up for grabs.
The innovation has proved a hit in many circles but Knight feels that there is still room for the structure to be tweaked.
"I think that six points for winning a Test was a little bit too much because if you lose a Test it's a long way back," said Knight. "I know that the administrators are looking at that.
"Some of the girls would love to play two Tests. One of the reasons the new format came in was because we only play one Test in the first place. I love playing Test cricket and I'd love to play more."
Right now, though, she'd settle for walking out for England at the WACA on Friday January 10.
Follow England Women's progress in West Indies - and their bid to retain the Ashes in Australia this winter - on skysports.com.