India v Australia: Yuvraj Singh stunning comeback hailed by Mark Butcher
Mark Butcher hailed Yuvraj Singh's stunning comeback after the all-rounder smashed India to victory.
Last Updated: 11/10/13 10:34am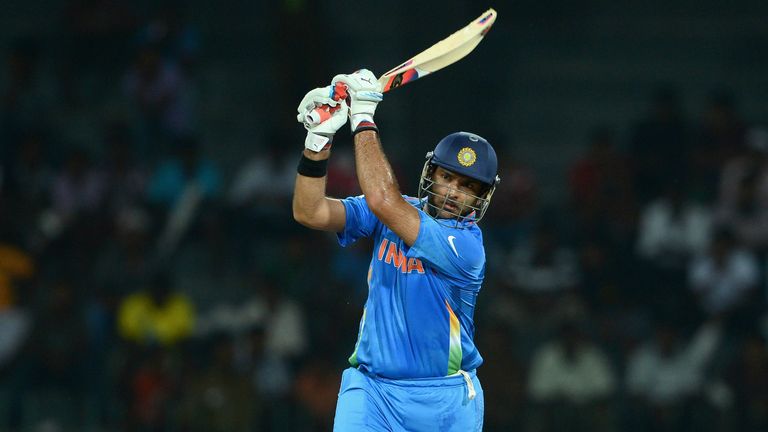 The tourists had set a daunting target of 202 in Rajkot but thanks to an unbroken 102 run stand between Yuvraj (77) and skipper MS Dhoni (24) India sealed the win with two balls to spare.
It was only the fourth successful run chase of more than 200 in the format and, after watching India win the one-off contest, former England batsman Butcher applauded the efforts of Punjab ace Yuvraj, who was representing his country for the first time since January.
The 31-year-old, who battled cancer in 2012, had been sidelined due to fitness issues, but Butcher told Sky Sports it was great to see him back and firing.
"He looked really fit and healthy," said Butcher. "He looked in the best nick I've ever seen him.
"He'd been left out of squads because they didn't feel he was quite fit enough, quite strong enough and didn't have the lean look we saw him with today.
"But he looked so comfortable and never seemed to have to over-reach himself to stay at 10, 11, 12 runs an over.
"Not only do you need to be fit to play like that in Twenty20 cricket, because there's a heck of a lot of running, but also when you're breathing hard you need to have your wits about you to make the decisions to play the big shots when the time comes.
"It's very difficult to know what a good length to bowl at him is, too. When he first walks to the crease you really have to have a go at him but any time you get the ball in the slot he will absolutely smash it with, seemingly, minimal effort."
However, despite the form of Yuvraj and Dhoni, Butcher also pinpointed a clutch of stray deliveries from James Faulkner in the 17th over of India's innings which were key to the home side's chase.
"One big over at that stage and India were always going to get themselves ahead of things," he said.
"Faulkner, to be fair to Australia and their captain George Bailey, is a superb death bowler. But he just got it wrong. He tried the slower ball and went for six, then looked for the yorker and went down the leg side for four wides and then there was no stopping India. It became a foregone conclusion."
Positive
One positive for Australia ahead of the seven-match ODI series with India was the continued impressive form of Aaron Finch.
The powerhouse opener blasted 89 off 52 balls and won the plaudits of Dirk Nannes.
"He's an exceptional player," said the Australia bowler.
"Having played with him for a long time, he's quite a clever cricketer, but he's developed this ability to hit inside out over cover. That's really changed his fortunes as a cricketer because all of a sudden he can hit 360 degrees around the ground and it's very difficult to bowl to someone who can hit you anywhere.
"He's a bit like Yuvraj in that if you don't get him out early he can be so damaging."
Watch the first ODI between India and Australia live on Sky Sports 3 HD from 8.55am on Sunday