Beefy's Big Sri Lanka Walk: Sunil Gavaskar praises Sachin Tendulkar
Sunil Gavaskar talks The Little Master and Alastair Cook during Botham's challenge
By Oli Burley - @SkySportsOli
Last Updated: 06/11/13 1:25pm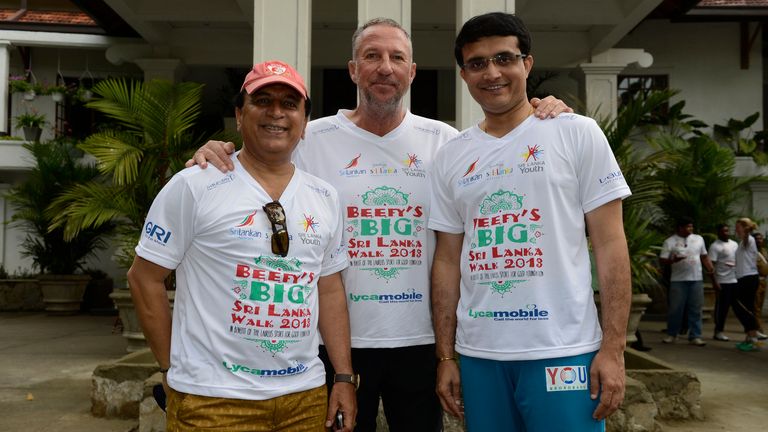 It's over 25 years since Gavaskar passed on a pair of his pads to the then teenage prodigy who in the coming weeks will bow out of Test cricket with at least 51 tons to his name after playing his 200th game, against the West Indies, having easily eclipsed Gavaskar's former world record off 34 centuries.
So it is small wonder that the former Indian skipper says Tendulkar is the most naturally-gifted batsman he's ever seen.
"Sachin's contribution to the game will fill many, many volumes," said Gavaskar. "It is going to be a sad day for us when he leaves the game but I guess time waits for nobody.
"He's been the closest thing to batting perfection that I've seen - and I've seen some of the greatest batsmen the game has produced, including Garry Sobers - but Sachin is a touch above them.
"There was no obviously noticeable chink in his game, no matter if he was on nought or 150; his appetite for runs is simply incredible and his temperament unflappable."
Boundaries
Gavaskar freely admits he didn't miss playing the game at all after retiring from Test cricket in March 1987 having scored 10,122 runs in 125 Tests.
Not long afterwards, he asked his cousin to deliver a pair of pads to Tendulkar that he wore as he announced himself to the English public on India's 1990 Tour, a trip that featured his maiden Test ton, at Old Trafford.
"Those types of pads were relatively new then and Sachin was probably the only young kid wearing them at the time, so as soon as I finished playing cricket I sent a pair across to him because they were not easily available," reflected 'Sunny'.
"I had only used them in the Bicentenary Test match and the 1987 World Cup so they were pretty much new when I passed them on. It surprised me a little that he used them because they were super-light leg guards - a pair weighed just less than one pair of conventional guards.
"I needed them because I was a singles man but I couldn't understand why he needed them because he was a boundaries man!"
Balanced
After watching his countrymen beat Australia 3-2 in the recent one-day series, Gavaskar has no doubt that England deserve their favourites tag for the upcoming Ashes series and he is backing England captain Alastair Cook - whose tactics were today described as negative by Shane Warne - to repeat his run-scoring heroics of the 2010/11 tour following his lean spell against Michael Clarke's side this summer.
"Cook played incredibly well three years ago, scoring over 760 runs, and all he needs to do is have a look at those videos again to get an idea of how he was playing compared to how he did in this Ashes series, when he was playing a little bit across his pads and at deliveries that he shouldn't have been," said the former opener.
"With today's split-screen computer technology he'll be instantly able to make out exactly what he needs to work on.
"Opening the batting and captaining can be difficult but that is where the coaching and the support staff come in handy and lift some of the responsibility.
"Being an opener in some ways makes it easier, though, because you just go straight from the field back into battle - you don't have time to think too much. You keep focusing on the bowler and the ball he's going to bowl to you.
"England have a very, very balanced team - they've got an excellent new-ball attack and a world-class bowler in Graeme Swann so they are very well served to bowl on all the different types of pitches Australia will offer.
"Taking 20 wickets is the key and I think England can do that. All that they need is for their batsmen - Cook included - to score more runs than the Australians!"
Regard
Gavaskar, now 64, still thrives on a challenge and proved it by tackling the most arduous leg of Beefy's fundraising walk so far - a daunting, undulating 26-mile route from Kandy to the Pinnawala Elephant Orphanage Kegalle town, in Sabaragamuwa Province - to support his friend's fundraising effort.
"Beefy is huge in India not only because of what he's achieved in England but because he's had some outstanding match-winning performances in India," he explained.
"People in India have the highest regard for him - when he goes on the streets he is mobbed as much as the Indian cricketers are.
"I enjoyed playing against him tremendously because you knew you had to be at your best and absolutely alert because he had the ability to produce the unplayable delivery - even when you were past 100!
"A lot of people in India pronounce 'Ian' as 'iron', which somehow seems appropriate! However, they also pronounce Botham as 'bottom' - and I know he appreciates that because he's got a great sense of humour!"
To donate to the cause visit www.justgiving.com/BeefysSriLankaWalk or for more information visit www.beefysbigsrilankawalk.com
Check out a gallery of Beefy's walks here.
Check out Beefy's itinerary here.
You can follow Botham's progress on Sky Sports News, online with skysports.com and on your iPad. To donate to Beefy's fund-raising effort simply visit www.justgiving.com/BeefysSriLankaWalk