Beefy's Big Sri Lanka Walk: Steve Waugh tips England to retain Ashes
Steve Waugh gets excited about the Ashes as he joins Beefy on day five of his walk.
By Oli Burley - @SkySportsOli
Last Updated: 12/11/13 5:00pm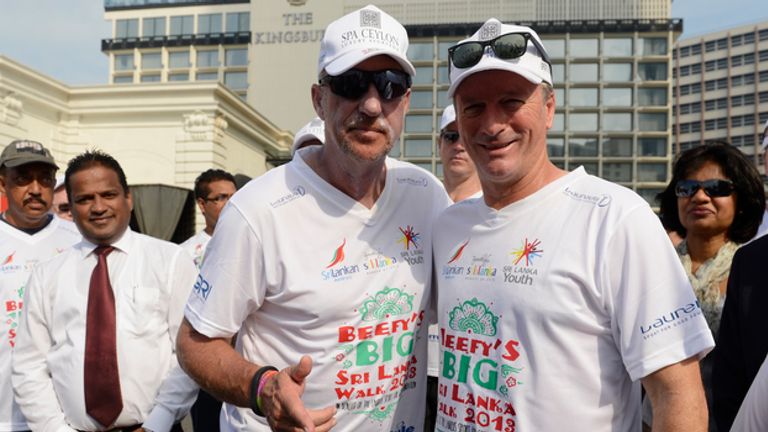 The former Australian skipper, who led his side to convincing 4-0 and 4-1 successes in 2001 and 2002/03 respectively, expects his countrymen to hit back hard after their 3-0 defeat this summer but isn't predicting a home victory.
Drained after completing a 19-mile trek around Colombo on day five of Beefy's Big Sri Lanka Walk on the hottest day of the fundraising challenge so far, Waugh - who only arrived in the capital in the small hours of the morning - picked out captain Alastair Cook as England's danger man and brushed aside recent criticism from Shane Warne that the opener's captaincy style is too defensive.
"I think it is going to be a tough series for both sides and a lot will depend on injuries - key injuries to key players may sway the result - but England will go in as slight favourites as they've won the last three Ashes," he said.
"This could be one of the most closely-contested Ashes that we've seen for some time. At the moment I'm sitting on the fence in terms of a prediction and going for 2-2 at this stage.
Winning
"England won the last one 3-0 [under Cook] and I'm not going to criticise him after such a victory. As a captain you do the job you've got to do as long as the players respect you and I think the England players respect Alastair Cook - and I'm sure that's what matters to him, not what anyone else thinks.
"Any such criticism will be water off a duck's back. As captain you go out and do the job and if you are winning there's not much else you can do. Cook knows how to play in Australian conditions and on the wickets because he appreciates the pace and bounce; he doesn't try to over-hit the ball and tends to pace his innings nicely.
"He has a largely settled side but Australia don't quite know their batting order for the first Test and I'm not sure which bowlers we're going to pick because of the injuries.
"Mitchell Johnson looks like he's come back into the frame but our key bowler is Ryan Harris - you saw that from the last series; he's the best bowler in Australia and we need him leading the attack."
Achievement
Waugh racked up nearly 11,000 runs in 168 Tests, always wearing the Baggy Green with immense pride but no more so when leading his country between 1998 and 2004.
His stellar career is littered with indomitable, even stubborn, performances but he admits that playing against England - against whom he scored his maiden Test hundred in 1989 - made him even more determined to perform.
"Looking back now it was an incredible achievement to win eight Ashes series in a row but at the time you don't think too much about it," said Waugh.
"Some of my gutsiest innings came against England - including my 157 at the Oval in 2001 when I was in a pretty bad way with a calf injury; playing them seemed to bring out the best in me.
"There was also the time I got to a hundred in Sydney [in 2002/03] of the final ball of the day. I remember Nasser delaying things a little bit before Richard Dawson bowled it - there was a little bit of gamesmanship there; he took the gamble of giving me the strike by giving Adam Gilchrist a single, hoping I was probably going to slog one across the line.
"I haven't talked to him about it but I'm sure the plan was to bowl a quicker one in the hope that I would play across the line and give away my wicket on the last ball of the day. He was trying to buy a wicket; he bought into the theatre and then the ball went for four.
"I think everyone enjoyed it - England won the Test match in the end but it is still an occasion that I'll never forget.
"It was an exciting time to be part of that Australian side and I always say that if I could give someone five minutes of my career, I'd give them that last over and walking off to that amazing reception I got from the crowd."
Challenge
The reception for Waugh as he followed Botham into Colombo's R. Premadasa Stadium today shortly before lunchtime may have been rather more muted but it was no less deserved.
Like Botham, Waugh is fully committed to supporting as many of the 139 Sport for Good Foundation projects around the globe in his role as a Laureus ambassador, but he's rather less familiar with rapid road-walking.
"That was pretty tough and a huge challenge," he reflected after icing his shins. "I don't think endurance sports are my game. It's not humanly possible to keep up with Beefy!
"We had a bit of a chat to start with but once he gets going he's like a machine. Trust me, he sets a serious pace!"
To donate to the cause visit www.justgiving.com/BeefysSriLankaWalk or for more information visit www.beefysbigsrilankawalk.com
Check out a gallery of Beefy's walks here.
Check out Beefy's itinerary here.
You can follow Botham's progress on Sky Sports News, online with skysports.com and on your iPad. To donate to Beefy's fund-raising effort simply visit www.justgiving.com/BeefysSriLankaWalk