Pick of the day
We review day three of the opening Ashes Test at The Gabba
Last Updated: 24/11/13 2:56pm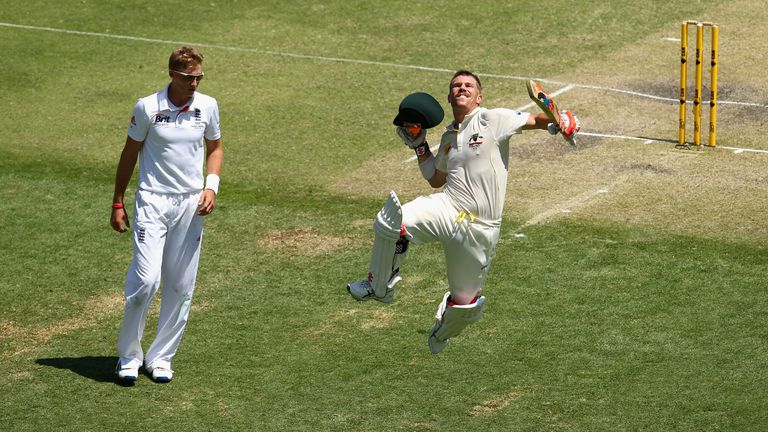 Early wickets gave England some cheer, but it was a false dawn for the tourists as centuries from David Warner and Michael Clarke took the game away from them.
By the time Australia declared on 401-7, they had moved 560 runs ahead of their opponents leaving England with a fight simply for survival.
Hopes of batting out for a draw quickly took a hit as both Michael Carberry and Jonathan Trott fell before the close and, at 24-2, things look bleak in Brisbane for England.
Controlled aggression
After their batting collapse on Friday, it always looked likely to be an uphill struggle for England to get themselves back into the game at the Gabba. A couple of soft early wickets on Saturday did briefly hint at another change of momentum, but Australia skipper Michael Clarke then grasped the nettle to take the contest away from the tourists. Ably supported by David Warner, Australia's third wicket duo put on 158 in quick time to ensure England's mindset rapidly shifted from attack to survival. Both men reached hugely impressive centuries and it was the speed and positivity of their innings that really stood out. They bristled with intent and aggression and seem to sum up Australia's attitude at present, they clearly feel that they have exposed weaknesses in the England ranks and look determined to push home their advantage. That was true with the ball as well and Mitchell Johnson's dismissal of Jonathan Trott was as predictable as it will be worrying for England. Closing at 24-2, the tourists now face two full days of batting to save the game. In the face a rampant home bowling attack that looks a tall order... there's certainly plenty to ponder for Alastair Cook and his men.
Click here for full match report and here for our Man of the Day feature.
Taking the fight to England
Wonderfully described by Andrew Strauss as a "punchy" player, David Warner came to the party in some style for Australia on day three at the Gabba. The left-hander's potential has never really been in question, but his application and temperament certainly have. However, his now infamous spat with Joe Root in Birmingham last summer is increasingly looking like a watershed moment for the 27-year-old. Warner has undoubtedly knuckled down in the last few months and now looks determined to make his statements out the middle rather than in late-night drinking establishments. Mind you, that's not to say that he doesn't still have plenty to say for himself and, after putting England on the back foot with his superb knock of 124, he was quickly taunting England's top order by boldly claiming he could see fear in their eyes!
Tricky position
There is no doubt that England's problems in Brisbane have been mostly of their batsmen's making. That was certainly the view of James Anderson who admitted that Australia's imposing first innings lead had meant they were able to take the attack to England's bowlers second time around. The tourists struggled to exert any real control as Australia's batsmen played their shots and put the home side on course for an opening victory. England face a tall order to avoid defeat, although Anderson insists they have not yet thrown in the towel. "We're in a tricky position, we've got to show a lot of fight and character tomorrow which we know we've got, we've shown it in the past and if there are some clouds that can come over and help us then great."
Cause for concern
While we are still in the very early stages of a five-match Test series, there is no doubt England will be concerned by events over the first three days in Brisbane. All of a sudden there look to be very real problems for some of their most senior performers. Jonathan's Trott's frailty against the short ball has been ruthlessly exposed and, judging by his frenetic second innings at the Gabba, at present he does not look to know the answer. For so long England's rock at No.3, Andrew Strauss feels Trott now looks "frazzled" and there's no doubting that Australia feel they have rumbled the right-hander. Equally, Graeme Swann cut a rather despondent figure at times as he struggled to impose himself on Australia's batsmen. Normally a menace to left-handers, David Warner showed no fear in despatching England's off-spinner to all parts. Clearly Australia's big lead allowed their batters freedom to attack Swann, but the tourists will be hoping it proves to be something of a one-off rather than the way of things in the weeks ahead.