Ashes 2013/14: Confidence is the reason for Australia's sledging
Australia think they can win the Ashes and that's why they are being so vocal, says Gideon Haigh.
Last Updated: 26/11/13 12:20pm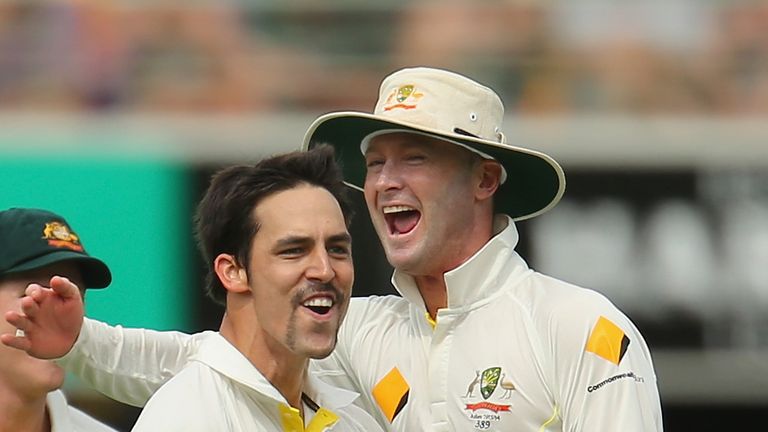 Australia skipper Michael Clarke was fined by the ICC for using "obscene, offensive or insulting" language towards England seamer James Anderson during the first Test in Brisbane, which the host won by 381 runs.
Plus, David Warner accused Jonathan Trott - who has returned home due to a stress-related illness - of batting in a "poor" and "weak" manner against left-arm quick Mitchell Johnson.
Meanwhile, Australia legend Shane Warne criticised his homeland media for being "personal" and "embarrassing" in their coverage of the Ashes series to date, even describing them as "the worst in the world".
And Haigh, who writes for The Australian, says this level of buoyancy is down to the Baggy Greens being confident of seizing the urn for the first time in four series.
"In 2010/11 when there was a general sense of malaise around Australian cricket and a sense of foreboding leading into the series," said Haigh.
"But Australia now feel they have a better chance and have the wind in their sails - and they want to let you know about it.
"We have seen Australia suffering in the UK and there's nothing like that to build up a sense of grievance and annoyance which has concentrated itself on the England team.
Vacuum
"The Australian local tabloid press got a bit ridiculous and overheated before the first Test but Test cricket doesn't provide an abundance of news when the game isn't being played.
"That leaves a vacuum and the tabloid press has to use its imagination to build the contest up."
Former England seamer Bob Willis says Trott's withdrawal may not be crushing for the reigning Ashes holders as the Warwickshire man is not in peak form with the bat - the 32-year-old scored 10 in the first innings at The Gabbe and nine in the second.
But the Sky Sports pundit feels Andy Flower's side may regret not selecting a back-up batsman with Test experience after instead picking the uncapped Ben Stokes (Durham) and Gary Ballance (Yorkshire).
However, onetime spinner Jeremy Snape - who now acts as a sports psychologist - is backing England to unite following Trott's exit and to give Australia a stern examination over the remaining four games of the series.
Wills said: "Trott's departure is a big blow but you have to take that in the context of how he was playing, especially to short-pitched fast bowling, so it may not be that much of a blow.
"But it shows the folly of the selectors in taking Stokes and Ballance - two guys who haven't played at all in that bear-pit - when [Nick] Compton or [James] Taylor should have been there instead."
Snape added: "One thing that has been England's great strength over the years is the amount of leaders they have created and after the barrage from Australia they need to stand up and show the way.
"Flower is a measured speaker, though, and I think they will regroup and gain strength."