Spirit of Bradman
We look back at the last time a side was able to bounce back from a 2-0 deficit to win the Ashes.
Last Updated: 09/12/13 10:36am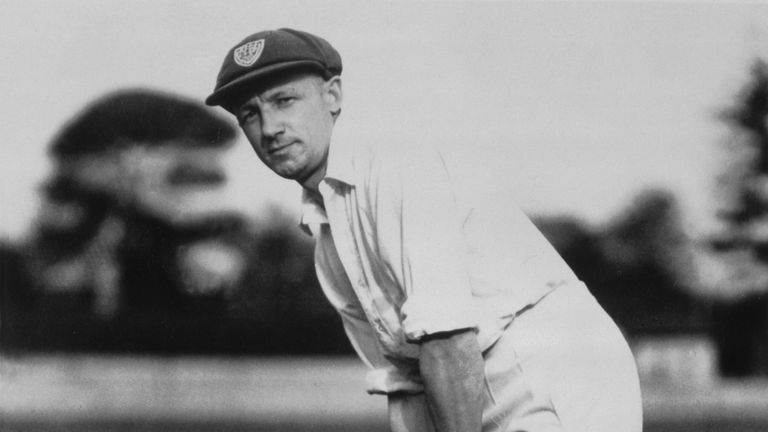 At 2-0 down and looking woefully out of form with the bat, there seems little hope for the beleaguered tourists.
To make matters worse, only once before in Ashes history has a side come back from the deficit to win the series - with Sir Don Bradman's Australia turning the tables on England in 1936/37.
However, for the England fans who love to clutch at straws in adversity, there are similarities between that series and this one.
Like Alastair Cook's side, Australia were completely outplayed with the bat during those first two Tests 77 years ago.
Bill Voce was England's demon with the ball in Brisbane and Sydney as he took 17 wickets - the same number as Mitchell Johnson has for Australia in the current series - while George 'Gubby' Allen weighed in with 12 victims.
Australia, though, fought back in emphatic style - winning the third Test in Melbourne before rattling off victories in Adelaide and then back at the MCG to snatch the Ashes away from the tourists.
Bradman led the way with some clever captaincy and scores of 270, 212 and 169 in those last three matches.
And if England and Cook are to repeat the feat, then they will have to evoke the spirit of Bradman when they head to Perth for the third Test.
December 4-9, 1936 - first Test in Brisbane
Voce finished with match figures of 10-57 as England got their Ashes challenge off to a flying start. Voce, the Nottinghamshire left-armer, was simply unplayable as he bowled with deadly accuracy to an off-side field. Maurice Leyland's had scored 126 as England had posted 358 before Voce took centre stage with the ball. Australia were dismissed for 234, with Voce claiming 6-41 and skipper Allen (3-71) providing able support. The leg-spin of Frank Ward (6-102 off 46 overs) kept Australia in the contest, however they suffered an embarrassing collapse in the second innings. Voce (4-16) and Allen (5-35) needed just 75 balls between to skittle the hosts for 58 -with only some lower order belligerence from Arthur Chipperfield (26 not out from 18 balls) sparing them further punishment. A winning margin of 322 runs meant England headed to Sydney full of confidence.
December 18-22, 1936 - second Test in Sydney
England's bravery, the bowling of Voce and Allen and a superb double century from Wally Hammond did the damage as the tourists secured victory at the SCG by an innings and 22 runs. Having won the toss and opted to bat, England had made patient progress to 426-6 - with Hammond unbeaten on 231. However Allen took the decision to declare - almost unheard of in a timeless Test - in order to make the most of the west conditions. The move paid dividends as Voce (4-10) ripped through the top order and Allen (3-19) and Hedley Verity (2-17) mopped up the tail to dismiss Australia for 80. Forced to follow on, Australia showed more fight in the second innings with Bradman (82) and Stan McCabe (93) leading the resistance. Voce (3-66) and Hammond (3-29) kept chipping away, though, to dismiss Australia for 324.
January 1-7, 1937 - third Test in Melbourne
This time it was the bold declaration from Australia that proved to be the turning point as the comeback got underway. Australia had looked to be on the ropes once again as the England attack - with Voce, Verity, Hammond and Robert Robins taking two wickets each - reduced them to 200-9. But with a record home support and another wet wicket, Bradman decided to let his bowlers have a shot at the tourists. Again bravery was rewarded as England were rocking on 76-9 - Morris Sievers, playing in what would be his last Test, taking 5-21. Allen opted for another declaration, however this time Australia were ready to counter the decision. Bradman sent his tailenders in first - sacrificing them as the wicket improved. From 97-5 Australia were able to reach 564 all out down largely to Jack Fingleton's 136 and Bradman's superb 270. Chasing an unlikely 689 for victory, England never got close despite an unbeaten 111 from Leyland and 61 from Robins. Chuck Fleetwood-Smith claimed 5-124 as England were finally all out for 323.
January 29-February 4, 1937 - fourth Test in Adelaide
Bradman and Fleetwood-Smith proved to be the undoing of the tourists at the Adelaide Oval, as Australia won by 148 runs to level the series. England were left ruing a missed opportunity, though, after playing themselves into a strong position. Ken Farnes (3-71) had helped limit Australia to 288 batting first, while Charlie Barnett's century had edged England into a 42-run lead. It took a quite brilliant knock from Bradman to hand the advantage back to hosts - with his 212 providing the backbone to Australia's 433. Chasing 392 for victory, England's top six all got into double figures but none of them were able to go on to make a decisive total. And Fleetwood-Smith, who had claimed four wickets in the first innings, took 6-110 to help dismiss the tourists for 234.
February 26-March 3, 1937 - third Test in Melbourne
With the momentum fully behind them, Australia effectively put the game beyond England after racking up 604 having opted to bat. Bradman (169), McCabe (112) and Jack Badcock (118) all scored centuries despite the best efforts of Farnes (6-96). A dogged 83 from Joe Hardstaff Jnr was not enough to prevent England slumping in reply, with Bill O'Reilly (5-51) and Laurie Nash (4-70) dismissing then 239. Things got worse for the tourists following on, with O'Reilly (3-58) and Fleetwood-Smith (3-36) sending them packing for just 165. From 2-0 up in the series, England had missed the chance to win back the Ashes they had lost in 1934.