Pick of the day
We look back on day three of the third Ashes Test in Perth
Last Updated: 15/12/13 1:41pm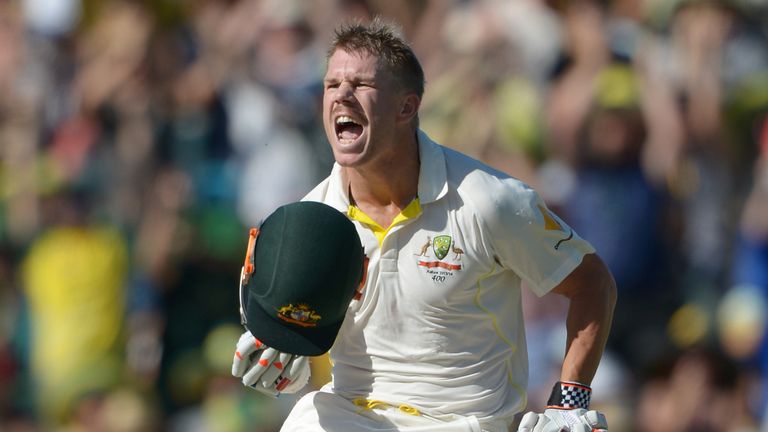 Resuming on 180-4 with Ian Bell and Ben Stokes at the crease, the plan would have been to get up to and past 300 to put some pressure on the hosts ahead of their second innings on a rapidly-cracking WACA track.
As it was they had slipped to 207-7 in the first hour of play and were then bundled out for just 251 before lunch, with Ryan Harris and Peter Siddle finishing with three wickets apiece.
It meant, for the third time this series, Australia could again head out for the third innings of a Test with a substantial lead and the freedom for their openers to attack England from the off.
David Warner certainly needed no second invitation, the abrasive left-hander smashing his second century of the series (112 from 140 balls) to help Australia reach 235-3 by the close - a whopping lead of 369.
It leaves a battered and bruised England - who added to their own woes with some costly fielding blunders - staring down the barrel of another sound thrashing, with this one set to ensure they relinquish their grip on the little urn.
Ultimate day
Opener Chris Rogers, who contributed his second half-century of the series with 54 in Australia's second innings, conceded afterwards that Australia had enjoyed pretty much the 'ultimate' day in Perth. Having rattled through England's lower order yet again, the hosts batted themselves into a position of almost total supremacy and the only question that would now appear to remain is when they might decide to declare. Rogers revealed that Australia would probably look to keep England in the field until lunchtime tomorrow before pressing on with the ball for what would be a series-clinching victory. However, perhaps wary of tempting fate or offering England any unnecessary motivation, the Aussie left-hander refused to write off his opponents and insisted with a wry smile that there was "still a long way to go" when asked whether the game was all but up for Alastair Cook and his men.
Bad to worse
Things really could not have gone much worse for England on day three at the WACA; another batting failure, an abject display in the field and, to top things off, an injury to their top wicket-taker in the series. Stuart Broad was caught flush on the foot by a Mitchell Johnson yorker - which also dismissed him lbw for five - and was unable to take the field for Australia's second innings. Instead England's paceman went to hospital for an X-ray to ascertain the full extent of his injury, although the damage is bad enough that he won't bowl again in Perth. Despite all that, Broad cut a defiantly upbeat figure and insisted the England dressing room has not given up hope of avoiding defeat... the problem is, they sound like hollow words on the evidence of the last three weeks.
Prior warning
The match might already have been slipping away from them, but England certainly did not help their cause with a series of fielding errors. Normally such a reliable figure behind the stumps, Matt Prior was the culprit-in-chief on Sunday as he twice missed opportunities to stump David Warner - the first a regulation chance when the fiery left-hander was just 13. To make matters worse, Prior then opted against going for a nick from Chris Rogers, instead watching on as a despairing effort from skipper Alastair Cook resulted in a spill. In truth, Australia were already well in charge, but it was a symptomatic of a side shorn of belief who have been simply battered into submission by the all-out aggression of the Australians.
Where's the fight?
Given the quality of their cricket to date in the series, it is hard to begrudge the Aussies what now looks like an inevitable march to Ashes victory. However, what has been increasingly uncomfortable to watch is the apparent lack of stomach for the fight being displayed by England. Sunday was perhaps their poorest day of the series to date - (and that's saying something!) - with heads appearing to go down in the field and a distinct lack of gumption on display. It left Sir Ian Botham particularly unimpressed, the England all-round great stating: "Today the wheels were well and truly off for England, out of control. I'm disappointed I'm not seeing more fight, guts and spirit."
Game over
Given up all hope England fans? Well you're in good company, even former captain Andrew Strauss reckons it's now a hopeless cause Down Under. The Sky Sports pundit believes England were drinking in last chance saloon on Sunday, but feels time can now be called on their hopes of retaining the urn after a wretched day in the Perth sunshine. "It was a day they had to win if they wanted any chance of getting back into this Ashes series and they fluffed their lines quite spectacularly," said Strauss. He went on to describe England's under-fire batting line-up as "mentally disintegrated" after yet another tame surrender. It is hard to see any way out for England and it now just seems a matter of when rather than if.