Melbourne build-up
Everything you need to know ahead of the fourth Ashes Test
Last Updated: 25/12/13 10:31am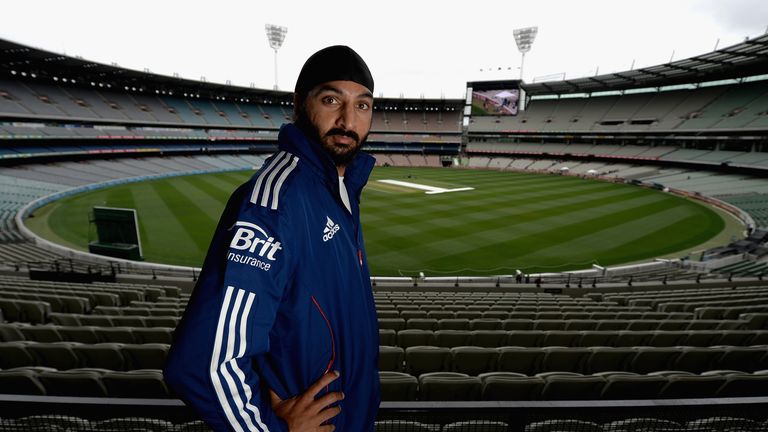 After going seven years without a series victory over their greatest rivals, Australia have the urn back in their possession with two matches remaining in the current series.
To add to the tourists' chaos, star spinner Graeme Swann announced his unexpected and immediate retirement just days before the contest in Melbourne.
With the England camp seemingly in disarray, the Australia team and almost 100,000 of their compatriots in the crowd will be licking their lips at the prospect of staying on track to inflict a 5-0 scoreline on Alastair Cook's side.
England's team selection will be of particular interest and the toss will reveal whether or not they have bowed to public pressure and dropped one or more of the senior players.
Swann will, of course, have to be replaced and Monty Panesar is the most likely candidate to take on the spinner's role. Stuart Broad is recovering from the foot injury he suffered in Perth but if he is not fit, Steven Finn or even Boyd Rankin could come into the seam attack.
Matt Prior has been tabbed as the most likely of the big names to make way, with back-up wicket-keeper Jonny Bairstow waiting in the wings should that decision be made. Australia are likely to be unchanged.
Day one of the Test on December 26 could break the record crowd for a single day of cricket. The current record is 90,800 for Australia's clash with West Indies in 1961, also at the MCG.
Matter closed
The lead up to the match has been dominated by the decision of England spinner Graeme Swann to retire mid-series and also his comments about some players in international cricket being "full of themselves". England captain Alastair Cook admitted he was initially concerned but is now confident the remark was not aimed at anyone in his team. Cook has said: "I haven't heard the quote or seen what has been written but he has totally, 100%, reassured me and the whole of the England team that it was not about us so to me the matter is closed." Uppermost in Cook's mind, though, is the urgent need to take a second whitewash in the space of three tours to Australia off the New Year calendar.
Fighting talk
Not many members of the England side have escaped criticism following their disastrous performance in the first three Tests, but Kevin Pietersen has had to take more flak then most. The batsman has been dismissed as a result of loose shots on several occasions and his long-term commitment to the side has been questioned by some. But Pietersen insists he is still at the top of his form and denies having any thoughts of calling time on his international career. Although he has yet to post a big score Pietersen says he has gotten himself in every time he has batted and is adamant that he is feeling comfortable at the crease. "I'm 33 years of age, and I'm batting as well as I've ever batted," the former captain claimed. "I'll retire when I can't get up to play for England. I'm good as gold at the minute."
Swanning off
With the Ashes gone, Swann reasoned it was time "for someone else to strap themselves in and hopefully enjoy the ride as much as I have." The 34-year-old's 255 Test wickets place him sixth on England's all-time list, second only to Derek Underwood among spinners. Known for his outspoken, jovial personality, Swann, like Cook, also had to deny he had taken a parting swipe at any of his former team-mates after saying "some people playing the game at the minute (who) have no idea how far up their own backsides they are" during his retirement press conference. Monty Panesar appears the obvious replacement for Swann in Melbourne, although England have expanded their options by adding Kent off-spinner James Tredwell and uncapped Durham leg-spinner Scott Borthwick to their squad.
Hungry and determined
Panesar has promised England will fight to avoid an Ashes whitewash as he prepares to replace Swann and win his 50th Test cap at the MCG. "We've still got two Test matches to show our hunger, our determination, and the style of cricket that we want to play," Panesar said. "We're hungry and determined in the dressing-room to make the most of these two Test matches... When these opportunities come my way I've got to grab them. I know my strengths as a bowler and I have to try and make the most of the opportunity, be ready for it and enjoy it like I do."
Switched on
Peter Siddle has told England there is no chance of Australia easing off in the final two Ashes Tests. Siddle, who has taken 11 wickets in the series, said: "It's taken me four opportunities to finally get a chance to celebrate winning an Ashes series. It's a great position to be in, but there are still two Tests to go, so we're concentrating now to make sure we don't let up... To set the opposition 500 to chase three games in a row - never been done before - shows how switched on we are. We haven't given them anything. That's what's causing England's problems."
Warning signs
Alastair Cook must get a firmer grip on his players if England are to avoid further Ashes humiliation, according to Sky Sports expert Shane Warne. The Australia legend has been an outspoken critic of Cook's captaincy at times in the past, even while England were retaining the Ashes in the summer. Warne said: "Out of all the years I've been watching England this is the most I've seen them in disarray. The wheels are off. Now is a great opportunity for Alastair Cook to stand up and take charge and say: 'Right, guys. Enough is enough. This is what we're about, we're a good cricket side. He needs to take charge. I think he hasn't taken enough charge in the whole series. If you rock up at the ground and look at the Australians, you know who's in charge. You look at the England team, and there's three or four players waving their hands around, telling people where they should be fielding."
Venue guide
The MCG is the largest stadium in Australia - the Great Southern Stand, which was completed in 1992, holds around 50,000 people on its own. 'The G' was built in 1853 and staged the very first Test match and one-day international, England being the opponents on both occasions. It has held crowds of over 100,000 and is historically the venue for Australia's Test fixture on Boxing Day and the AFL Grand Final in September. It has also been used for football, both codes of rugby as well as the 1956 summer Olympics and the 2006 Commonwealth Games. Outside of the ground is the Parade of Champions, which has statues of some of Australia's most famous sportsmen and women. The MCG has used "drop-in wickets" since 1996 that are grown off-site and then moved into place using huge cranes. The system allows the venue to stage so many differing events in such a short period of time, while the Aussie rules season does not have to worry about trampling over a cricket square during the winter. It turns out the drop-in decks aren't much different to the old ones; don't expect too much pace or bounce. The weather, though, can aid the seamers as cloud cover will get the new ball swinging around. It's also notable that the MCG sees plenty of all-run fours due to the sheer size of the outfield. Shane Warne enjoyed plenty of fond memories at the ground, not least his hat-trick in '94, where Phil DeFreitas, Darren Gough and Devon Malcolm all departed in one fell swoop. Warne also claimed his 700th Test wicket at the ground, one Andrew Strauss.
Last time
England have a decent record at the MCG with 20 wins in the 54 Tests they have played at the venue dating back to 1877. The most recent of those came on the 2010/11 tour when Jonathan Trott's 168 not out helped set up victory by an innings and 157 runs, a result that ensured the tourists retained the Ashes. James Anderson and Chris Tremlett each claimed four wickets as Australia were bowled out for 98 in 42.5 overs after being sent in to bat. England raced to 157-0 in reply by stumps and, led by Trott's eight-hour epic, turned that into 513 all out early on day three, a lead of 415. They didn't have to bat again, Tim Bresnan took 4-50 as Australia were all out for 258 in their second innings before lunch on day four.
Stay up or catch up
You can follow the action from Australia this winter in more ways than ever. Every ball will be screened live on Sky Sports 2 but you can also watch wherever you are on your mobile, laptop and selected tablet devices via Sky Go. The Sky Sports Ashes Events Centre - which is available on both PC and iPad - allows you to get a totally different take on each day's play, offering live scorecards, match stats and player profiles - plus you can build your own analysis just like the commentators with Hawkeye, wagon wheels and more! If you can't stay up all night then there are plenty of ways to catch up. Simply press the red button on your TV to see highlights throughout the day or you can log on for highlights on skysports.com and on the Sky Sports iPad app. Wake up to The Ashes Breakfast every morning for extensive reaction to the night's action and our Verdict at Night show will provide in-depth analysis and discussion before The Ashes Extra - Live brings you all the build-up to the start of play.