Pick of the day
We look back on day two of the fourth Ashes Test in Melbourne
Last Updated: 27/12/13 11:49am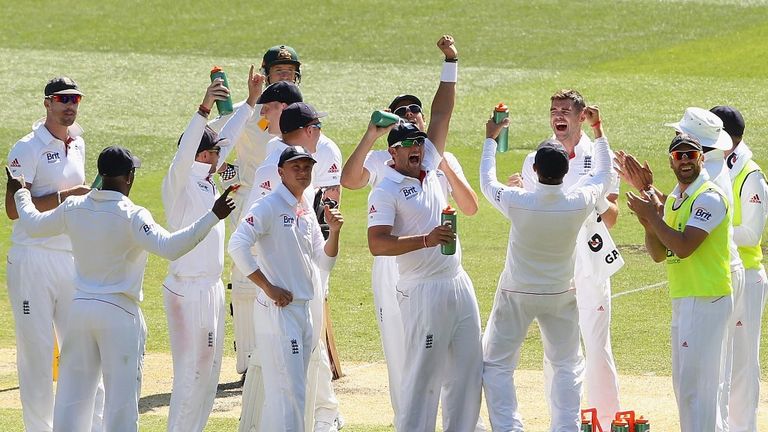 They didn't get it. From an overnight score of 226-6, Australia cleaned up the remaining wickets for the loss of just 29 further runs.
The signs were suddenly looking ominous once again for the tourists, but then a fightback began with the ball and the momentum of the match duly swung heavily towards England.
The wickets of David Warner and Shane Watson in the morning session got England up and running, and Australia's woes were further compounded by the loss of three later wickets for just 12 runs.
The tourists continued to tear through the Australian order and ended the day with a 91-run lead and just one first-innings wicket left to take, with James Anderson (3-50) and Stuart Broad (3-30) being the men who did most of the damage.
Anderson was our 'man of the day' after shrugging off his previous bowling struggles and hinting more than anyone else that there is still plenty of fight left in England yet.
Click here to watch highlights of the day's play, here for our match report and here for a photo gallery.
Patience the key
It is not often you hear sportspeople extolling the virtues of being boring, but that is precisely the quality James Anderson celebrated after England's bowlers enjoyed a fruitful second day of the fourth Test. Having seen England's batsmen struggle to score on the MCG pitch, Anderson said he was confident Australia would also toil and insisted being patient was the key to a successful day that ended with the hosts reduced to 164-9 and England leading by 91 runs. Anderson took three of those wickets as he finally started making inroads into the Australian order after a difficult tour so far.
Bitter pill for Australia
Australia have enjoyed a near-flawless series so far, storming into a 3-0 lead and re-claiming the Ashes after a trio of sound beatings of their arch rivals. So when England's bowlers started tearing through their batting order at the MCG, frowns of the like we haven't seen in this Ashes so far started appearing on Australian faces. Opener Chris Rogers top-scored for Australia with 61, but was quick to admit afterwards that it was the worst day of the series so far for the hosts. Rogers felt the pitch was two-paced, but praised England's bowlers for taking full advantage.
Morgan's Melbourne mauling
Piers Morgan is never afraid to voice his opinion and has levelled plenty of criticism towards England's batsman during this current Ashes series. He wanted to show them where they are going wrong, so volunteered to face an over from Australian fast-bowling great Brett Lee during the tea break at the MCG - and it provided some great entertainment. The journalist turned TV presenter was hit several times by Lee in a torrid barrage of deliveries, before finally being clean bowled. He tweeted afterwards: "For the record, I didn't actually see a single one of @BrettLee_58 's deliveries. But I felt 4 of them crashing into my flesh."
Guided tour
Ever dreamed of paying a visit to the MCG and experiencing one of sport's greatest theatres but never been able to make the trip? Worry not, because Sky Sports' cameras were given an exclusive, guided tour of the fabled stadium by a man who knows it intimately, Shane Warne. The former spinner discusses what it is like to walk out of the tunnel and on to the field, and experience the "deafening" noise created by the 90,000-strong crowd. He talks about why he couldn't wait to bowl at the MCG, and also gives Nick Knight a masterclass in Australian rules football.