Ashes 2013/14: What the Australian papers are saying about the series
A round-up of what the Australian media has had to say about the third day of the fourth Test at the MCG.
Last Updated: 28/12/13 11:25pm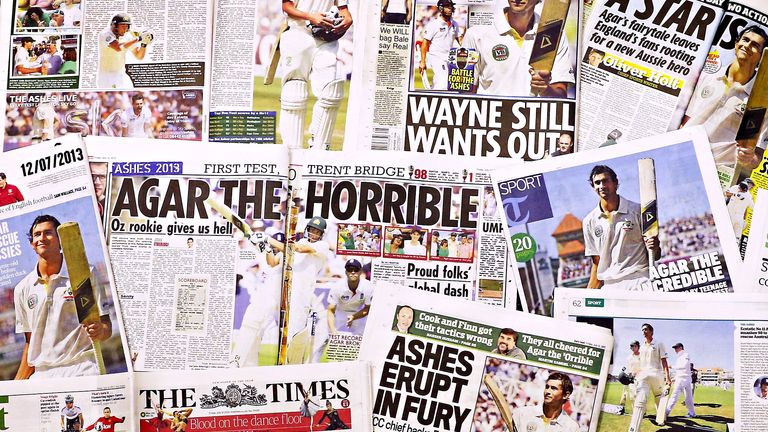 The Sydney Morning Herald criticises England captain Alastair Cook for his field placements in the morning session when No 11 Nathan Lyon helped Brad Haddin add what could be 40 crucial runs: "Lyon is a long way from a stereotypical bunny but, as with most tailenders, is susceptible to nicking against high-quality bowling.
"Jimmy Anderson discovered exactly that in his second over of the day when the edge he elicited from Lyon's bat sailed through a third-slip position that was inexplicably left vacant. Anderson was not blameless in Australia surviving for 40 minutes on Saturday - he too often bowled short - but he deserved better from his captain.
"Even with the second new ball Cook persisted with his army of boundary-riders; there were seven as Stuart Broad got his first opportunity. The approach was futile as Australia still reached the boundary five times, including three from the bat of Lyon."
The Melbourne Herald-Sun's Malcolm Conn is already looking ahead to the fifth Test at Sydney and he urged the selectors to give Ryan Harris and Shane Watson a rest. "On Saturday Harris' first three deliveries in England's second innings were all picked off for runs.
"Carrying an obvious groin problem, Watson's few overs on Saturday were delivered at Shane Warne flipper pace and the all-rounder was a liability in the field. There is simply no way Watson can play in Sydney either if he's going to move like that.
"How many changes the selectors make and who fills those spots will be intriguing, with the heavy duty tour of South Africa little more than a month away. If a common sense approach is taken at the selection table now the Ashes have been well and truly won, Harris and Watson should be put on ice until then, lest they do any more damage to their battered bodies."
Upstaged
The Brisbane Courier-Mailsays Nathan Lyon - for once - upstaged Australia's series-hero Mitchell Johnson. "The evil-eyed enforcer was upstaged by the unfashionable, mild-mannered Nathan Lyon - and guess what, another huge crowd probably enjoyed that even more.
"If they weren't already doing that, they changed their mind when the smiling off-spinner had England's most controversial cricketer caught in the deep late in the last session, Lyon's 100th Test wicket."
Australia owes Brad Haddin a beer or six, according to Perth Now. "That's what the Australian top order should be saying after wicketkeeper Haddin spared their blushes for the fourth time in as many Ashes Tests on Saturday.
"The New South Wales gloveman, thought by many at this time last year to have played his final Test match, continued his extraordinary summer on Saturday with another rearguard action to ease his mates' burden. Only time will tell how valuable his 65 - 22 of which came in a potentially pivotal last-wicket stand of 40 with Nathan Lyon - will be at the MCG.
"But suffice it to say, it's not his first rescue mission. Batting at No.7, Haddin has come to the crease in the first innings with his side in various levels of crisis - three times with fewer than 150 runs on the board.
"Each time he has made at least a half-century and only once has he not batted for at least two and a half hours - and that was during Saturday's knock when he fell only seven minutes shy of the mark."