Ashes 2013/14: What the Australian papers are saying about the series
A round-up of what the Australian media has to say on the Ashes ahead of the second day in Sydney...
Last Updated: 04/01/14 8:12am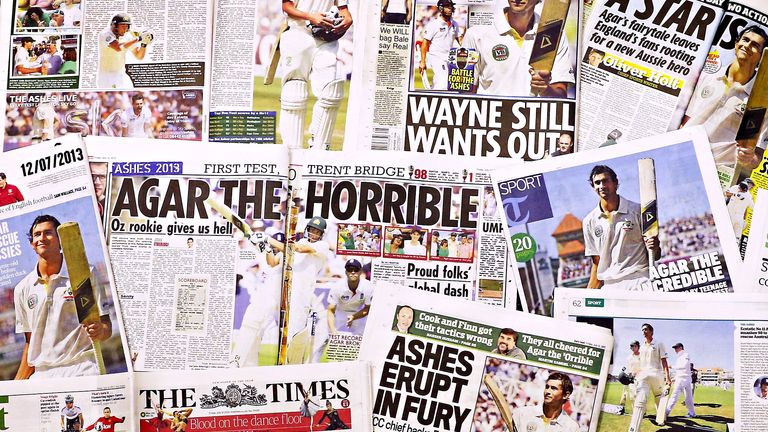 SYDNEY MORNING HERALD
BRAD HADDIN has no intention of retiring from Test cricket at the end of the Ashes series, according to former Australia wicketkeeper Ian Healy.
ENGLAND have started most days full of intent but finished bereft of self-confidence. They will again start Saturday with hope, but It is when the sun starts to go down again that they will have to find their endurance.
MOST things that can go wrong have gone wrong for England and that continued on the first day of the final Ashes Test after Boyd Rankin suffered a hamstring injury.
AUSTRALIA'S destroyer-in-chief Mitchell Johnson will fancy his chances of making England pay again for letting the home team off the hook.
THE PITCHES prepared for England's home Ashes series resulted from a short-term, defensive, and ultimately self-defeating mentality, says Malcolm Knox.
BEATING England is great but the real test for Australia comes next month when they travel to face world number one South Africa, says David Polkinghorne.
AUSTRALIA may have fielded an unchanged line-up in all five Ashes Tests but David Sygall believes Chris Rogers, Shane Watson and Brad Haddin will not be involved against England in 2015.
THE AUSTRALIAN
STEVE SMITH confirmed his credentials as the future of Australian cricket by scoring a critical century at the SCG on the opening day of the final Ashes Test.
GEORGE BAILEY may only have one more chance to save his Test spot after falling to Stuart Broad again.
BRAD HADDIN has drunk his fill of champagne this summer but now, for Australia, it's glass half-empty time.
HERALD SUN
THERE have been precious few highlights for England during this Ashes series, but Ben Stokes has at least provided promising signs for the future.
AUSTRALIA'S Test future looks grim if the top order battling collapses continue, says Richard Hinds.
MALCOLM CONN says it wasn't a big surprise when Shane Watson departed the SCG leg before wicket, but rather that it took until the opening day of the fifth Test for England to achieve their first successful lbw appeal during this generally miserable tour.
THE WEST AUSTRALIAN
FORMER Australia coach Bob Simpson says Darren Lehmann has the talent at his disposal to make a long-term mark in charge of the Australian Test side.
ENGLAND started brightly but once again let the game slip away from them on day one of the fifth Ashes Test at the SCG.
GEORGE BAILEY has been dismissed for one at the SCG Test, raising more doubts over his future in Australia's Test team.
ALEX DOOLAN has been asked to stay on with the Test squad in Sydney despite being left out of the fifth Test XI.