Andy Flower will flourish in his new ECB role because he's 'an exceptional talent'
Andy Flower will flourish in his new ECB role because he is an exceptional talent, says Bob Willis.
Last Updated: 06/03/14 9:54am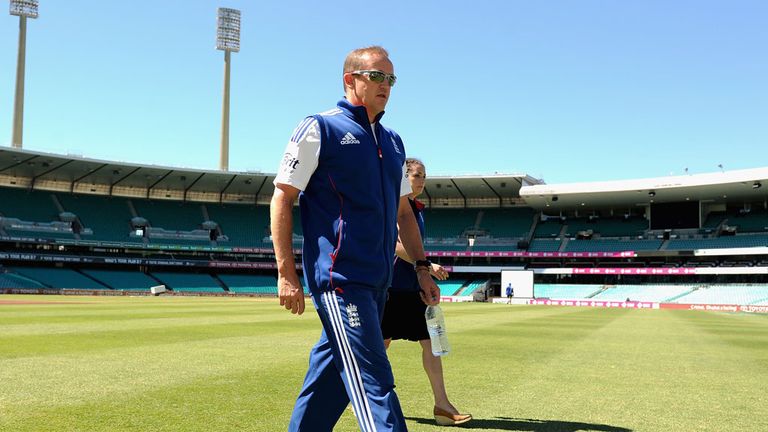 Flower, 45, will work with the next generation of England players and coaches after leaving his post as team director following this winter's 5-0 Ashes defeat in which Australian paceman Mitchell Johnson wreaked havoc to take 37 wickets at 13.97 apiece.
As part of his new job, the Zimbabwean will be researching new coaching techniques and improving existing ECB programmes to get the most out of English talent.
Exceptional
Former fast bowler Willis told Sky Sports that Flower was ideally suited to the role but also stressed that the ECB had to find a way to retain his services.
"Flower is an exceptional coach who, for my money, should still be in charge of the England team," said Willis.
"Only two words put him out of his job - Mitchell Johnson - and South Africa are finding out what a tough opponent he is.
"Flower is an exceptional talent, a brilliant batting coach, a brilliant motivator of men and a perfect role-model. So I think that the ECB have done well to hang onto him."
Knowledge
Reacting to his appointment, Flower said that he is "particularly excited about the chance to build and mould a leadership course" with the aim to cultivate and get the best out of future players and coaches.
Former England all-rounder Dominic Cork said Flower's impressive playing CV, which features nearly 5,000 Test runs for Zimbabwe, and a coaching record that includes three successive Ashes wins in 2009, 2010/11 and 2013, means that he has plenty of experience and advice to pass on.
"I think he's also working around the counties as well, working with young players," said Cork. "Given the knowledge that he's acquired as a player and as a coach, he has a lot to offer.
"I think it is the right decision and hopefully he'll help future coaches to step up to county and maybe England level."
Flower was appointed as England's team director in 2009 and, on top of his Ashes successes, also steered England to victory in the 2010 World Twenty 20 tournament and the World No 1 Test spot in 2011.