World Twenty20: Real aggression makes pumped-up West Indies a threat
Sammy's side had 'obviously spoken a lot about' Faulkner's comments...
Last Updated: 28/03/14 4:45pm
West Indies proved just how dangerous they are when riled as they responded to James Faulkner's needle by beating Australia by six wickets, says Ricky Ponting.
The defending champions celebrated riotously after skipper Darren Sammy clubbed seamer Faulkner for successive sixes to overhaul their opponents' target of 178-8 in the final over.
Faulkner said in the build-up to the match that he doesn't "particularly like" the West Indies but his comments backfired spectacularly as Chris Gayle found his form to strike 53 off 35 balls, Dwayne Bravo struck 27no and Sammy smashed 34no off 13 balls to wrap things up.
Victory brought frenzied celebrations reminiscent of the West Indies' final triumph over Sri Lanka but, if anything, the players were more pumped up.
In his post-match interview Sammy - referring to Gayle - said "You never wake up a sleeping giant", adding: "A lot was said before this match so the dressing room was very pumped up and you could see form the celebrations how good we felt."
Aggression
Former Australia skipper Ricky Ponting said: "Chris Gayle had been asleep, Sammy said, for the opening part of the tournament but he certainly wasn't in this game.
"You could see how animated they were at the end. It meant a lot to them to get over the line.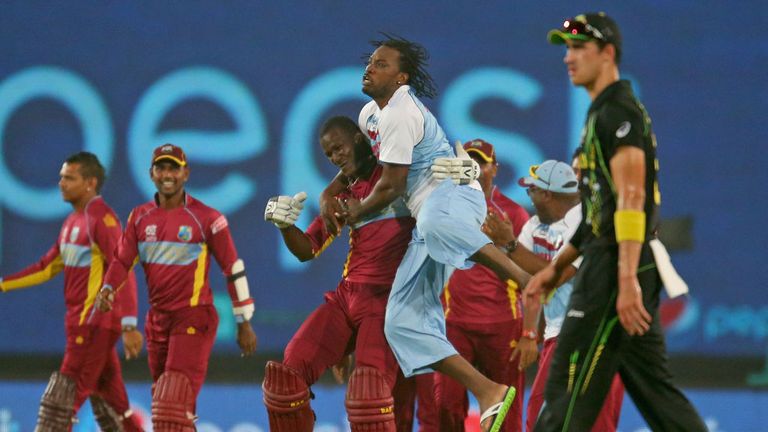 "Sammy even mentioned in the post-match presentation that it was good to see Faulkner bowling the last over.
"They'd obviously spoken a lot about it - they'd obviously put a lot of thought into the way they wanted to play - and when they play that way with that real aggression, the West Indies are a dangerous side. They showed that in the run chase.
"With two overs to go I thought Australia were still probably favourites to win. Mitchell Starc went for a few in his last over and then Faulkner went for 12 off those four balls.
"George Bailey mentioned that they still didn't bat well but were able to post a fair total. They're still a fair way off their absolute best but they are going to have to play their absolute best from now on in the tournament if they've got any chance at all."
Niggle
After two defeats, Australia's chances of qualifying for the semi-finals appear slim even if they win each of their remaining matches - against India and Bangladesh.
In contrast the Windies top the Group 2 table with two wins from three games and former England batsman Mark Butcher told Sky Sports that the defending champions have come alive.
"The whole approach from the West Indies was totally different from what we've seen from them before in the competition.
"It looked as if they were half asleep - they've not really been bothered at all about the opening stages of the tournament.
"Then they come up against Australia, their traditional foes; there was a bit of niggle mentioned in the press before the game and suddenly they've come alive. They were magnificent today; that was not a straight-forward run-chase by any means."
Watch highlights of Australia v West Indies - as well as India v Bangladesh - at 8pm on Friday on Sky Sports 2 (on the red button) or catch the repeat from 10pm on the same channel.