Sam Robson: I'm ready for international cricket
Opener eager to score early runs for Middlesex in 2014
By Peter Smith
Last Updated: 04/04/14 8:11am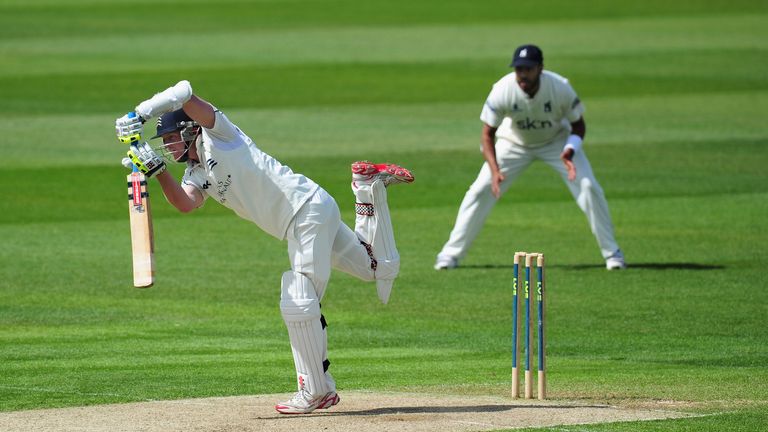 England prospect Sam Robson says he is ready for the challenge of international cricket.
The Sydney-born Middlesex opener qualified to play for England last summer – and marked his switch of allegiance by amassing 1,180 first-class runs in Division One at an average of 47.20.
While his move made few headlines in August, shortly after England's third–straight Ashes triumph, the national team's subsequent disaster Down Under has sparked debate about selection – and led many observers to urge Robson's inclusion in this summer's opening Test against Sri Lanka.
A couple of England Performance Programme centuries in Australia and three tons for England Lions in Sri Lanka – including a series-winning 147 not out – during the winter have further boosted Robson's standing and the prospect of the 24-year-old walking out alongside Alastair Cook at his home ground of Lord's on 12 June seems a real possibility.
You want to play at the highest level and test yourself against the best players and see if you're good enough
Sam Robson
Robson stressed to skysports.com it is his early-season form with Middlesex which is vital but believes he is capable of performing against the world's best, should he get his opportunity.
"It's going to be a big couple of months for Middlesex and the start of the season is always a pretty tricky time," he said. "Hopefully we can get off to a good start.
"I've got my focus on that because there's so much cricket before that sort of stuff [England selection] comes up. I'm well aware it's going to be about weight of runs but we'll see how it goes.
"It's definitely an ambition to get a cap this summer. For every first-class cricketer it's one of the reasons you play the game, especially if you're a young player. But I'm in no rush and just want to do my best, score my runs and if that comes up down the line then great.
"I feel I am ready for international cricket. Obviously the last five months have been pleasing; scoring runs for the Lions is a good start.
"I'm happy and confident with my game and feel that I'm in a good place. I've improved in the last year or two and now I'm just taking it all as it comes and we'll see how we go.
"But of course you want to play at the highest level and test yourself against the best players and see if you're good enough."
Influence
A key figure in Australia's 5-0 whitewash of England was opener Chris Rogers.
The 36-year-old was the third-top scorer in the 2013/14 Ashes, weighing in with 463 runs to help Michael Clarke's men reclaim the urn.
However, Rogers – who, like Robson, was born in Sydney and opens for Middlesex – has also had a big impact on his younger team-mate.
The duo registered a record-breaking stand of 259 against Surrey last summer and Robson says his batting partner has been a significant influence and aided his development over the past few seasons.
"He's been a massive help and we get on well," said Robson, who Bob Willis has named as Middlesex's One to Watch in 2014.
"I've opened the batting with him for about three seasons now and it's been a help just seeing how he goes about his business at the other end and in training.
"He's so consistent, he's hungry and he's determined to score runs every time he walks out to the middle. That's something all the guys have taken notice of at Middlesex.
"It was no surprise to our guys to see him have success in Test matches in the last year or so."
Consistency
The pair will once again combine at the top of the order for Middlesex on Sunday, when they begin their County Championship campaign against Sussex.
The Lord's-based outfit slipped to a fifth-place finish last season after a strong start but Robson is adamant his side can compete with the best in Division One, should they perform consistently in 2014.
"We're in a good place," he said.
"We've got a young side but at the same time a lot of the young guys have played some cricket now and got a few years' experience under their belts. We had a few injuries last year but touch wood at the moment pretty much all the guys are fit and raring to go.
"We're well aware, though, that it's a tough competition. The teams that have won it in the last couple of years have kept up their momentum and been consistent all year and that's what you have to do.
"On our day, when we play well, we're right up there. I don't think there's any doubt about that. Last year we beat Durham at Lord's around lunch on the third day. So we can compete with the best and beat the best.
"For us it's just going to be the challenge of maintaining those high standards. We're quietly confident, though, and hopefully we can get a good start and go from there."