Kent's Lydia Greenway and Yorkshire's Dani Hazell preview the Royal London Women's One-Day Cup
Kent's Lydia Greenway and Yorkshire's Dani Hazell preview the Royal London Women's One-Day Cup.
Last Updated: 02/05/14 9:22am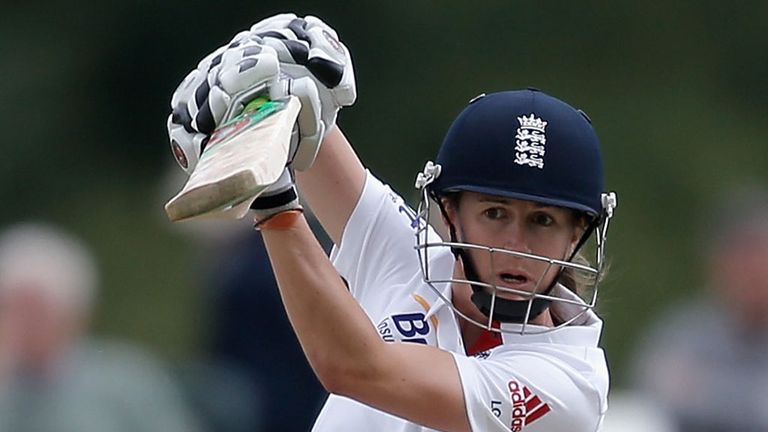 The pair - who played in last month's ICC Women's World Twenty20 final defeat to Australia - will face each other when Kent and Yorkshire clash in the pick of this year's opening round of the annual 50-over Women's County Championship, while defending champions Sussex entertain Essex.
Kent boast Greenway, Laura Marsh, Tammy Beaumont, Tash Farrant and England captain Charlotte Edwards - recently named as one of Wisden's Cricketers of the Year - in their ranks.
But Yorkshire beat both Sussex and Kent en route to last year's play-off final and this year have a new captain in Lauren Winfield, and Hazell says the squad is determined not to finish second-best this time around.
Credentials
"We're very proud of what we did last year," said the off-spinning all-rounder. "We didn't put our best display in the final but hopefully this year we can go one better.
"It's exciting to have Lauren as captain and we're all looking forward to supporting her by performing well. We're quite a young team but we're getting better year by year."
Yorkshire will - initially at least - suffer from the absence of England strike bowler Katherine Brunt as she recovers from back surgery but Hazell is confident the team can continue to step up against the best teams in the division.
"We've got some good young girls who will hopefully be pushing for a place in the England squad in years to come - players like our opener Jess Watson, who will be looking to further her England Academy credentials.
"Holly Armitage - who bats in the top to middle order and will hopefully bowl a bit this year - has been away with the Academy and the U19 squads over the last couple of years. She's definitely another one to look out for."
Hazell is recharged after a winter in which she helped England retain the Ashes and played in all six World Twenty20 matches, taking 3-4 against Bangladesh women.
"It has been a busy few months but from a Yorkshire point of view I've spent plenty of time training and playing with England girls who we will be playing against in the coming months.
"There are also few overseas players coming over this season and it's definitely an advantage to have seen some of these girls before so you've got some ideas in mind as to where you should bowl and put your field."
Better
Former New Zealand leg-spinner Erin Bermingham is one such player having signed for Kent, who won the Championship five times in seven seasons between 2006 and 2012 but last season missed out on the play-off final after gaining four fewer bonus points that Yorkshire.
"With the squad we've got we always aim to be up there, so we've learnt a lot from last season, which ended up being really frustrating" said Greenway.
"Erin will add something different to the squad this year, much as [Australian leg-spinner] Kristen Beams did for Essex last season, and I'm sure our youngsters will learn a lot from her."
Beaumont may be only 23 but Greenway, who has played 115 ODIs and 71 T20 internationals, says the batter is already a role-model for an evolving squad.
"We had quite a lot of young players in the squad last season and the experiences they've been through will make them better players this season.
"Charlotte Pape is naturally athletic and will bowl you plenty of overs for not many runs, plus she's decent with the bat as well, while Grace Gibbs has probably got a bit more pace about her with the ball and is an attacking batsman.
"Tash Farrant is establishing herself in the England set up, while Alice David-Richardson is another great all-round asset, so Lottie (captain Charlotte Edwards) has lots of different options for as and when she needs them."
Different
Unlike in previous seasons there will be no play-off final this year, the title going to whichever of the nine teams accumulates most points.
Each county will again play eight 50-over games but both Hazell and Greenway said they would support the introduction of longer games if more Test cricket was introduced into future international programmes.
"The county set-up isn't professional, so players would have to take time off work which could be a problem," said Greenway. "But from a cricketing point of view it would be helpful to play longer games if there was a move to introduce more Test cricket internationally, otherwise we won't be as well prepared as we could be."
Hazell added: "Test cricket is a totally different game with multiple innings and long days out in the field; it's something that you've got to get used to preparing for and playing so I'm sure it's something that those in charge of the game will look at, if needs be."
Watch this summer's NatWest Women's International T20 Series live on Sky Sports.