NatWest T20 Blast: Glenn Maxwell's return 'can inspire Hampshire to new heights'
Australian reinforces strong all-round squad determined to play to the Max...
By Oli Burley - @OliBurley
Last Updated: 15/05/14 11:44am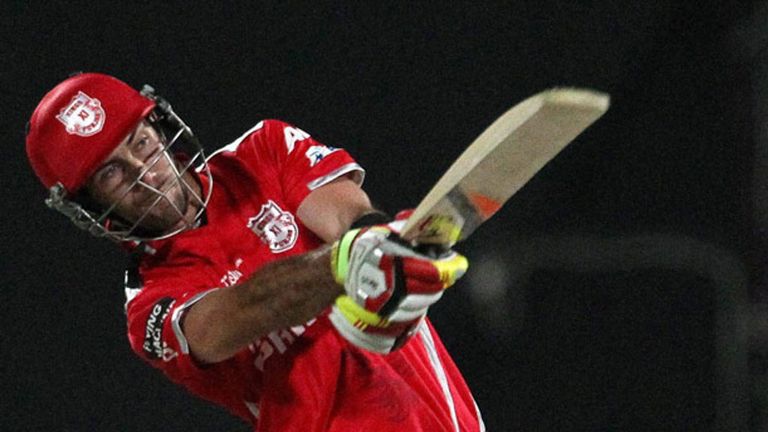 Anything less than reaching Finals Day would be a disappointment. We've had a strong all-round squad for a number of years now and that's what we expect of ourselves - the knockout stages are all about who turns up on the day and we thrive on that. We have lost key players in Neil McKenzie and Dimi Mascarenhas but the new players we've brought in have plenty of quality.
Glenn Maxwell was brilliant when he played for us in 2012. He's a great lad to have around because he's passionate about his cricket and backs himself 100 per cent to produce match-winning performances - and he does. For someone who's 25 he's played a lot of Twenty20 cricket - he's had experience at different counties as well as the Big Bash and IPL.
Kyle Abbot is another strong addition to the squad having won South Africa's domestic T20 with the Dolphins this winter and he knows our new coach Dale Benkenstein, who's had a positive impact since joining us. Having a new face around brings fresh ideas, which is good for us, because while we've had success in this competition and are always confident going into it we're always looking to improve.
Michael Carberry is still just about our biggest hitter, but we've got plenty who are right up there - Sean Ervine hits a good ball, as does Jimmy Adams. We used to take the mickey out of Neil McKenzie a bit because he could only hit one bounce fours but everyone else can clear the ropes! Some people rely on strength, for others it comes down to timing but ideally you want both.
My challenge is to turn more 30s and 40s into match-winning scores. Myself and Carbs go pretty hard up front in all forms of one-day cricket and that has its risks but once you get on a roll in Twenty20 you can become hard to stop. My 84 off 49 balls against Middlesex was probably the highlight of my T20 season last year but I need to do that more.
I changed my game a little bit after 2012 and tried to tighten up my technique; it worked last season so it is something I've stuck with. This winter I've been away with the England Lions and the changes have really bedded in now. I hope to become a lot more consistent in four-day cricket and hopefully the changes will help my one-day form too.
The best team in the competition doesn't always go on to lift the trophy. We won our group quite easily last season but then lost in the semis, which was a huge disappointment, but that's often the way it works. The first year we won it in 2010 we were definitely underdogs and as strong as Northants were and as brilliantly as they played, they were seen as underdogs going into last year's Finals Day.
The Ageas Bowl is a brilliant place to play cricket and there'll be a great atmosphere at the ground this season, particularly for the Blast. We don't lose many games at home and we get plenty of support. T20 is a nice refresher from four-day cricket - it's more exciting and gets the adrenalin going because the pace of the game is a lot livelier.
I'll walk out to whatever music gets put on the speakers. Sean Ervine is normally the man to come up with the tunes, while Carbs is also big into his music, so I'll leave that to them! Jimmy Adams' iPod doesn't make it anywhere near to the team speakers. He likes his heavy metal, so we keep that away. Ever since I joined Hampshire we've had a team song which we sing every time we win - so that's good enough for me.
James Vince was speaking ahead of the NatWest T20 Blast season. Blast off is Friday 16th May. Tickets can be purchased from www.ecb.co.uk/natwestt20blast.
Watch 39 NatWest T20 Blast fixtures, including a Middlesex double header in the first weekend, live on Sky Sports this summer - starting with Friday's opening clash between Nottinghamshire Outlaws and Lancashire Lightning. For full details click here.