Cricket Expert & Columnist
Bob Willis ponders Alastair Cook's future ahead of third Test against India
Last Updated: 26/07/14 4:29pm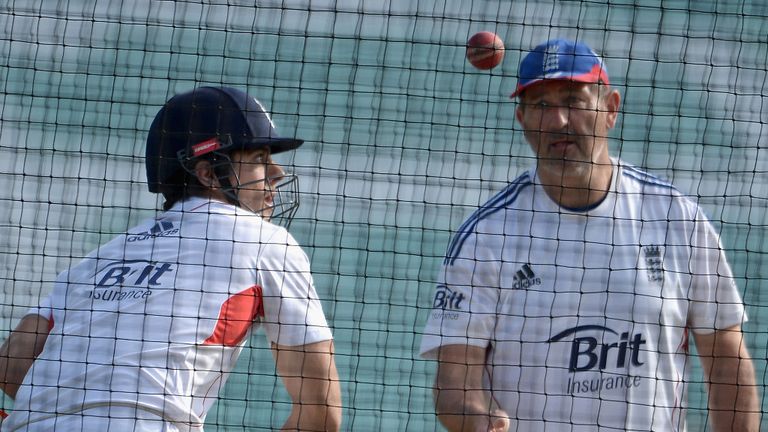 Bob Willis believes England captain Alastair Cook should seek some advice from former mentor Graham Gooch in an attempt to end his batting woes.
Cook claims the added responsibility of the England captaincy is not affecting his form, however 27 innings without a century and average of 23.6 in his last 14 Tests would suggest otherwise.
Willis believes Cook should seek some words of wisdom from former England batting coach Gooch, who was relieved of his position at the start of the summer.
Willis told Sky Sports News: "The fact is that bowlers worldwide, having seen him fail in Australia, are bowling in a completely different manner to him. They are pitching it up outside off stump and he keeps getting out that way. 
"Now, not only is he getting out cheaply but while he's occupying the crease he isn't scoring runs because the field is set accordingly.
"I'm a little bit surprised he hasn't gone back to his guru Graham Gooch to sort this out. He strongly believes he can get through this but his recent record looks pretty sick at the moment.
"I think he should have gone back to Gooch to sort some help."
Cook insists that he has never considered quitting as Test captain despite overseeing a 10-match winless run that included a 5-0 series whitewash in Australia, 1-0 loss to Sri Lanka and recent defeat to India at Lord's.
The England selectors appear to have given Cook the rest of the India series to attempt to buck the trend of defeats but Willis believes his position will be untenable if he fails to score runs in the remaining matches at Southampton, Old Trafford and Kia Oval.
He added: "The new regime, managing director Paul Downton, new coach Peter Moores and chairman of selectors James Whittaker have pinned colours to the mast and they're not going to give in until the end of series. 
Struggling
"Nasser Hussain was particularly critical of his captaincy at Lord's and he believes that whether Cook gets runs or not he's got to relinquish the captaincy sooner rather than later.
"Cook is a very, very stubborn character and with 25 Test centuries behind him he believes he can do this job. He says the dressing room are united behind him and I believe that they are, but the fact of the matter is that he and they are not performing together so something's got to give very soon.
I believe If Cook doesn't get runs at the Ageas Bowl, Old Trafford and Kia Oval he will resign from the captaincy."
Assessing potential candidates to replace Cook, Willis believes Ian Bell is a contender but believes the role has come too soon for 23-year-old Yorkshireman Joe Root.
He said: "Where England would turn to with results not going their way would be difficult to sum up. I think Ian Bell has done very well when he's stood in at Warwickshire but he, as well as Cook, is struggling for runs. 
"He was prolific against Australia last summer but last winter and this summer things have gone horribly wrong for Ian Bell. He was going to be the replacement for Kevin Pietersen in that No 4 role, the senior players were going to carry the younger players through, Cook, Bell and (Matt) Prior but it simply hasn't happened like that.
"The lad who's gone in to No 5, Joe Root, he has been churning out the runs but it would be a tough ask having asked him to open the batting, then bat at No 3, then go down the order, then go out of the side at the end of the Ashes. It would be a question mark for Root to be asked to skipper England."