100 years on: A tribute to the fallen sporting heroes of the First World War
Last Updated: 05/08/14 7:45am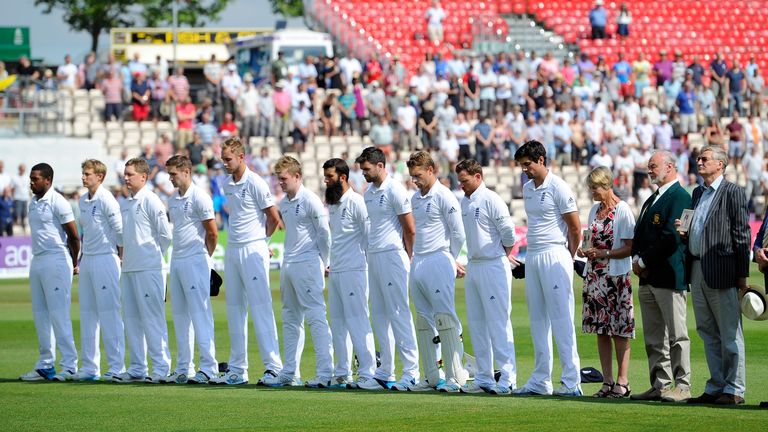 As the centenary of Britain's entry into the First World War is marked, Sky Sports pays tribute to some of the British sportsmen who redirected their sporting passions and energies for the War effort – and paid the ultimate price.
Among the fallen was England rugby captain Ronnie Poulton-Palmer, who was killed by a sniper's bullet at Ploegsteert Wood on May 5, 1915.
He was one of 27 England rugby union internationals to lose their lives in the war, while Scotland paid a heavier price with 30 of their internationals, and Wales also lost 13 players, including Richard Garnons Williams, who had played in the very first Wales international rugby union match in 1881 and died aged 59 years.
Ronald Simson, the Scotland and London Scottish player, who was a lieutenant in the British Royal Field Artillery, was the first rugby international to die in the conflict, being killed within weeks of the start of hostilities on September 14, 1914, at the First Battle of the Aisne.
But no sport was spared from fatalities – among football teams, Spurs lost 11 of their players, Newcastle seven, West Ham five and Leyton Orient three.
Players at Orient signed up on masse to the 17th Middlesex Regiment (the Footballers' Battalion), as did those at Heart of Midlothian, who enlisted on November 26, 1914 to the 16th Royal Scots (known as McCrae's Battalion).
The Edinburgh club lost seven of their players in all, with three of their team – Harry Wattie, Duncan Currie and Ernie Ellis – losing their lives on the first day of the Somme offensive. 
Victoria Cross
Bradford Park Avenue saw a Victoria Cross awarded to full-back Donald Bell. The Second Lieutenant, who had got married the day before he left for France, was also part of the Somme offensive in 1916.
On July 5, he knocked out an enemy machine-gun post with grenades, but died five days later when he attempted to repeat the feat.
Noel Chavasse, who represented Great Britain in the 400m at the 1908 Olympics in London, was one of only three people ever to be awarded the Victoria Cross twice - he was a captain in the Royal Army Medical Corps and was killed whilst rescuing and treating wounded soldiers in August 1917.
Also a British Olympian was Frederick S Kelly, a member of the gold-winning rowing team in 1908, who was killed at Beaucourt-sur-Ancre on November 13, 1916.
At least 34 first class cricketers were killed among the 210 county players who served. Among this toll was Kent and England left-arm spinner Colin Blythe, who took 100 wickets in 19 Tests and 2,500 in his first-class career. He died in November 1917 at Passchendaele after being hit by shrapnel while working as an engineer on a military railwayline.
Another victim of hostilities was AEJ Collins – who in June 1899 when aged 13 years scored 628 not out in a junior house match, the highest recorded in the history of cricket. He died in the First Battle of Ypres.
All nations and sports lost their heroes. From the world of cycling, Tour de France winners Octave Lapize, Francois Faber and Lucien Petit-Breton were among the fallen, as was New Zealand's Tony Wilding, who won four consecutive men's Wimbledon tennis titles from 1910-13, and was killed at Neuve Chapelle on May 9, 1915.