NatWest T20 Blast FTI MVP: Kent's Darren Stevens top of the pile
Six of top 10 will feature in quarter-finals
Last Updated: 31/07/14 9:11am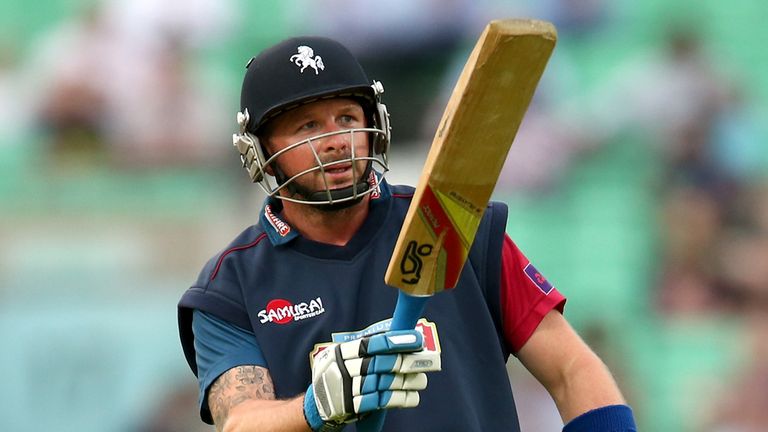 Six of the top-ten players in the NatWest T20 Blast FTI MVP table will contest the quarter-finals this weekend - but the top two won't feature in the knockout phase.
Kent's Darren Stevens and Sussex star Luke Wright topped the rankings - which reward players for their contributions in all aspects of the game - in 2009 and 2007 respectively and have enjoyed terrific campaigns this term. However, they were unable to fire their sides into the last eight.
Stevens has scored 351 runs, including three fifties, and taken 18 wickets, including a 4-17 effort against Somerset at Canterbury.
NatWest T20 Blast quarter-finals on Sky
Lancashire v Glamorgan
6pm, Fri, Sky Sports 2 HD
Surrey v Worcestershire
2pm, Sat, Sky Sports 2 HD
Essex v Warwickshire
6pm, Sat, Sky Sports 2 HD
Notts v Hampshire
2pm, Sun, Sky Sports 2 HD
Wright, meanwhile, has found top form in recent weeks, with back-to-back hundreds at Hampshire and Essex propelling him to the top of the competition's run-scoring table (601). Both knocks came from 66 balls, both times Wright was not out, and the 153 he crashed at Chelmsford was a domestic record in t20 cricket.
However, there will be plenty of top talent to enjoy as the competition reaches its climax.
Essex's surprise package Tom Westley, who has marked his breakthrough t20 campaign with two 58-ball tons and 525 runs, will come up against the competition's leading bowler, Jeetan Patel, who has 23 wickets to his name, at Chelmsford on Saturday.
Meanwhile, at the Oval, Surrey's star batsman Jason Roy - who has passed 50 in six of his 12 t20 innings this season – will aim to capitalise on a Worcestershire attack shorn of Saeed Ajmal.
Here's how the Natwest T20 Blast FTI MVP table looks ahead of the quarter-finals…
NATWEST T20 BLAST FTI MVP
OVERALL FTI MVP
Player       Batting      Bowling    Fielding    Captain    Wins    Played    Points
Stevens      82.71         100.85            8               0              6           14          198
Wright        171.14          0                   5               0              6           14          182
Allenby       131.97        32.11              2               6              6           13           178
Roy            149.12        -1.60               5               0              9           13           162
Cobb          78.9            58.42            10               4              4           14           155
Westley      137.98        -3.25              0                0             9            13          144
Patel           68.57          63.27             2                0             9            12           143
Kieswetter  120.58        0                   16                0            5            10           142
Bopara       88.36          37.85              6                0             9           12            141
Patel           7.63            119.97           6                0             7            12           141         
For more information on the FTI MVP ranking system visit http://www.thepca.co.uk