England Women v India Women: Heather Knight aims for strong start to pro era
'I'm relishing the challenge of being England vice-captain in tough summer...'
Last Updated: 16/02/15 12:02pm
Sky Sports Living for Sport mentor Heather Knight has been named England Women's vice-captain for this summer's series against India and South Africa.
We caught up with her ahead of next week's Test at Wormsley to talk cricket, her charity work in Rwanda and an upcoming world record attempt…
Congratulations on being named vice-captain! What do you think makes a good leader?
Heather: In cricket it's someone who leads from the front and does their own job really well while bringing out the best in others at the same time; you need to identify qualities in other people and understand what makes them tick so that they play their best. The captain is very important to the team but they don't have to be the only leader on the pitch. It's important that everyone feels they can contribute.
Is it something anyone can learn?
Heather: Captaining Berkshire and being around the England team has helped my leadership skills no end in the last few years. It's something that you can always work on and get better at; you don't have to be a natural-born leader, so don't give up if you feel you're not quite confident enough yet!
Would you like to captain England one day?
Heather: Captaincy is something I've never chased - it's something that has come to me without me searching for it. A lot can happen in a year in international sport so I keep telling myself that Charlotte Edwards, the current captain, has got a few more years left yet. At the moment I'm relishing the challenge of being England vice-captain. Let's just say, we'll see!
What are your aims for the summer?
Heather: I'm really excited to go back to Wormsley for the Test match against India and, obviously, I'm hoping to score lots of runs after my hundred against Australia last year. We will also play three ODIs against India, which will be tough, and we're going to have to play really well to beat them. We want to begin the professional era with a really strong start this summer. South Africa, who are a good, young, developing side, are also coming over to play us in three T20 internationals on Sky Sports so hopefully we can put in some good performances.
Do you set specific personal goals?
Heather: Different players do different things – some players like to set themselves targets like 'I'm going to score this many runs or take this many wickets'. I prefer to focus on making match-winning contributions in at least a few of the games rather than put a number on it. There's no right way but it's important to have a really clear idea of what you want to achieve so you can put plans in place.
Are more girls seeing cricket as a potential career?
Heather: It's great to be able to go into a school now and say 'you can be a professional women's cricketer'. Kids always ask what car you drive and now we can all say that we drive a Kia, which is great. Hopefully it gives the girls something to aspire to because I certainly feel very lucky to be involved in it.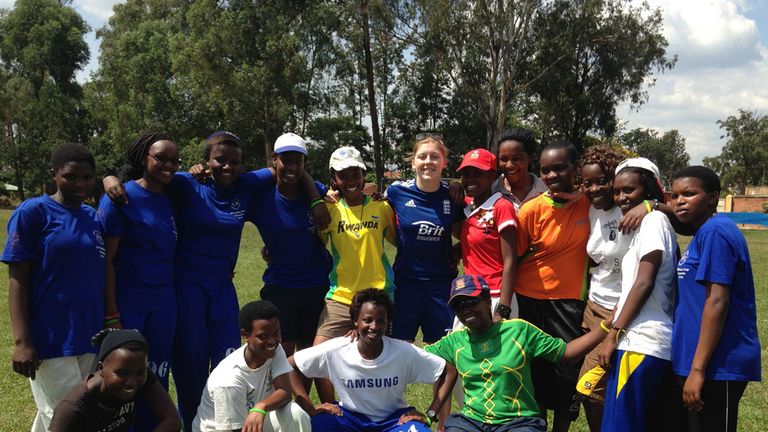 You're an ambassador for a Rwandan cricket charity. How did that come about?
Heather: A friend of mine is involved with the Rwandan Cricket Stadium Foundation and asked me to go out to Rwanda in February to see what life is like for people over there. It was incredible to see the conditions and how people could benefit from better facilities. Cricket is slowly growing at adult level and so they are now trying to take it into schools too because the kids love it. I've seen pictures of a coach demonstrating how to bowl and thousands of kids copying him.
Is it true you're going to climb Mount Kilimanjaro later this year and play a game of cricket?
Heather: That's right! It's happening in September and I'm one of the captains, alongside former England spinner Ashley Giles. We're hoping to play a game at 5,785m, which would be a new world record, and raise money for Cancer Research UK, Tusk and the Rwanda Cricket Stadium Foundation, with a target of £500,000. Find out more here
How big a challenge will it be?
Heather: It's really important to put yourself out of your comfort zone and climbing Mt Kilimanjaro is a great challenge for anyone to undertake. It's an opportunity for me to do something a little bit different and I love a great view! I think I will use all of the Sky Sports Living for Sport Six Keys to Success on the climb but mental toughness will definitely be a key one, especially near the end where there won't be much oxygen. I'm really excited.
Finally, this is a fantastic summer for cricket, isn't it?
Heather: As a kid there was nothing better than being outside playing cricket with my mates in the summer – not least because it's the only sport where food is so important, so that was an added incentive! My advice to anyone thinking about taking up cricket is 'get out, play out and enjoy it'!
Watch England Women take on South Africa Women in their three-match Twenty20 series live on Sky Sports on 1st, 3rd and 7th of September.